Artistic Director Rob Melrose Announces the 2014 – 15 Season
Big changes are happening at Cutting Ball! We are redesigning the way we do things to allow for a rich dialogue with our audience to continue throughout the season instead of just show by show. For the past few years, Paige Rogers and I have been excited about the theater we've been seeing in Poland. We are particularly taken with a festival called the Dialog Festival and the deep level with which it engages its audience. At Dialog, plays are curated around a central theme and then a series of lectures and discussions are peppered throughout the festival to give the audience a chance to engage with that theme and build on their experiences in the theater. It means that there is a conversation that continues throughout the festival from performance to performance.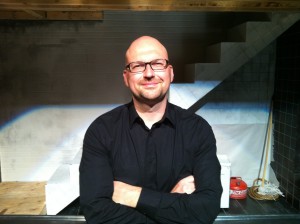 I've always felt that theater was about more than just a fun evening out. It is a place where we can ask big questions about our lives and wrestle with them together as a community. This goes back to the Ancient Greeks. For them, going to the theater was as important a part of being as citizen as voting. My mentor and CBT honorary board member, Oskar Eustis told me that after developing and directing Tony Kushner's Angels in America, he felt what it was like to have a play become part of a national conversation and gave him a sense of what the role of theater in America could be. Oskar has been an inspiration to me for years and his important work at the Eureka Theater is one of the reasons Paige and I chose San Francisco as Cutting Ball's home fifteen years ago. We share Oskar's deep sense of the vital role theater can play in people's daily lives.
For the next three years, CBT will be centering each season around a central theme: 2014-15 Justice, 2015-16 Dreams, 2016-17 Sex. Each year our three mainstage productions will be connected by these themes and we will offer a series of lectures and discussions throughout the season as a way to give our audience the opportunity to engage more deeply with the subject. Cutting Ball has a devoted audience of insightful theater-goers and many times our discussions are as lively and thought-provoking as the plays themselves.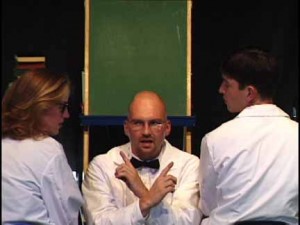 We will also continue to provide tremendous access to our productions through free student rush tickets and free Tenderloin neighborhood tickets throughout our season as well as low-cost ($10 and $15) preview tickets for everyone. We are able to offer this through partnerships with local businesses and organizations like Twitter and The Tenderloin Neighborhood Community Benefit District and through our individual donors. Our free student rush has been a big success this past season and has allowed a number of students to see their first play ever!
Our 2014 – 15 Season's theme is Justice. We start the season with the world premiere of Superheroes, written and directed by Sean San Jose, co-founder of Campo Santo. Superheroes, developed in Risk is This 2013, looks deeply at the crack epidemic in San Francisco. In this way, we start our season looking at Justice right here in our neighborhood. In the same way we asked our audiences to look at the Tenderloin through new eyes with our production of Tenderloin, with Superheroes we ask our audience to consider the issues of social justice and drug use in San Francisco and to ask themselves, "Why?" I have long been an admirer of Sean San Jose and his wonderful work with Campo Santo, and I am so excited to be working with him at Cutting Ball. We will also be partnering with Glide and other local organizations to allow the impact of the production to reach far beyond the theater's walls.
Our second full production goes back to Ancient Greece and the origins of Western drama with Sophocles' Antigone , in a new translation by Daniel Sullivan commissioned by CBT. Antigone is in many ways the play about the individual vs. the state and civil disobedience. Associate Artistic Director Paige Rogers (Tontlawald, Mud) will be directing and will be using some of the music and movement techniques that the acting company of Tontlawald learned from Poland's Theatr ZAR when they did a workshop at Cutting Ball (Tontlawald cast members Madeline H. D. Brown and Wiley Naman Strasser return for Antigone). The company of Antigone has been invited by ZAR to have a two-week residency at the Grotowski Institute in Wroclaw, Poland – the first American company to receive such an invitation in over a decade [Paige confirm]. Cutting Ball is in the process of fundraising for the artists' travel in order to make the residency possible. After Paige's wildly inventive work on Tontlawald, I am extremely excited about the bold theatricality, contemporary aesthetic and musical sense that she will bring to Antigone.
Our final full production of the season is the world premiere of CBT Resident Playwright Andrew Saito's Mount Misery (Cutting Ball commission, developed in Risk is This 2014). Mount Misery builds on the fact that Donald Rumsfeld and his wife Joyce bought a vacation home that used to be a plantation on which Frederick Douglas was a slave. Saito imagines Rumsfeld and Douglas communicating across time and the results are both comical and disturbing. The play asks us to look at the injustices our country has perpetrated in the past and the injustices we condone for the sake of our safety and convenience to this day. It is a powerful play and I'm very excited to direct it.
We will kick off our season with a Hidden Classics reading of Aeschylus' Oresteia and a discussion of theater and justice. (We will be announcing our full line-up of discussions and lectures at a later date.) The Oresteia is the story of the murder of Agamemnon by his wife Clytemnestra and their children's struggle to seek justice. It a three play cycle (Agamemnon, The Libation Bearers, and the Eumenides) and considered to be one of the earliest dramas. In addition to being a riveting drama, it is in many ways a celebration of the invention of the Greek legal system in which criminals would be brought to trial to be judged instead of having a never-ending cycle of blood vengeance. Our Hidden Classics Reading Series will continue later in the year with plays being developed for our dream season: A Dream Play by August Strindberg in a new translation by Paul Walsh and Life is a Dream by Calerón in a new translation by Andrew Saito (Cutting Ball commission).
Our season will end with Risk is This…The Cutting Ball New Experimental Plays Festival presented alongside Saito's Mount Misery in May and June. We will be workshopping plays by Andrew Saito, Christopher Chen, Katharine Sherman, and Mark Jackson. Both Chen's Caught and Jackson's Who is Heiner Müller? take a deep look at what is reality and what part it plays in art. Sherman's Visio, a dreampop opera is a look at dreams and REM sleep. Saito's Looking Down at the Stars explores the relationship between the Man in the Moon, spaceshuttle Challenger astronaut Ellison Onizuka, and the astronomer-priests of the pre-Incan civilization of Tiwanaku. His Moby Dick is an adaptation of Melville's classic that looks at the novel's formal inventiveness and multicultural themes.
It promises to be a very exciting season and the start of something new at Cutting Ball. We have one of the most intelligent and engaged audiences in the country and I'm excited to find ways to connect with them on a deeper level.