Interview with a Playwright: Andrew Saito on writing Mount Misery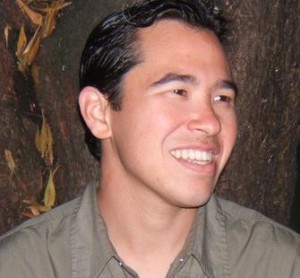 Q: How did the idea of writing Mount Misery come to you?
Saito: While riding a stationary bike at the University of Iowa gym, I read an article about oyster farming in the Chesapeake Bay. There was a two-sentence mention of the fact that Donald Rumsfeld owned a vacation home there, which had previously been a plantation where Frederick Douglass was a slave. I knew instantly that it had to be a play.
Q: What kind of research did you have to conduct in order to get a grasp on and develop your two main characters, Frederick Douglass and Donald Rumsfeld?
S: I read copious articles and books on both men, including both of their autobiographies. I also traveled to Washington DC and Talbot County, Maryland, as well as Baltimore, in order to immerse myself in the physical locations important to both men.
Q: What was the greatest challenge for you in writing this play?
S: So many. Getting their voices right. Making such a horrific subject funny. Figuring out a way to bring the two men together, given that they were separated by 170 years.
Q: What is a trait in each of your characters that you admire the most?
S: I admire Douglass's dogged determination, and his eloquence. I admire Rumsfeld's undeniably great intelligence. I admire both of them for rising from destitution to wealth.
Q: Why do you think it is important that we produce this play today? How do you think it will resonate with a contemporary audience?
S: Mount Misery is about turning a blind eye to horrors that we enact in order to have a certain way of life. We can condemn slavery, yet how many of us wear clothing made in sweatshops? It is easy to condemn other people in other places and times. We are still waging the War on Terror. We are also still waging a war on Black men, which is not just about shootings, but also waged with economics and culture. This play is a convergence of both of those wars, which have both become so normalized as to be invisible.
About Andrew Saito:
Andrew Saito has studied, worked and lived in Mexico, Guatemala, Peru and most recently on Papua New Guinea, where he was a Fulbright Scholar in Creative Writing. Andrew holds an MFA from the Iowa Playwrights Workshop, where he received an Iowa Arts Fellowship, as well as a Stanley Award to conduct research for a play about the period Langston Hughes spent living in Mexico, a Kenneth J. Cmiel Human Rights grant to teach playwriting in Mayan communities Guatemala, and the Richard Maibaum Dramatic Writing Award for his script Dance of Pawns, about the internment of Japanese Peruvians in Texas during World War II. He has collaborated with the Andean theatre company Kusiwasi, and the legendary Peruvian theatre collective Yuyachkani. He has received grants from Theater Bay Area, the Zellerbach Family Foundation, and the Association of Performing Arts Presenters, and most recently the San Francisco Arts Commission, to write his screenplay Yellowcake, which will explore our society's use of enriched uranium. He has developed work with the Bay Area Playwrights Festival, the Asian American Theatre Company, and Mixed Phoenix Theatre in New York. Andrew has taught playwriting and other forms of creative writing at the University of Iowa, and with Kearny Street Workshop, WritersCorps, Peforming Arts Workshop, ArtCorps, and at Montalvo Arts Center, where he held a Teaching Artist Fellowship. Additionally, Andrew was a Core Apprentice at the Playwrights Center of Minneapolis, and is a member Playwrights Foundation's Resident Playwrights Initiative, and PlayGround.
Published April 6, 2015