Meet the Actor: Giovanni Adams plays lead character Frederick Douglass in "Mount Misery"
Q: How did you get involved with the project?
Adams: So, Cutting Ball has this really amazing play and they're looking to cast the role of Fred, open to the idea of bringing someone up from Los Angeles. Becca Wolff, a good friend who I've worked with in LA and is now directing and teaching out of San Francisco, has an ear to the ground and puts my name in the hat and of course I jump at the opportunity to read for the role. The only hiccup was that auditions were that same week in San Fran! I put myself on-tape totally thinking I'd botched the whole thing, honestly–theatre is best experienced and I was self-conscious about not having an actual human being in front of me. Needless to say, I was shocked a couple days later when I got the email letting me know Rob and Andrew wanted me come up be a part of the world premiere production.
Q: What is it that you like about working on a new play?
A: There's this guy who instagrams crazy photos atop downtown Los Angeles buildings, apparently for the fun of it…working on a new play is kind of like that…there's a thrill factor walking into a room of strangers and quickly letting your walls come down, getting vulnerable and maybe even knocked around a bit to tell a good story. I've been a part of several world premiere casts and the thing is you never really know what the play is even about until it's up in front of an audience. And that's the thrill and the joy of theatre.
Q: Can you tell us about your character? What is the trait in your character that you admire most and why?
A: I'm playing Frederick Douglass, perhaps one of the most influential men in the history of our country who began his life as a slave in Maryland. Fred, as Andrew has imagined him, to me has a passion for ideas and a love of language. He's a thinker and always seems to be making connections in his head. He's willing to learn from teachers whose intentions are not entirely noble, but at the same time he's struggling to connect the promise of BIG words like "FREEDOM" with his experience–in his head, his heart and his body. He knows that words have the power to set him free to the extent they become real. Fred is nobody's fool.
Q: Why do you think it is important that we produce this play today? How do you think it will resonate with a contemporary audience?
A: I think the idea of a play with Donald Rumsfeld and Frederick Douglass is brilliant! I think they represent two different American experiences that collide but are never quite in step…and I don't believe it's entirely a RED vs BLUE state scenario. Living in America is a privilege that some Americans get to enjoy more than others, yes, but a privilege nonetheless. And there's a lot of ugly stuff that goes on behind the scenes and it affects some of us in a real way. Can you be black and witness the tragic lives of Trayvon Martin, Michael Brown, Eric Gardner and now Walter Scott and not have a few questions to ask? Can you be American? There are ugly things that go on behind the scenes everyday and we could honestly turn a blind eye due to privilege, but Fred says, "I wish to see it."
Q: Can you give us one quote from the play that you like particularly?
A: Don says to Fred, "Freedom requires work. Now get cracking."
Giovanni Adams Biography: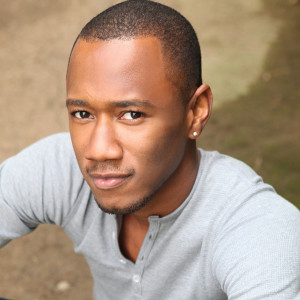 Giovanni Adams is a member of Rogue Machine Theatre Company. He recently appeared in Amerkya (Work in Progress) w/ Critical Mass Performance Group and The Recommendation at IAMA Theatre Company. He was cast in two world premieres, Sunny Afternoon at Gangbusters Theatre Company and the LA Drama Critics Circle award winning and Ovation nominated One Night in Miami at Rogue Machine. Stage credits: Bela Lugosi's Dead (IAMA), Miss Julie and King Lear (Yale Repertory). Film/TV credits: Fatal Instinct, Nina, Criminal Minds, Zach Stone is Gonna Be Famous, Grey's Anatomy, Gary UnMarried and the leading role of Hustle in Hustle vs. Heartache. Giovanni was born in Jackson, MS and received his BA from Yale University.
Posted April 14, 2015