In Their Own Words
Dramaturgy by Rem Myers
Oration, language, and words played a significant role in both Frederick Douglass and Donald Rumsfeld's lives. Included in this program are two speeches from these men as well as an excerpt from the Torture Memos, a series of memos describing various "enhanced interrogation techniques."
Frederick Douglass, August 3, 1857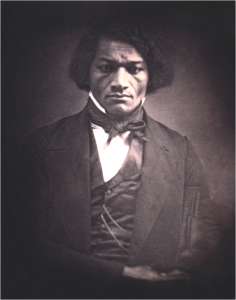 Let me give you a word of the philosophy of reform. The whole history of the progress of human liberty shows that all concessions yet made to her august claims, have been born of earnest struggle. The conflict has been exciting, agitating, all-absorbing, and for the time being, putting all other tumults to silence. It must do this or it does nothing. If there is no struggle there is no progress. Those who profess to favor freedom and yet depreciate agitation, are men who want crops without plowing up the ground, they want rain without thunder and lightening. They want the ocean without the awful roar of its many waters.
This struggle may be a moral one, or it may be a physical one, and it may be both moral and physical, but it must be a struggle. Power concedes nothing without a demand. It never did and it never will. Find out just what any people will quietly submit to and you have found out the exact measure of injustice and wrong which will be imposed upon them, and these will continue till they are resisted with either words or blows, or with both. The limits of tyrants are prescribed by the endurance of those whom they oppress. In the light of these ideas, Negroes will be hunted at the North, and held and flogged at the South so long as they submit to those devilish outrages, and make no resistance, either moral or physical. Men may not get all they pay for in this world; but they must certainly pay for all they get. If we ever get free from the oppressions and wrongs heaped upon us, we must pay for their removal. We must do this by labor, by suffering, by sacrifice, and if needs be, by our lives and the lives of others.
Donald Rumsfeld April 11, 2003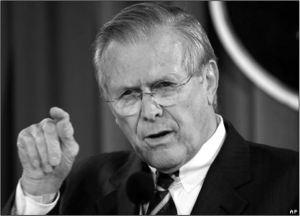 I picked up a newspaper today and I couldn't believe it. I read eight headlines that talked about chaos, violence, unrest. And it just was Henny Penny — "The sky is falling." I've never seen anything like it! And here is a country that's being liberated, here are people who are going from being repressed and held under the thumb of a vicious dictator, and they're free. And all this newspaper could do, with eight or ten headlines, they showed a man bleeding, a civilian, who they claimed we had shot — one thing after another.
From the very beginning, we were convinced that we would succeed, and that means that that regime would end. And we were convinced that as we went from the end of that regime to something other than that regime, there would be a period of transition. And, you cannot do everything instantaneously; it's never been done, everything instantaneously.
We did, however, recognize that there was at least a chance of catastrophic success, if you will, to reverse the phrase, that you could in a given place or places have a victory that occurred well before reasonable people might have expected it, and that we needed to be ready for that; we needed to be ready with medicine, with food, with water. And, we have been.
Freedom's untidy, and free people are free to make mistakes and commit crimes and do bad things. They're also free to live their lives and do wonderful things. And that's what's going to happen here.