The Antigone Project: Meet the Actors #4!
For the fourth and final post in our Meet the Actors series, Cutting Ball is proud to introduce Hannah Donovan and Elissa Beth Stebbins!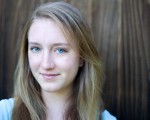 Hannah Donovan (Ismene) is very excited to be making her Cutting Ball Theater debut in Antigone! Favorite theatrical credits include: A Midsummer Night's Dream (Puck), Spring Awakening (Wendla), and An Absolute Turkey (Lucienne). Hannah received her B.A. in Dramatic Arts from The University of Southern California and attended the British American Drama Academy in London. Following her recent graduation, she has performed in several New York City productions and has just returned from a month-long theatrical immersion program in Ecuador. When she isn't acting, Hannah loves to travel, write poetry, and work with wildlife.
Antigone and Ismene are sisters with a complex relationship. What are some ups and downs for them in the play? Donovan: After the death of their brother, Polyneices, Antigone implores Ismene to help her bury the body. Fearing Creon's death penalty for such actions, Ismene refuses to help, but is unable to stop her from trying.
What are you most looking forward to about the trip to Poland? I'm most excited to simply experience a country I've never been to before: eat the food, see the sights, meet the people, and attempt to speak Polish!
How will this trip to Poland further you theatrical education and career? The Grotowski Method and Teatr ZAR are both very new to me, so to be exposed to and immersed in these practices will, without a doubt, expand my acting vocabulary immensely.
What important items are you bringing to Poland? I'm going to bring my camera. And peanut butter…definitely peanut butter.
What souvenir do you want to bring back from Poland? I'll probably buy a mug. When I traveled in Europe a few years ago I began to collect them and I want to continue the hunt!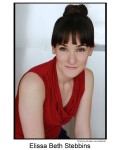 Elissa Beth Stebbins (Chorus Lead) is thrilled to be joining Cutting Ball for the very first time as part of Antigone. Elissa was seen most recently as Elizabeth Bennet in Livermore Shakespeare Festival's Pride and Prejudice. Other recent projects include the TheatreWorks Educational Tour, Wendy in Custom Made's production of Peter/Wendy, and Joan in Impact Theatre's What Every Girl Should Know. Elissa graduated from Santa Clara University with a B.A. in Theatre and English, and has continued her training with Shakespeare & Company. She is a proud recipient of Theatre Bay Area's Titan Award, and is a 2013 TBA FACES honoree.
What role does the Chorus Lead play in the greater production? Stebbins: The Chorus Lead acts as an advisor to Creon, as well as the voice of the people, and, sometimes, the audience.
What is the thing that you are most excited about regarding your trip to Poland? Everything! This will be my first trip out of the country, and the fact that I get to go in order to train with some remarkable professionals (and in the company of this phenomenal cast) makes it pretty much the most exciting thing ever.
How will this experience add to your training/career as an actor? I'm looking forward to building my experience of working in an intensely physical way as an ensemble, while I've done projects and training that touch on this type of work, this is definitely a step up and I'm excited to see how it affects other aspects of my work.
What important item will you take with you to Poland? My notebook. I'm looking forward to the remoteness of our location, and the time for reflection and writing that comes with being away from technology.
What souvenir will you bring back from Poland? I'm not big on physical souvenirs, so mostly the experience itself. And hopefully some ground breaking, monumental revelations about myself. No pressure, Poland.
— Support The Antigone Project: http://kck.st/1mCecg4
July 30, 2014