Cutting Ball Theater Announces New Artistic Director
Big Changes at Cutting Ball
Paige Rogers to become Artistic Director
Rob Melrose to be named Founding Artistic Director
After a productive year-long sabbatical, which included directing Much Ado About Nothing at the Old Globe Theater as well as Ondine and A Dreamplay at Cutting Ball, Cutting Ball co-founder Rob Melrose has decided not to return as Artistic Director but rather to continue to focus on his creative work and freelance projects.  He will remain on the Cutting Ball board and will take on the title of Founding Artistic Director.  He will continue to be involved with Cutting Ball creatively including translating a French classic for next year's season, but he will no longer oversee the day to day operations of the theater.  Co-founder Paige Rogers will be stepping into the role of Artistic Director, one that she has effectively been doing this past year as Acting Artistic Director while Melrose has been on sabbatical.
Full statement from Melrose: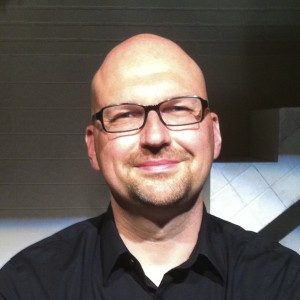 "I am so excited for this next phase in Cutting Ball's history as well as the next phase of my own creative work.  These past few years, I have had the opportunity to direct at The Public Theater, The Guthrie, The Oregon Shakespeare Festival, The Old Globe, and PlayMakers Rep, among others.  Working at some of the most respected theaters in the country has pushed my work forward and I am excited to pursue more of these kinds of opportunities.
I am also incredibly proud of what we have accomplished at Cutting Ball.  Paige and I dreamed about doing this kind of work when we were studying in Europe on a Fox Foundation Grant in 1997.  Cutting Ball's first show, Richard Foreman's My Head Was a Sledgehammer, premiered in San Francisco in 1999 and was rehearsed in a kindergarten classroom with a production budget of $450.  Now Cutting Ball has a budget of over $600,000, a three play season, and our own wonderful space at the EXIT on Taylor in the Tenderloin.  More than the organizational accomplishments, however, I am proud of our productions and their legacy.  We have produced an ambitious program of experimental new plays, seminal avant garde works, and re-envisioned classics that is unique in this country in which realism is the predominant mode of theater.  I'm proud of our new translations of plays by Ionesco, Jarry, Büchner, Maeterlinck, Sophocles, and Strindberg – especially our five play Strindberg Cycle marathon of August Strindberg's Chamber Plays in new translations by Paul Walsh.  I'm also proud of the many premieres of new plays we have done by playwrights pushing the boundaries of what theater can be: Kat Sherman's Ondine, Marcus Gardley's …and Jesus Moonwalks the Mississippi, Andrew Saito's Mount Misery and Krispy Kritters in The Scarlett Night, Eugenie Chan's Bone to Pick, Diadem, and Tontlawald, Will Eno's Lady Grey in ever lower light, Sean San José's Superheroes, Basil Kreimendahl's Sidewinders, Samuel Gallet's Communiqué no˚ 10, Kevin Oakes's The Vomit Talk of Ghosts, and of course Annie Elias's Tenderloin.  We have also had an impressive number of playwrights come through our Risk Is This Festival including Liz Duffy Adams, Jen Silverman, Phillip Howze, Christopher Chen, Mark Jackson, Janet Allard, Anthony Clarvoe, Bennett Fisher, Trevor Allen, Christine Evans, Brad Chequer, Alex Johnson, and Caridad Svich.  What I am most proud of are productions of the two playwrights we produced the most during my tenure as Artistic Director: William Shakespeare and Suzan-Lori Parks.  Our innovative productions of Shakespeare (As You Like It, Macbeth, The Taming of the Shrew, and The Tempest) helped distinguish us as a company and are what launched my national career.   Paige and I are already talking about a Shakespeare project for me to direct at Cutting Ball in an upcoming season.  Our productions of Suzan-Lori Parks (The Death of the Last Black Man in the Whole Entire World, Pickling, Betting on the Dust Commander, 365 Days / 365 Plays) connected our theater to one of the greatest living playwrights and made us one of the hub theaters for the 365 Days / 365 Plays project with Playwrights Foundation and Z Space.
I am doubly delighted that Paige Rogers will be taking over as Artistic Director.  First, since she is the co-founder as well as my spouse, I know that I will continue to be intimately connected to Cutting Ball.  Second, and more importantly, she has been doing a phenomenal job as Acting Artistic Director during my sabbatical year.  In the eight months since she started, she has secured $150,000 in grant monies to install air conditioning in the theater and to remodel the lobby, she has redesigned the website and rebranded the theater, and she has been working closely with her mentors Marc Vogl and Robert Orchard through the Rainin Foundation and the Bloomberg Foundation respectively to plan for an exciting and sustainable future for Cutting Ball.  Paige recognizes that what Cutting Ball shares with the European theater that inspired it is a deep commitment to the vision of a director.  This commitment is what makes Cutting Ball unique in the American Theater and it is something Paige wants to deepen.  While I have been working at regional theaters to broaden the scope of my work, Paige's residencies and collaborations with Teatr Zar in Poland and with Russian-born director Yury Urnov (Ubu Roi) has helped her invest more deeply in experimental theater and visionary direction.  She has a bold vision for Cutting Ball's future and far from watering down the vision that started it, she will only more it more concentrated and potent.  We are both excited about each other's artistic growth and how we have adjusted our lives to foster it.
Lastly, I'm looking forward to doing more writing and translating.  I was a playwright before I was a director.  At first, I only took up directing to get my play done.  These past two years, thanks to Risk Is This… and the Playwrights Foundation, I've had the opportunity to get back to my roots and work as a playwright by working on the experimental electro-rock musical I have been writing with ZONK, Ozma of Oz.  It was such a pleasure to take time out from running a theater and directing plays to focus on writing again.  Cutting Ball has been wanting to produce Ozma but a musical of this size continues to be a challenge for an organization our size.  We are still plotting ways of bringing it to San Francisco sometime in the future.  I'm looking forward to having time to continue to work on Ozma and to writing many more plays to come.
Since I am not going anywhere I don't want to say goodbye, but I do want to take this moment of transition to thank all the individual donors, the audiences, the deeply supportive foundations in the Bay Area, the city of San Francisco and the NEA, the EXIT Theatre, the Cutting Ball staff past and present, and most especially all the wonderful, talented, committed artists who have worked at Cutting Ball.  A certain person I admire greatly once said, "it takes a village."  It really took a host of people to get us where we are today and I am eternally grateful.  Thank you."