Our Mission
The Cutting Ball Theater was founded with a mission to develop productions of experimental new plays and re-visioned classics, with an emphasis on language and images. Cutting Ball's vision is to produce plays that reveal a poetic truth as opposed to a naturalistic or realistic one. Our artistic goals are to exercise and enrich the imagination of our audience; to honor and move forward the field of avant-garde theater; to provide an artistic home to playwrights, directors, actors and designers interested in challenging themselves and deepening their work through experimentation; and to offer work featuring the highest level of professionalism, excellent production values, innovative writing, and deeply committed performances.
Programs
Full Productions Full productions of plays from our list of future possibilities. These productions are usually developed from Risk is This… or from our workshops and readings.
The Hidden Classics Reading Series Readings of rarely-produced classics followed by a discussion
Risk is This – The Cutting Ball New Play Festival Staged readings of three experimental new plays with a team of designers and actors working to discover production strategies that best realize these innovative pieces. Also a try-out for a possible full production at Cutting Ball or elsewhere.
Avant GardARAMA! An evening of short experimental plays given a full production and a five-week run.
Workshops & Readings A chance to test out a piece before it is chosen for a major production.
Open Process Workshops of productions being developed for a future season.
About Us
The Cutting Ball Theater was founded in 1999 by theater artists Rob Melrose and Paige Rogers. After their training at the Yale School of Drama and Trinity Rep Conservatory respectively, Melrose and Rogers spent a year in Europe on a Fox Foundation Grant to observe master directors in France, Germany, Italy, and Austria.Upon returning to the United States, the couple debated about where to found a theater company with the goal of creating work of the same daring, rigor, arresting design and production values as the plays they had seen in Europe.They narrowed it down to New York, San Francisco, Minneapolis and Providence and ultimately chose San Francisco for its rich history of experimental art and commitment to the arts.Ironically in the same year as The Cutting Ball's founding, Steve Winn wrote an article in the Chronicle titled "Experimental Theater Loses Its Edge," which bemoaned the loss of companies like George Coates Performance Works, the Fifth Floor, and Antenna Theater, as well as the general lack of experimental work in a town that launched the careers of Sam Sheperd, Robert Woodruff, Karen Finley, and Joe Chaikin. The Cutting Ball arrived in San Francisco at just the right time to fill an important niche.
Since its first presentation in the San Francisco Fringe Festival, Cutting Ball's output has grown steadily.It now presents a four-play season in residence at EXIT on Taylor conveniently located just two blocks from the Powell Street BART.In addition, Cutting Ball produces Avant GardARAMA!, which features several short, experimental works (by writers such as Richard Foreman, Mac Wellman, Suzan-Lori Parks, Eugenie Chan, Heiner Müller, and Gertrude Stein); an ongoing play-reading series of rarely produced classics called Hidden Classics and Risk is This . . . The Cutting Ball New Experimental Plays Festival. Ours is one of the only festivals in North America calling exclusively for experimental work. Risk is This . . . The Cutting Ball New Experimental Plays Festival features three selected plays which are workshopped for a week and then staged before an audience at the EXIT on Taylor.Risk . . . has developed plays that later received their world premiere at The Cutting Ball Theater such as Bone to Pick by Eugenie Chan and The Vomit Talk of Ghosts by Kevin Oakes as well as plays that were later fully produced by other theaters such as Trojan Barbie by Christine Evans (American Repertory Theater, Cambridge), The Vomit Talk of Ghosts by Kevin Oakes (The Flea Theater, New York) and Chain Reactions by Trevor Allen (C.A.F.E., San Francisco).Through Hidden Classics as well as its full productions, Cutting Ball has created a number of new translations of important classics such as Rob Melrose's translations of Büchner's Woyzeck, Sartre's No Exit Jarry's Ubu Roi, Maeterlinck's Pelléas and Mélisande and Paul Walsh's translation of Strindberg's Burned House. Cutting Ball's radical re-imaginings of Shakespeare's plays (such as The Taming of the Shrew, and As You Like It) have garnered both critical and audience acclaim.In the ten years since its founding, The Cutting Ball Theater has gained important recognition for its contributions to theater in the Bay Area and beyond, including a "Best of SF 2006" from SF Weekly, "Best of the Bay 2007" from San Francisco Magazine, a SF Bay Guardian "2008 Goldie Award" for excellence in theater, and a "Best of the Bay 2010" from the SF Bay Guardian's Readers' Poll.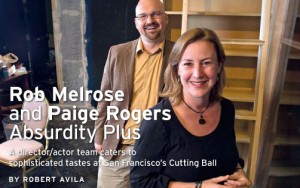 Cutting Ball was featured in the February 2010 issue of American Theatre Magazine. Click here to read the entire article.
What's a Cutting Ball?
There are many levels to the name of our theater. First of all, it's an oxymoron – a ball that cuts. Cutting Ball's name reflects the paradoxes and ambiguities that our theater embraces. Secondly, we are a cutting-edge theater that has a sense of humor about itself. We do not find ourselves gliding on the cutting edge, but rather bouncing on the cutting ball.
Our mission is to develop productions of experimental new plays and re-visioned classics, and both ideas are reflected in the name as well. The Cutting Ball was a real person. He was a cutpurse, or thief, during Elizabethan times, who hung around with Shakespeare, Marlowe, and Greene. He was the most wild and radical of the four and is the perfect mascot for our radical re-visionings of classic works, especially of Shakespeare's plays.
The Cutting Ball is also a character in contemporary playwright Kevin Oakes's play All Spoken by a Shining Creature: a hypertext punk tragedy. Artistic Director Rob Melrose directed the world premiere of this play at Perishable Theatre in Providence, Rhode Island in 1996, and it became a touchstone for the kind of new work he wanted to develop at Cutting Ball in San Francisco. This led to further collaborations with Oakes at Cutting Ball on the world premieres of The Vomit Talk of Ghosts and Drowning Room, as well as the world premieres of Bone to Pick by Eugenie Chan and Melrose's own Helen of Troy.
Like the richly layered plays we favor, there is a lot packed into the two words that make our name.
Risk is What?
Our motto and the name of our new plays festival is Risk is This…The Cutting Ball New Experimental Plays Festival. It comes from a story my high school French teacher told me, which is probably apocryphal but has fascinated me for years all the same. When we were complaining about our grades, she explained to us that in France, the grading system is infinitely harsher than in the United States. She told us about the French baccalauréat, also known as le bac, and how it is graded on a scale from 0 to 20 and that 16 is considered an excellent grade and that students only rarely get an 18 or 19 and never a 20.
After high school, French students can opt to take le bac which requires an entire year of study. This test determines where they pursue their higher education. The most famously difficult test is philosophy, where students are asked to take a theme such as "beauty" or "love" and to go through the history of the concept from the Ancient Greek philosophers to the present. This is meant to take the entire four hours allotted for the test.
One year, so the story goes, the test in philosophy consisted of one question, "What is Risk?" While all the other students across France toiled away tracing the development of the concept of risk through the history of philosophy, one daring student simply wrote, "Risk is this…" and turned in his test. The graders were said to have agonized for days about what grade to give this student, some opting for a zero, others for a twenty. Ultimately, they saw the genius of his answer, that his act was in fact demonstrating the concept, and awarded him an unprecedented 20.
Cutting Ball named our experimental festival Risk is This… in celebration of this risk-taking spirit.