CUTTING BALL THEATER NEWSLETTER
October 22, 2009 Volume 6, Issue 6
Take a look at our new website! Click Here!
Based on your feedback, we made our website easier to read and more simple to navigate.
Season Membership
Become a card-carrying member of The Cutting Ball Theater!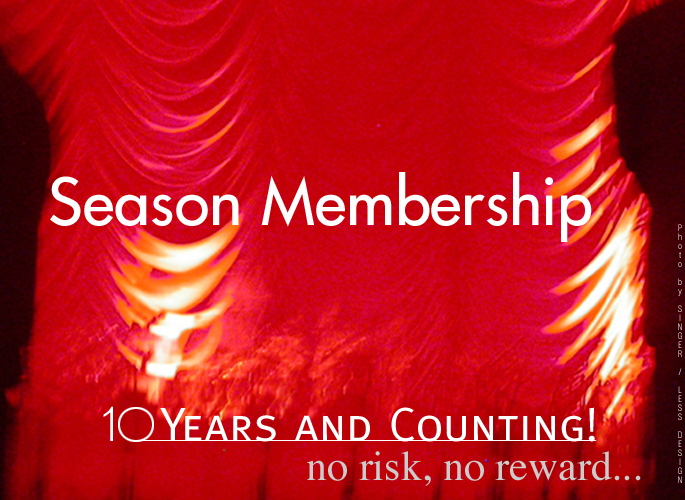 Click here to sign up for a Cutting Ball membership or call (415) 419-3584.
Cutting Ball is turning ten! After a decade, we have grown into San Francisco's premier cutting-edge theater, offering experimental new plays and re-visioned classics. As a way of saying thanks to our devoted fans, we are offering our first-ever season membership, an easy and economical way to see all of the shows in this groundbreaking 10th Anniversary season.
The Season membership Card gives you complete flexibility to see all of Cutting Ball's 2009-2010 productions - any time you want and as many times as you want! Pay once, and you'll have unlimited access to see our shows for the whole year.
Member Benefits include:
Reserved seating - let us know when you want to attend (up to 24 hours before the performance) and we'll set aside seats for you.
Invitations to special Cutting Ball events, including exclusive behind-the-scenes talks with the artists.
An online subscription to The Cutting Ball Theater's Newsletter.
Discounts for your friends - bring your friends to any show and they'll get $5 off the regular ticket price. (Reg. Price: $25 Th & Sun, $30 Fri, $35 Sat)
Choose the right membership for you:
Adult membership-$80
Under-25 and Senior membership-$50
(For those under 25 with valid ID and seniors over 65)
Preview-Only membership-$20
(Valid for preview performances only:
The Bald Soprano - October 23, 24, & 25, 2009;
...And Jesus Moonwalks the Mississippi - March 12, 13, 14, & 18, 2010;
Bone to Pick & Diadem - May 21 & 22, 2010
Click here to sign up for a membership or call (415) 419-3584.

2009 - 2010 Season
In addition to our groundbreaking season, which includes new works by local playwrights Eugenie Chan and Marcus Gardley, and our popular Hidden Classics Reading Series, we will be celebrating with many 10th Anniversary festivities, including offering our first-ever Season membership!
Join us as we commemorate our first ten years and toast to our future!
The Bald Soprano

by Eugène Ionesco
In a new translation by Rob Melrose
Directed by Rob Melrose
October 23 – November 22, 2009
Opening Night: October 29 at 8pm

…and Jesus Moonwalks the Mississippi

A New Play by Marcus Gardley
Directed by Amy Mueller
A co-production with Playwrights Foundation
March 12 – April 11, 2010
Opening Night: March 19 at 8pm

Hidden Classics Reading Series
at the EXIT on Taylor
277 Taylor Street, San Francisco
The Hidden Classics Reading Series is a great opportunity to see rarely produced classics in an intimate and up close setting. Each reading is followed by a talk-back with the director and cast. Now in residence at the EXIT on Taylor, we are excited to move this successful program from Modern Times Bookstore to our new home.

The Cutting Ball Theater's 2009-2010 Season is made possible in part by Grants for the Arts / San Francisco Hotel Tax Fund, Mental Insight Foundation, The National Endowment for the Arts, and The William and Flora Hewlett Foundation.