CUTTING BALL THEATER NEWSLETTER
January 13, 2010 Volume 6, Issue 13
Having trouble viewing this newsletter? Click Here.
Get "The Best of 2009" in 2010
The San Francisco Chronicle included Cutting Ball's rise as one of the ten hits of the decade.
Our production of Krapp's Last Tape made both Albert Goodwin's and Linda Ayres Frederick's top ten lists in the San Francisco Bay Times.
Stark Silver Creek included The Bald Soprano in its article on the best of 2009.

Special Offer for Cutting Ball Friends, and Friends of Friends, Through January 24!
You haven't missed the best of 2009 yet! The Bald Soprano extends again until January 24 when it must close to make room for Marcus Gardley's new play ...and Jesus Moonwalks the Mississippi.
We are very proud of this production and the response it has been getting from critics and audiences alike. In our 10th anniversary season, we're excited to use the success and accessibility of The Bald Soprano to share the fun of experimental theater with a wider circle of friends.
Through January 24th, Cutting Ball offers $15 tickets to you and all of your friends! Just forward this email (or send this link: http://www.cuttingball.com/newsletter/Newsletter6_13%2001-11-10.htm) and tell your friends to enter the discount code "CB Friends" when they buy their tickets.
Click here to purchase tickets!
Discount code is "CB Friends"

Click here to see the trailer and information

Rave Reviews
"The Cutting Ball ensemble functions like a well-oiled machine... Within Melrose's tight orchestration, each actor finds whole volumes of delicious nuances."
-Jean Schiffman, The San Francisco Examiner
"In Cutting Ball's new production, translated and directed by Rob Melrose, the play is as revelatory as ever, in part because it's much funnier than you might remember. That's very much to Melrose's credit, but he is helped tremendously by Paige Rogers, who finds just the right pitch for her batty housewife."
-Chris Jensen, San Francisco Weekly
"It's a lively production of a compact gem that could just as easily be impenetrable in less capable hands."
-Sam Hurwitt, Marin Independent Journal
"Acting is excellent throughout, as can be expected of Cutting Ball productions."
-Eryka M. Fraczek, San Francisco Bay Times
"Fast, fun, and fluid... the cast is uniformly outstanding."
-Patrick Vaz, The Reverberate Hills
"The Bald Soprano moves beyond absurd theatre to absurdly funny entertainment."
-George Heymont, My Cultural Landscape
"Paige Rogers and David Sinaiko are ferociously funny as Mr. and Mrs. Smith."
-Richard Connema, Talkin' Broadway
"It's wonderful that Rob Melrose and The Cutting Ball Theater take these risks to bring us such challenging, eclectic material."
-Clinton Stark, Stark Silver Creek

The Bald Soprano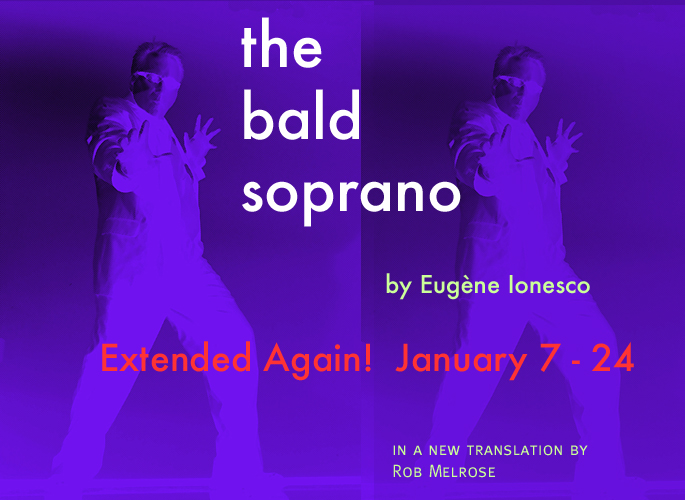 by Eugène Ionesco
In a new translation by Rob Melrose
Directed by Rob Melrose
October 23 – January 24, 2010
There are only two weeks left to see The Bald Soprano, Eugène Ionesco's riotous "Anti-play" about the tragedy of language and the hilarity of miscommunication. This revolutionary play broke all the rules with its absurdist style in its Paris premiere in 1950, and its third production (that began in Paris in 1957) has broken world records by still running to this day! While Ionesco was trying to learn English, he turned the lines of his French-to-English textbook into play dialogue, bringing an English Mr. & Mrs. Smith to life with their friends the Martins. What starts out as a comfortable English evening turns awry with the visit of unexpected company, and ultimately transforms into a cacophony of nonsensical puns and proverbs where language itself becomes a character that emerges victorious in a bold pyrotechnical display... In a brand new translation by Rob Melrose, the play has a crisp reincarnation faithful to the original and accessible for our times. It is Cutting Ball's perfect follow-up to last season's award-winning production of Ionesco's Victims of Duty. Don't miss The Bald Soprano, the play that started Ionesco's career, launched an entire theatre movement, and begins our tenth anniversary season!