CUTTING BALL THEATER NEWSLETTER
January 20, 2010 Volume 6, Issue 14
Having trouble viewing this newsletter? Click Here.
Dear Friends, Colleagues & Supporters: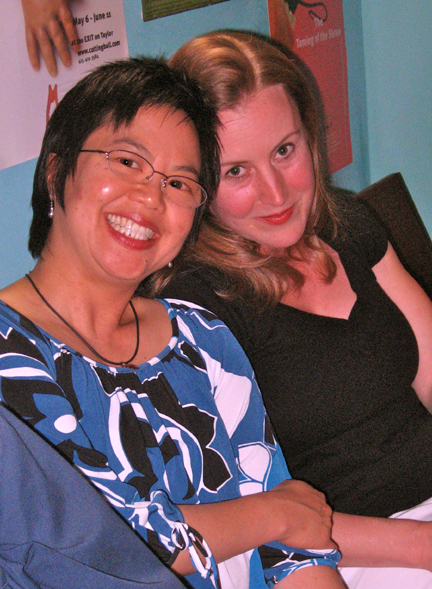 Happy New Year!
Cutting Ball Theater is off to a great start in 2010, an important year for us as we celebrate our 10th Anniversary Season.
In addition to the two new plays we will be mounting this season, we are offering a variety of events to the community.
Back by popular demand, on Sunday, January 24, we will again offer our dual workshops for actors and playwrights, Dr. Monologue and Mr. Five-Minute Play. Whether you're a newbie or a pro, here's a chance to have fun and support Cutting Ball's 10 years of groundbreaking Bay Area theater!
Here's how it works:
Calling All Actors... from amateur to experienced Paige Rogers, Cutting Ball Associate Artistic Director, will offer expert instruction and guidance in honing your monologue for the January Theater Bay Area general auditions. Please bring two monologues and a few more to choose from.
Looking for Playwrights... from aspiring to accomplished Here's an opportunity to sharpen your skills under the tutelage of Eugenie Chan, resident playwright at The Playwright's Foundation and member of New Dramatist's in NYC. Eugenie will mentor workshop participants in writing your own five-minute play.
During our last hour, workshop actors will bring the newly written scripts to life on the Cutting Ball stage.
Cutting Ball will select the winning play to be performed before an upcoming production of ...and Jesus Walks the Mississippi by Marcus Gardley.
We hope you'll join us and celebrate 10 years with Cutting Ball!
Sincerely,
Rob Melrose, Artistic Director
Space is limited: Click here for sign-up and important details.
No experience necessary. Please bring a bag lunch, drinks and goodies provided. Playwrights, please bring laptops.
RSVP before January 21 to info@cuttingball.com or call 415.292.4700.
WHEN: Sunday, January 24, 10-3:30 p.m.
WHERE: Cutting Ball Theater @ The Exit on Taylor (277 Taylor St. at Eddy)
Support local theater: Suggested donation: $20-$30 at the door.

LAST WEEKEND OF BALD SOPRANO!
We will be closing this popular and much beloved production forever on January 24th. If you haven't already, be sure to see it this weekend!