CUTTING BALL THEATER NEWSLETTER
February 10, 2010 Volume 6, Issue 17
Having trouble viewing this newsletter? Click Here.
We are so excited here at Cutting Ball. Bay Area theater critic Robert Avila has written a beautiful four-page article about us in the February issue of American Theatre magazine. This national recognition during our tenth anniversary season means so much to Paige and me. The article is full of rich details about our history and gives an excellent sense of what we have accomplished during these past ten years.
Thank you to our Cutting Ball family: audience members, donors, staff and artists, for bringing us this far. We owe our success to your continued support!
American Theatre is sold in most bookstores. We hope you pick up a copy of February's issue!
To read the article, click here.
Highlights:
"Almost invariably, the material Cutting Ball tackles comes with a strong design component - Melrose thinks very visually...[he] has gathered a crack design team around him over the years, including Michael Locher, with whom he works unusually closely from the beginning of a production."
"On stage, Rogers is a vital actor, adept and fearless, emotionally shrewd, with strong comic instincts and serious vocal chops to boot."
"She explains to me the admirably direct route the couple took to San Francisco in the late 1990s: She and Rob, fresh from graduate work at Trinity Repertory Conservatory and Yale, respectively, drew up a list of American cities most likely to embrace a company wholly committed to the experimental and avant-garde. . . Minneapolis too, from where they both hail (a coincidence that brought them together as undergrads at Princeton), might have seemed a logical choice. . . But San Francisco ended up at the top of the list, beckoning them across the country with its reputation for charting new theatrical frontiers."
To read the entire article,
click here.

Tenth Anniversary Fundraising Goal!
We have until July 31, 2010 to reach our goal. We are more than halfway there but we need your support.
Please consider making a tax-deductible donation and help us blow up the ball!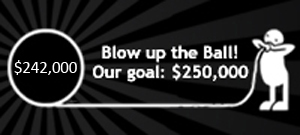 Click here to donate to our 10th Anniversary Fund-Drive

…and Jesus Moonwalks the Mississippi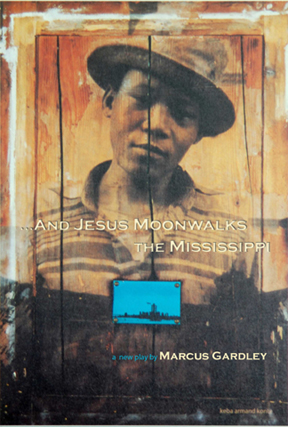 A New Play by Marcus Gardley
Directed by Amy Mueller
A co-production with Playwrights Foundation
March 12 – April 11, 2010
Opening Night: March 19 at 8pm
"Jesus Moonwalks is in a lot of ways my signature play. It is based upon a story my great-grandmother used to tell about her father who fled the bonds of slavery and traveled the country in search of his family."
-Marcus Gardley, playwright
Set on the banks of the Mississippi during the Civil War, …and Jesus Moonwalks the Mississippi is a poetic journey of forgiveness and redemption inspired by the myth of Demeter and Persephone.This thought-provoking play combines traditional storytelling, gospel music, and a wicked sense of humor to create a rich, imaginative world that allows trees to preach, rivers to waltz, and Jesus to moonwalk.
The Cutting Ball Theater's production of ...and Jesus Moonwalks the Mississippi is made possible in part by the Creative Work Fund, the Compton Foundarion, Grants for the Arts / San Francisco Hotel Tax Fund, the William and Flora Hewlett Foundation, the National Endowment for the Arts, the San Francisco Arts Commission, and the Zellerbach Family Foundation.

9th Annual Bay One Acts Festival (BOA) opens February 18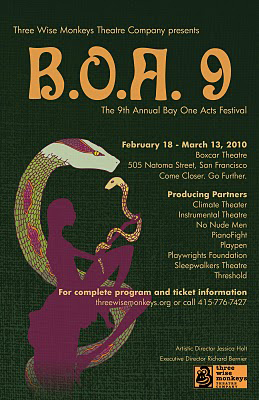 Three Wise Monkeys (3WM) Theatre Company is very proud to announce its spirited program of new short plays for the 9th Annual Bay One Acts (BOA) Festival.
The festival will take place February 18th - March 13th, 2010 at Boxcar Theatre in San Francisco. More info at http://www.threewisemonkeys.org
New Artistic Director Jessica Holt makes her festival programming debut with a selection of smart, innovative and whimsical plays by local Bay Area playwrights Crish Barth, Tim Bauer, William Bivins, Stuart Bousel, Jon Brooks, Megan Cohen, Ben Fisher, Daniel Heath, Sam Leichter, Edward Luhn and Lauren Yee.