CUTTING BALL THEATER NEWSLETTER
April 1, 2010 Volume 6, Issue 22
Having trouble viewing this newsletter? Click Here.
Marcus Gardley's ...and Jesus Moonwalks the Mississippi
extends to April 25!!
The reviews are stunning, the houses have been sold out, and audiences are raving about ...and Jesus Moonwalks the Mississippi. Please don't miss this limited two-week extension!
When you go to see Marcus Gardley's ...and Jesus Moonwalks the Mississippi - which you should - it feels like what you're witnessing is not just a fascinating new play, but an important one.
- Sam Hurwitt, Marin IJ
Read all the reviews here! Please click on the Media & Reviews tab.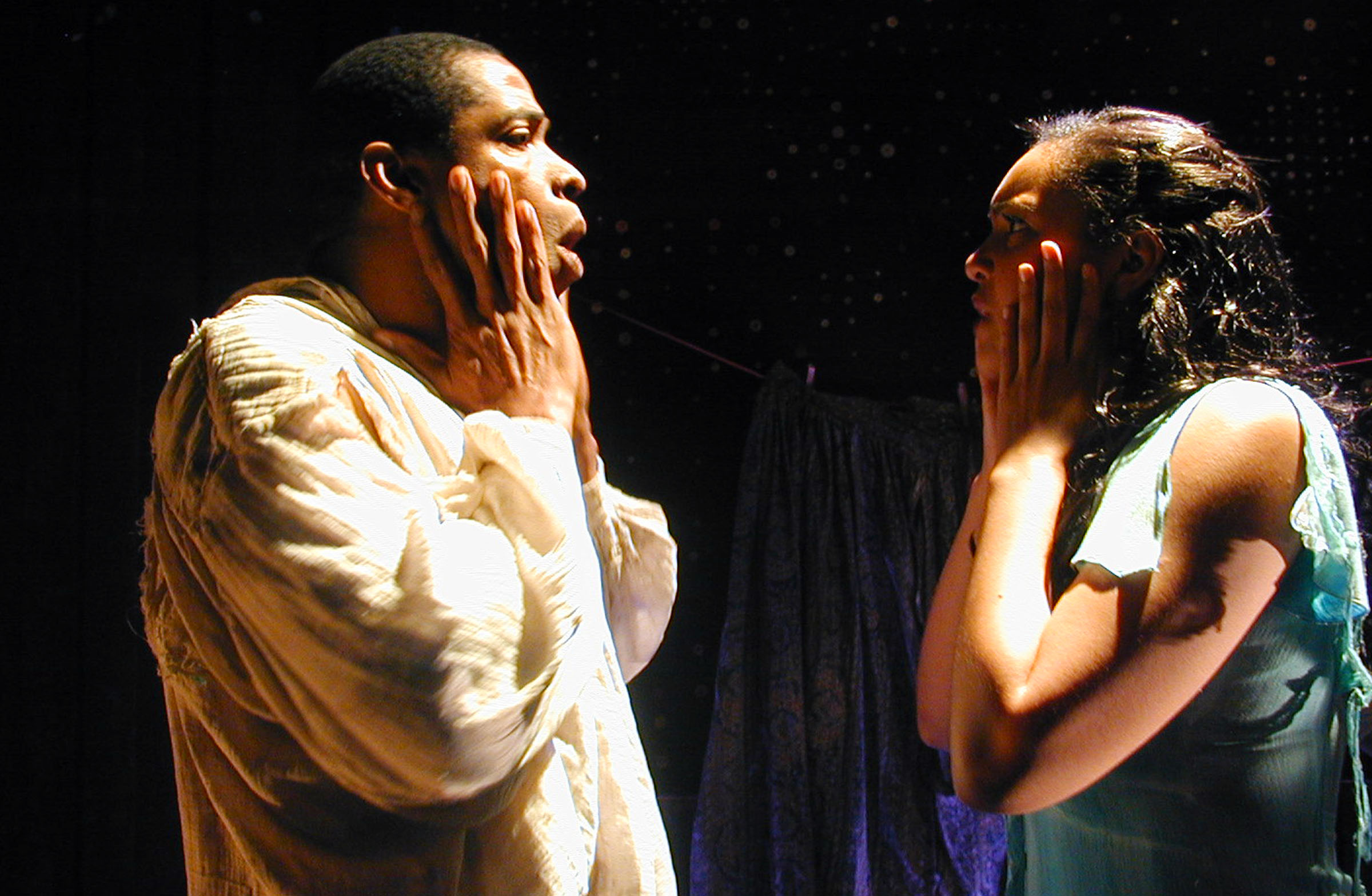 Teaching Jesus to Moonwalk: Revealing the Craft of Playwright Marcus Gardley
By Nakissa Etemad
Read the full interview here! Please click on the Dramaturgy tab
The Cutting Ball Theater's production of Marcus Gardley's play ...and Jesus Moonwalks the Mississippi just opened to outstanding reviews and is currently setting the Bay Area theatre scene alight. This play that weaves poetry, myth and spirituality into a 'gumbo' full of flavors and multiple story threads is a dream for a dramaturg: the person on the production team who serves as the midwife in the birthing of a play, represents the playwright in rehearsal, provides detailed research, manages script changes, and gives feedback on the storytelling (such as clarity and continuity) before the audience arrives into the process. Marcus speaks with his dramaturg Nakissa about writing plays and how he creates his unique worlds, as they unlock the secrets to ...and Jesus Moonwalks the Mississippi.
NE: How did you become a writer?
MG: I think I've always been a writer. I've always written poetry - I don't ever remember not writing poetry. So I feel like I've always been a writer as far back as I can remember. I became a playwright when I enrolled in a creative writing class at San Francisco State University. And in my poetry classes a lot of the professors were saying these are not poems, these are plays. And I would argue with them and say, 'Oh no, you're wrong, these are poems - they're just different.' And they said, 'But they have character names, and stage directions...' And so, they encouraged me to take a playwriting class, and I knew from the first class, this is what I was going to do with my life.
NE: What was the genesis of ...and Jesus Moonwalks the Mississippi?
MG: Well, I started to write this play when I was in my second year at Yale drama school. And I really wanted to write a play about my grandmother and her father. And when I was young my grandmother used to tell me this really amazing story about how her father freed himself. And she would always start the story with the lines: 'This is the story of Madison Eden who freed himself from slavery.' And that was just really powerful. And as I got older, the story would change over time. She loved to have family gatherings where she would tell us stories, and she had this really powerful way of extending her hand over the family as if to bless them before she would tell these beautiful stories. She would also sing spirituals and pray. And so the story, over time, would progress. And when it first started off, it was really magical: her father who freed himself from slavery who befriended Abraham Lincoln and who wore a dress. Because during that time it was easier for an African American woman to travel up north than it was [for] a man. So when I decided to write this play, I called her and I said, 'Can you please tell me the original story, the real, true story?' And I don't know if she could not remember it, or if she just chose to sort of pass the story down to me. Because she said [to me], 'You know, you need to tell your own version.' And in that way I think she really didn't know the real truth anyway in that she was sort of making sense of her father's life from what she then could remember. And so that was my task. And I was really charged to take this story that she told me and add my own spin to it. And this is what Jesus Moonwalks asks of the audience in the beginning, it asks you to invest yourself, become an active participant in the telling of this story.
NE: This play is so rich that likely each person in the audience will connect with something different. But if there were 1 thing you wanted your audience to walk away with after seeing ...and Jesus Moonwalks the Mississippi, what would it be?
MG: I would hope that audiences leave this play feeling like they were a part of it. I would hope that they felt like they learned something, but also that they took away something that added to their daily lives and shared it with another person. In a lot of ways this play is a gumbo. And a gumbo in Louisiana is something that you share; you don't make it for yourself, you make it for a whole bunch of people. But it's also a soup that has a lot of ingredients in it. And it has a lot of ingredients on purpose because like community is complex and diverse and epic, so is the sharing of it. And so when you eat a bowl of gumbo, you share your stories, you share all of who you are. And we all share all of who we are. And so you leave - you come away with a very complex, delicious experience that lasts you a lifetime.
NE: Music often plays a part in your plays. This play is filled with spirituals and musical expressions of people's desires. Why and how does music find its way into your writing?
MG: The way music works in my writing and in particular in this play is that it weaves together many elements in the play. And I think I use spirituals specifically in this play because spirituals have a profound effect on who we are as citizens of the United States of America. I think we all relate to spirituals in a very profound way. I think we all have an attachment, an emotional attachment to spirituals. And so whether there is some part of the play you don't understand, there may be some character that you're not quite grasping, it is the spirituals that help you, that guide you through the play, that weave and thread through the different parts of this play as if it's a quilt. And what I hope [happens when] audiences come to this play is that they sing along with us - this play is meant to be active. It's meant for you as an audience member to become an active participant in the telling. And that's what music, these songs [are there for], they're meant to be sung by all who hear them. And that's why spirituals are perfect for this type of play - sort of a community or a group play in that the audience is an active participant in the telling of the story. And so at the top of the play, the narrator Miss Ssippi River will invite you to sing along, to add your own thread to the play - and that means take what you can, and, as my dad says, leave the rest to the garbage men.
Nakissa Etemad is a San Francisco-based dramaturg, producer, and translator and the Resident Dramaturg for The Cutting Ball Theater. She served as dramaturg for Cutting Ball's The Bald Soprano & last season's award-winning production of Victims of Duty, and is the former Dramaturg & Literary Manager for The Wilma Theater, San Jose Rep, and San Diego Rep.