CUTTING BALL THEATER NEWSLETTER
July 14, 2010 Volume 6, Issue 31
Having trouble viewing this newsletter? Click Here.
Viewpoints Class with Anjali Vashi!
You may remember her hysterical turn as the Maid in The Bald Soprano, and next season she will appear in Will Eno's Lady Grey (in ever lower light). Here's a rare opportunity to study the Viewpoints with theater professor, Anjali Vashi.
Cutting Ball Academy
The Viewpoints is a technique of improvisation that grew out of the post-modern dance world. It was first articulated by choreographer Mary Overlie who broke down the two dominant issues performers deal with - time and space - into different categories. She called her approach the Viewpoints. Working with these principals allows a group of actors to function together spontaneously and intuitively and to generate bold, theatrical work quickly. It develops flexibility, articulation, and strength in movement and makes ensemble playing really possible.
Anjali Vashi is a theater director, producer, performer and teacher who is originally from New York City, now living and working in San Francisco. She has been training and teaching the Viewpoints for the past 10 years. She is currently on the faculty of University of San Francisco.
August 2 - 12
Mon - Thurs
6:30pm - 8:30pm
$225 per student
Space is limited!
Click here for more information and to register!

2010 BAY AREA PLAYWRIGHTS FESTIVAL, JULY 23-AUG 1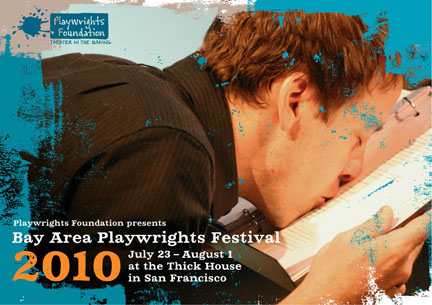 Two Weekends. Eight Plays. Limitless Imagination.
Join Playwrights Foundation on the breaking wave of new American Theater
July 23-August 1, 2010
The Festival includes eight new plays in the making. Witness the creative process as it unfolds, and partake in a rich diversity of new voices about topics ranging from the Jewish/Palestinian conflict to European xenophobia.
Featuring developing plays by:
Yussef El Guindi, Sheila Callaghan (PF Commission with FoolsFURY), Jeanne Drennan, Cory Hinkle, J.C. Lee, Elizabeth Gjelten, Steven Salzman & Erin Bregman
20% off all Festival Passes & Single Tickets for Cutting Ball supporters. Use this code: CB2010
Read all about the Festival at www.playwrightsfoundation.org