CUTTING BALL THEATER NEWSLETTER
August 6, 2010 Volume 6, Issue 35
Having trouble viewing this newsletter? Click Here.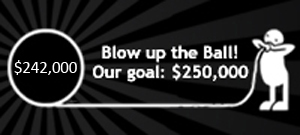 From Associate Artistic Director Paige Rogers:
Thanks very much to everyone who has donated to Cutting Ball recently. We are very close to reaching our goal of $250,000 with approximately 5% more to raise; $13,860.77. If you have thought about donating and just haven't gotten around to doing it yet, now is the time! Please click the button below and donate as generously as you possibly can. In the next four weeks, I will keep you posted as we get closer to our goal of hiring our first ever Managing Director.
Next season is shaping up well and the season after that is also fantastic. Rob and I are already working on pieces that will debut in 2012 and each has a lot of music involved. You are invited to take a peek at these works in progress during Risk is This... next spring.

Rob is currently in North Carolina directing Beckett's Happy Days at PlayMakers Repertory Company. Now, I finally get to write some chatty newsletters which I've wanted to do for many years but have always found myself blocked by my intellectual spouse. As many of you know, Rob and I are a married couple. We met at the Minnesotans-who-attend-Princeton annual tea held every August. I was entering my senior year and Rob, his freshman year. This week marks the twenty-second year that we have known each other and been friends. At this tea, we were the last two to leave the party, gabbing on about "theater" until the hostess had to break us up!
On 10-10-10, we will celebrate over decade of making theater together at Cutting Ball. At this celebratory party, there will be a short video clip of many of the shows we have produced since 1999. During the rehearsals for our very first show, My Head Was a Sledgehammer, the lead actor dropped out so Rob, who was directing, had to step in at the last minute and take the main part. He was the "professor" and I was one of his "students". I was pregnant with our first child. Eighteen months later, during As You Like It, Rob directed and I played Phebe. I was even more pregnant with our second child. Below is a current picture of our family. On more than one occasion, our daughter has referred to our work as "That stupid Cutting Ball!". Who can blame her? It has been the main focus of our adult lives and takes as much attention as a third child. Nevertheless, Rob and I often (about twice a month) look at each other and say "We are lucky. We get to do what we love." Your interest in our work, your support of experimental theater and your continued subscription to this newsletter keep us going. We humbly thank you.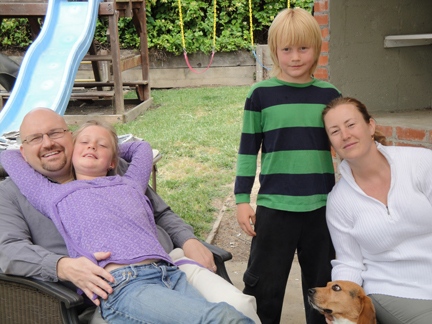 Rob Melrose, Charlotte Melrose, Sebastian Melrose and Paige Rogers. Photo by Kaye O'Leary

Vanguardia a hit!
Whew! Big fun was had on August 7th as we hosted our first ever Vanguardia: Latino Experimental Playwrights Festival. The sold-out evening began at 6pm with tamales and aguas frescas and ended with tequila shots and candy at 11pm. Six playwrights were represented in six very unique readings, directed by six different directors and starring six casts of actors. Enormous thanks to all who participated, especially our esteemed authors, Kristoffer Diaz, Marisela Treviño Orta, Octavio Solis, Caridad Svich, Enrique Urueta, and Karen Zacarías.