CUTTING BALL THEATER NEWSLETTER
Oct. 28, 2010 Volume 7, Issue 3
Having trouble viewing this newsletter? Click Here.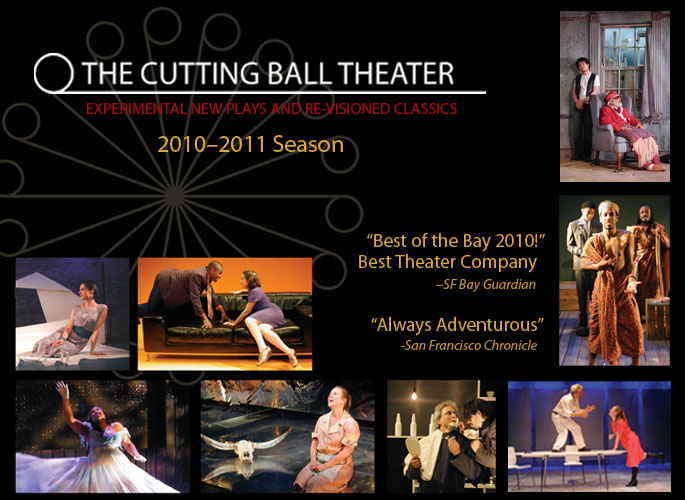 Artistic Director Rob Melrose invites you to become a Member.
Click Here for a Season Membership!
Click Here for more information.
Take the Cutting Ball Challenge!
For more than ten years Cutting Ball has brought the Bay Area challenging, risk-taking theater. As we've grown, we've been delighted to find a loyal audience of people who are intelligent, daring, passionate, and most of all...fun. If you are not already a member, please consider joining this wonderful group of people.
Last year we celebrated our tenth anniversary season and had enormous successes with The Bald Soprano and ...and Jesus Moonwalks the Mississippi. This year promises to be just as exciting with a re-envisioned adaptation of Shakespeare's The Tempest for three actors and new plays by Eugenie Chan and Will Eno.
In addition we have many more offerings in Risk is This... The Cutting Ball New Experimental Plays Festival, which features new works as they are being developed, hot off the press. Our Hidden Classics Reading Series on Sundays gives you a chance to experience neglected classics just waiting to be rediscovered.
Become a member and spend this season being challenged, stimulated and delighted. Hope to see you at the theater!
Sincerely,



Rob Melrose, Artistic Director

The Tempest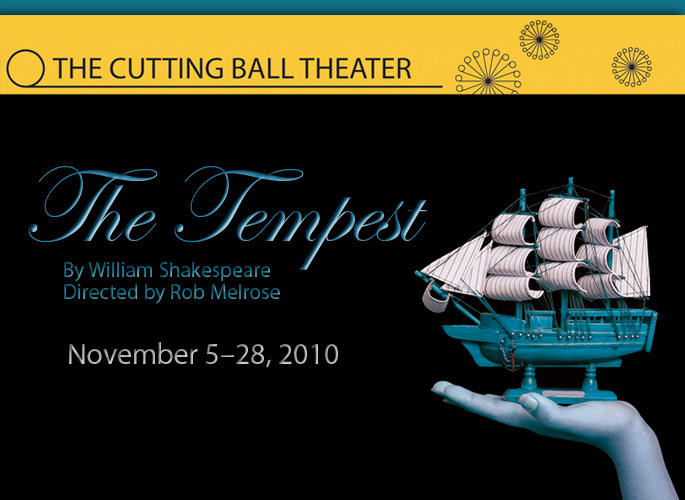 By William Shakespeare
Directed by Rob Melrose
November 5 – 28, 2010
Press Opening: November 11
Gala Opening: November 12
The Cutting Ball Theater is in Residence at EXIT on Taylor: 277 Taylor Street, San Francisco.
One of Shakespeare's most magical plays, The Tempest tells the story of the Duke of Milan, who uses sorcery to cause a shipwreck to bring his treacherous brother to the enchanted isle where he has lived in exile with his daughter for twelve years. Magic, monsters, romance, and drunken foolery spin their world into surreal chaos before the brothers meet and order is restored. In the tradition of Cutting Ball's uniquely San Franciscan The Taming of the Shrew and expressionistic Macbeth, this three-person chamber version of The Tempest promises to give an up close and personal look at the monsters lurking inside all of us.
Performances are Thursdays - Saturdays at 8pm and Sundays at 5pm. There will be no performance on Thanksgiving Day, November 25.
Bone to Pick & Diadem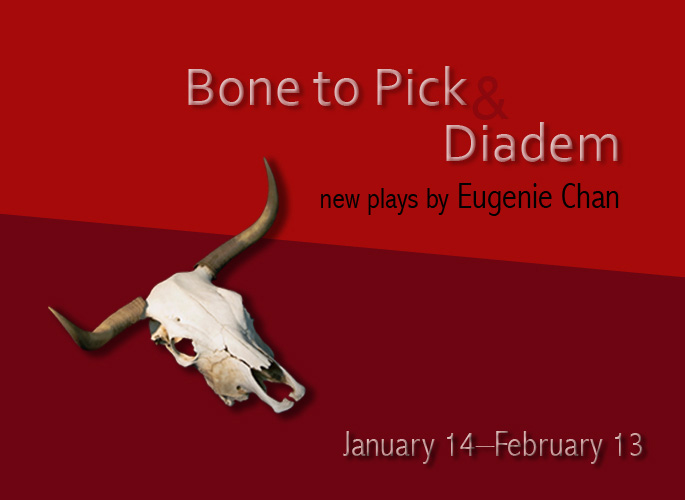 By Eugenie Chan
Directed by Rob Melrose
January 14 – February 13, 2011
Press Opening: January 20
Gala Opening: January 21
Re-imagining the myth of Ariadne, Theseus, and the Minotaur in a postmodern exploration, Bone to Pick by Eugenie Chan received its World Premiere in Cutting Ball's Avant GardARAMA!, becoming a stand-out of the 2007-2008 season. The San Francisco Chronicle called the production "richly rewarding right down to its marrow," noting Paige Rogers' performance as "riveting." For this restaging, Rogers will reprise her tour-de-force role of Ariadne as a waitress in a diner, 3,000 years after she was first left on the island of Naxos, now a deserted U.S. Army base. This incendiary play was nominated for the 2008 Glickman Award for Best New Play. Accompanying Bone to Pick is a newly commissioned companion piece called Diadem, also by Chan, which examines the day that Ariadne is abandoned by her young husband. Together, these two original works tell the complete story of Ariadne's epic romance.
Lady Grey (in ever lower light) and other plays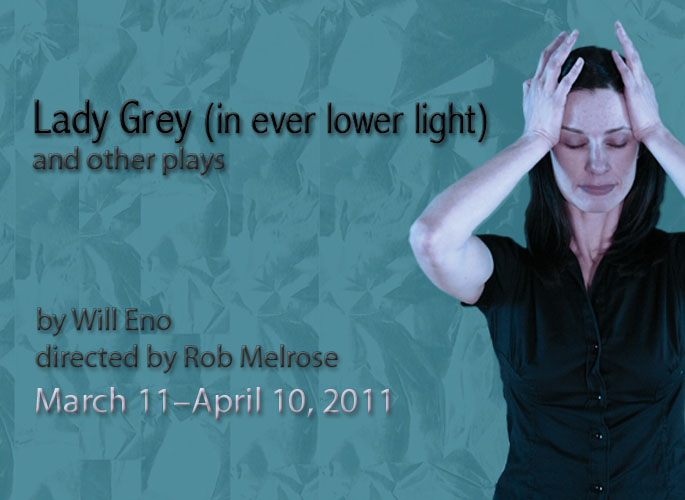 By Will Eno
Directed by Rob Melrose
March 11 – April 10, 2011
Press Opening: March 17
Gala Opening: March 18
Cutting Ball Theater welcomes the spring with Lady Grey (in ever lower light) and other plays, three short plays by acclaimed contemporary playwright Will Eno, hailed by The New York Times as "a Samuel Beckett for the Jon Stewart Generation." An intimate, hilarious, and ultimately searing confrontation of actor and audience, Lady Grey is the perfect follow-up to Cutting Ball's 2009 hit production of Eno's Thom Pain. In Intermission, the fourth wall is broken as the audience watches another audience during the intermission of another play in this meta-theatrical wonder. Finally, in his brief time on the world's stage, Mr. Theatre lives out the seven ages of man in a playful manner that echoes Shakespeare as much as it does Beckett in Mr. Theatre Comes Home Different.
Risk Is This... The Cutting Ball New Experimental Plays Festival
May 13 – June 25, 2011
Fridays & Saturday at 8pm
Risk is This…The Cutting Ball New Experimental Plays Festival is the only play festival in America solely dedicated to experimental works for the stage. This year's festival features five staged readings of new plays that push the boundaries of what theater can be.
Tontlawald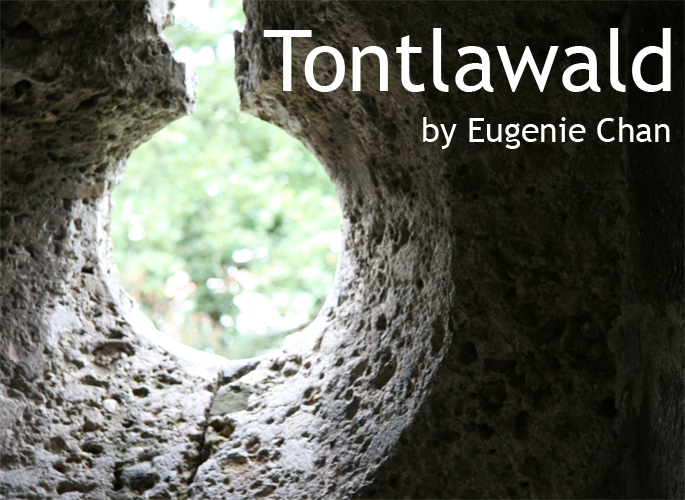 Cutting Ball Commission
By Eugenie Chan
Directed by Paige Rogers
May 13-14, 2011
Based on an ancient Estonian tale about a dark forest and a mistreated girl who hides there, Tontlawald weaves movement, a cappella singing, and storytelling together into a gorgeous spectacle for the eyes and ears. Written by Cutting Ball's resident playwright Eugenie Chan and directed by co-founder Paige Rogers, Tontlawald is slated to receive its fully staged World Premiere as part of the company's 2011-2012 season.


Krispy Kritters in the Scarlet Night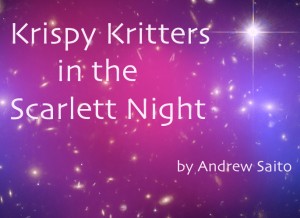 By Andrew Saito
Directed by Rob Melrose
May 20-21, 2011
Drumhead looks for Jesus as he puts dead mice into boxes of Lucky Charms. Snowflake freezes on the corner waiting for customers in her coat lined with baby blue fur. With Krispy Kritters in the Scarlet Night, playwright Andrew Saito dazzles with sublime, surreal language and imagery fit for a Dalí painting.


Madame Ho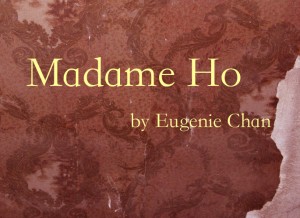 By Eugenie Chan
Directed by Rob Melrose
May 27-28, 2011
Madame Hotells the story of a formidable woman in the Wild West, a real-life 19th century brothel hostess, single mother, Chinese immigrant, great-great grandmother, and ghost.


Ozma of Oz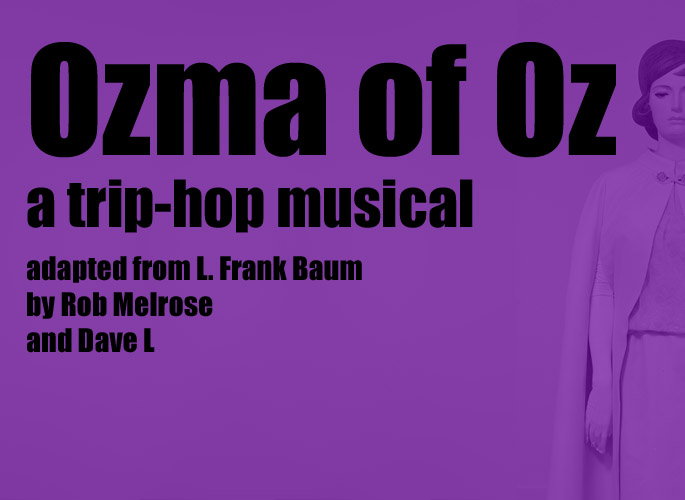 Cutting Ball Commission
Adapted from the novel by L .Frank Baum
Rob Melrose (book and lyrics)
Dave L (music)
Directed by Rob Melrose
June 10-11, 2011
Cutting Ball Artistic director Rob Melrose collaborates with Dave L of the San Francisco-based punk/funk group Z.O.N.K. to create Cutting Ball's first musical, a trip-hop fantasy that captures L. Frank Baum's American breed of surrealism with just a hint of the post-modern. In Ozma of Oz, Dorothy is transported to the land of Ev with a talking chicken named Billina. Together, they plot to overthrow the evil Nome King, but they cannot succeed with out the help of a mysterious princess.


Tender Loin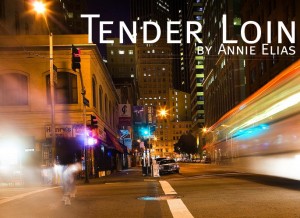 Cutting Ball Commission
By Annie Elias
Directed by Annie Elias
June 24-25, 2011
Annie Elias brings her years of experience in documentary theater to the Tenderloin, creating an unforgettable piece about the people and places in Cutting Ball's neighborhood.
Hidden Classics Reading Series
This season, Cutting Ball's Hidden Classics Reading Series explores a variety of extraordinary works ranging from the ancient Greeks and Romans to the Elizabethans, and from 18th century France to modern experimentalism. The series offers a profound look at some of the greatest authors ever to write for the stage in a program that continues to be one of San Francisco's best-kept secrets.
Andromache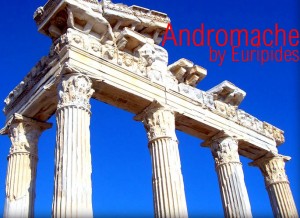 By Euripides
Directed by Amy Clare Tasker
October 3, 2010
Cutting Ball opens the Hidden Classics Reading Series with Greek playwright Euripides' rarely performed play Andromache. Long after the Trojan War ends, Hector's dutiful wife Andromache finds herself in Sparta as the concubine of Achilles' son Neoptolemus. When Neoptolemus's wife, daughter of Helen of Troy, learns that Andromache has a son with her husband, she vows revenge.


Epicoene, or The Silent Woman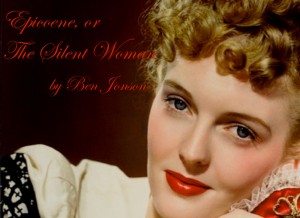 By Ben Johnson
Directed by Michael Sexton
December 5, 2010
From playwright Ben Johnson, Shakespeare's greatest literary rival, comes Epicoene, or The Silent Woman. A man with a pathological hatred of noise seeks to disinherit his nephew by marrying a quiet woman named Epicoene. Little does he know that the entire marriage was orchestrated to make him go mad in a hilarious cacophony of chaos.


The Braggart Soldier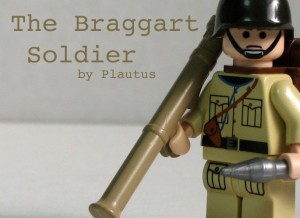 By Plautus
Directed by Evren Odcikin
January 30, 2011
A pompous soldier can't help bragging about his exploits while his followers feign admiration (and secretly plot his downfall). The Braggart Soldier witnesses the birth of the stock character used for centuries by Commedia dell'Arte in the form of Capitano, later revived in Sondheim's A Funny Thing Happened on the Way to the Forum.


The False Suitor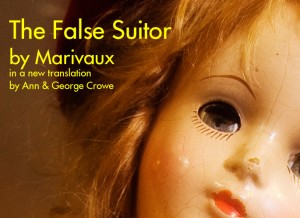 By Marivaux
In a new translation by Ann and George Crowe
Directed by Rob Melrose
April 3, 2011
Master comedian Pierre Marivaux is the true heir to Molière in this comedy about class and identity. In The False Suitor, his last play performed in a public theater, Marivaux explores social prejudice from a new angle, by digging deep into the heart of his heroine.


The Insect Play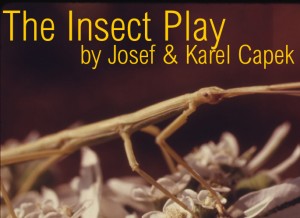 By Josef and Karel Capek
Directed by Bennett Fisher
June 12, 2011
One of the last plays from renowned Czech dramatist Karel Capek and his brother Josef, The Insect Play constructs an impish satire of human relationships, using butterflies and beetles to explore human vices.

Season Memberships are available now! Become a card-carrying member of The Cutting Ball Theater, and get unlimited access to all our 2010 – 2011 shows!
Click Here for a Season Membership!