CUTTING BALL THEATER NEWSLETTER
November 19, 2010 Volume 7, Issue 6
Having trouble viewing this newsletter? Click Here.
The Tempest Extends Through December 19
Click here to watch the trailer.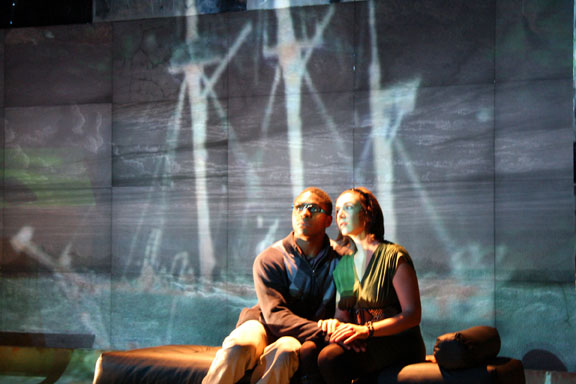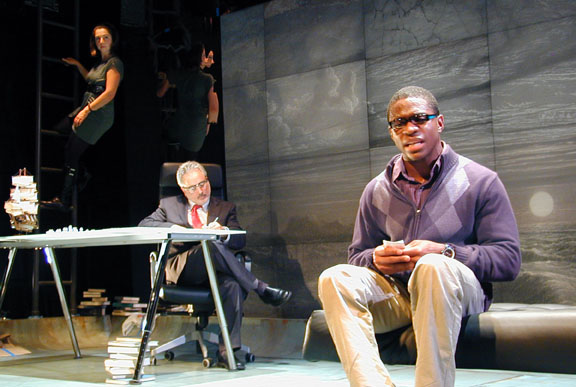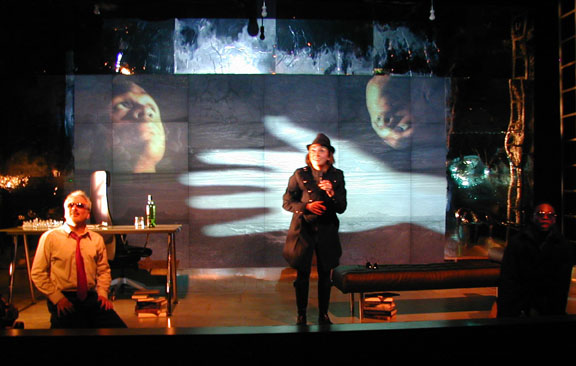 More Raves for The Tempest
"Rob Melrose's adaptation of Shakespeare's The Tempest takes place in a psychiatrist's office at the bottom of a swimming pool with just three actors tackling 10 roles in a tiny theatre located in the heart of San Francisco's Tenderloin district. Guess what? The damned thing works!"
-George Heymont, The Huffington Post
"It is a delight to report that there is a theatrical marvel in store for you: Cutting Ball Artistic Director Rob Melrose has gone well beyond a mere modern interpretation - he has re-envisioned The Tempest as an avant-garde dream; one which elucidates the psychological complexities of Shakespeare in such a way that theatre never seemed so alive, intimate, accessible, extraordinary and (by no means an understatement) brilliant."
-Tony Frankel, Stage and Cinema
"Paring a multi-character Shakespearean play down to a Freudian triangle, The Cutting Ball Theater creates an insightful and entertaining version of The Tempest!"
--Susan Cohn, San Mateo Journal
"From a visual standpoint, this play is amazing. The set is a piece of brilliance, leaving the small EXIT on Taylor Theater utterly transformed."
-Arielle Little, The Daily Californian
"In Melrose's alluring vision, characters morph in ways that feel organic and in sync with the island's magical properties, casting new light on the various and ambivalent relationships."
-Jean Schiffman, The San Francisco Examiner
"Michael Locher's handsome set looks like a psychiatrist's office at the bottom of a swimming pool because there's therapy afoot."
-Robert Hurwitt, San Francisco Chronicle
"Set on an enchanted island (or, in Cutting Ball's interpretation, at the bottom of a swimming pool) The Tempest begins with stormy weather, but quickly grows into a full-blown hurricane of shipwrecked nobles, nymphs, and drunks, plus the turbulent awakenings of a teenage daughter's libido, and the rumblings of her over-protective papa"
-Nicole Gluckstern, San Francisco Bay Guardian
"Director Rob Melrose and company in a new production greatly enlarges Shakes' vision with audio processing and streaming video on a set with a distinctly modern nautical theme."
-Albert Goodwyn, examiner.com
Though The Tempest is often presented as Shakespeare's farewell, this is the first time I really felt it that way."
-Patrick Vaz, The Reverberate Hills

The Tempest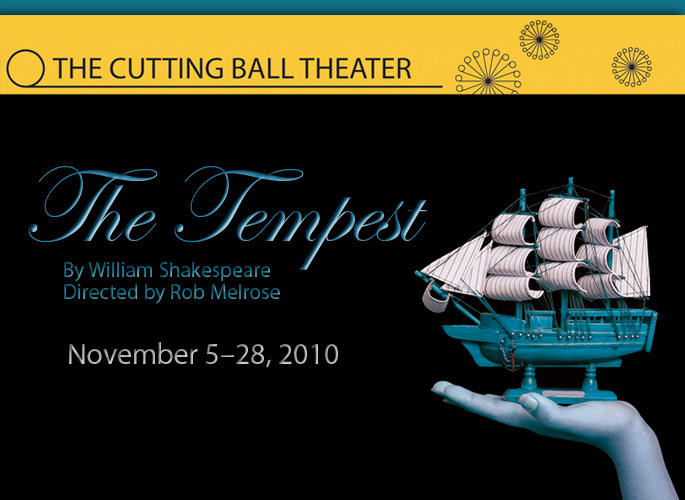 By William Shakespeare
Directed by Rob Melrose
The Cutting Ball Theater in Residence at EXIT on Taylor
277 Taylor Street, San Francisco
Extended Through December 19!
Click Here for Tickets!
One of Shakespeare's most magical plays, The Tempest tells the story of the Duke of Milan, who uses sorcery to cause a shipwreck to bring his treacherous brother to the enchanted isle where he has lived in exile with his daughter for twelve years. Magic, monsters, romance, and drunken foolery spin their world into surreal chaos before the brothers meet and order is restored. In the tradition of Cutting Ball's uniquely San Franciscan The Taming of the Shrew and expressionistic Macbeth, this three-person chamber version of The Tempest promises to give an up close and personal look at the monsters lurking inside all of us.

Performances are Thursday, Friday & Saturday at 8pm; Sunday at 5pm. There will be no performance on Thanksgiving Day, November 25.

The Tempest runs two hours and fifteen minutes, including a fifteen-minute intermission.

Why Mess with Shakespeare?
Notes on The Tempest from director Rob Melrose
Welcome to The Cutting Ball Theater's production of Shakespeare's The Tempest. Just a quick look at our set - a psychiatrist's office at the bottom of a swimming pool - probably gives you a clue that we are up to something here. Some of you may be saying, "Oh great, another wild Cutting Ball journey." Others may ask, "Why do directors have to DO something with Shakespeare's work rather than producing the plays as he intended?" This is a good question.
People who live in the Bay Area are in the enviable position of having a number of excellent Shakespeare companies nearby that do solid, full-cast productions of his plays with a primary focus on telling the story. It is an enviable position for Cutting Ball as well, because it allows us to do something different. Our goal is to create productions that focus on particular themes or obsessions within the play that an audience member might miss in a more conventional production. For example, our 2004 production of Macbeth focused on the loss of the Macbeths' child and all the images of children that occur in the play. Our 2007 production of The Taming of the Shrew used the often-cut preliminary scenes and set them in San Francisco to bring out the many instances of gender-bending, disguises and role playing in the text. Likewise our three-person Tempest hopes to illuminate the many connections between the characters, encouraging a reading of the play similar to Freud's reading of fairy tales, where some characters are treated as aspects of other characters.
Shortly after I graduated from the Yale School of Drama, I received a grant from the Fox Foundation to spend a year in Europe observing rehearsals and productions of Shakespeare in translation. What I found was that in the process of translating Shakespeare again and again, the Europeans are continually re-discovering Shakespeare and re-inventing him. This process allows them to take more risks with Shakespeare's texts and in the words of Polish theater critic Jan Kott, "find Shakespeare our contemporary."
It is in this spirit that we approach The Tempest. These past two months, the actors and designers and I have been imagining a contemporary production of the play that is in conversation with Freud, Jung and the dream-like dramaturgy pioneered by August Strindberg, now found in the films of David Lynch (Lost Highway, Mullholland Drive), Tarsem Singh (The Fall, The Cell), and Christopher Nolan (Inception, Memento) as well as the novels of Haruki Murakami (Kafka on the Shore, The Wind-up Bird Chronicle) and the video installations of Bill Viola.
For ten years, Cutting Ball has been re-envisioning classic works. We feel very fortunate to have found an audience who has been willing to go on these risky explorations with us. Thank you for coming with us on the journey. And now fasten your seat-belts, it's going to be a bumpy ride...