CUTTING BALL THEATER NEWSLETTER
December 10, 2010 Volume 7, Issue 8
Having trouble viewing this newsletter? Click Here.
Don't miss out on Cutting Ball's latest "theatrical marvel!" Only 7 more performances of The Tempest.
Click here to watch the trailer.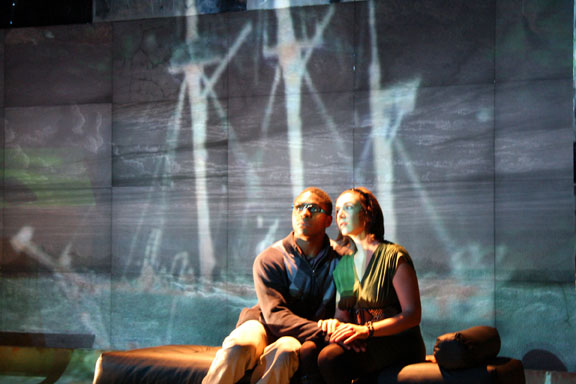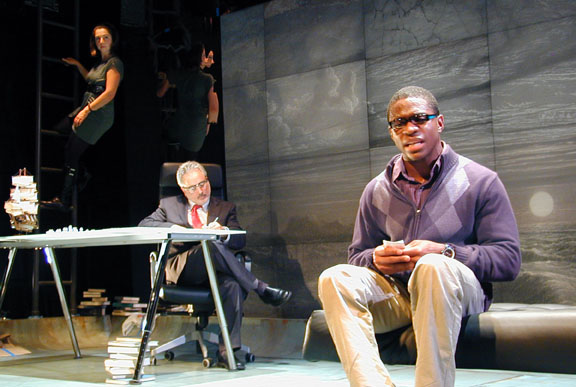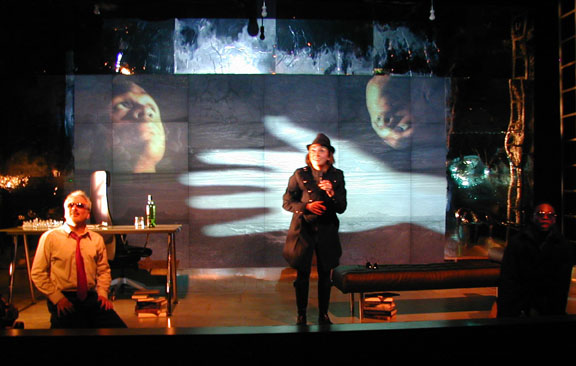 The Tempest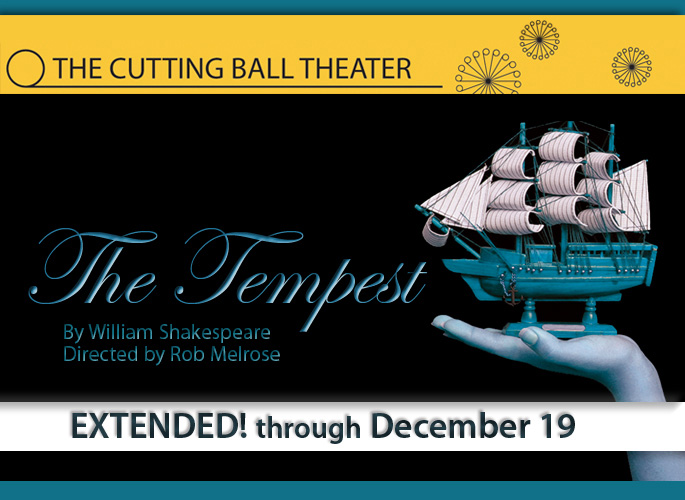 By William Shakespeare
Directed by Rob Melrose
November 5 - December 19, 2010
Press Opening: November 11
Gala Opening: November 12
EXTENDED until December 19th!
Click Here for Tickets!
One of Shakespeare's most magical plays,
The Tempest
tells the story of the Duke of Milan, who uses sorcery to cause a shipwreck to bring his treacherous brother to the enchanted isle where he has lived in exile with his daughter for twelve years. Magic, monsters, romance, and drunken foolery spin their world into surreal chaos before the brothers meet and order is restored. In the tradition of Cutting Ball's uniquely San Franciscan The Taming of the Shrew and expressionistic Macbeth, this three-person chamber version of
The Tempest
promises to give an up close and personal look at the monsters lurking inside all of us.
Performances are Thursday, Friday & Saturday at 8pm; Sunday at 5pm. There will be no performance on Thanksgiving Day, November 25.
The Tempest
runs two hours and fifteen minutes, including a fifteen-minute intermission.
Raves for The Tempest
"Rob Melrose's adaptation of Shakespeare's The Tempest takes place in a psychiatrist's office at the bottom of a swimming pool with just three actors tackling 10 roles in a tiny theatre located in the heart of San Francisco's Tenderloin district. Guess what? The damned thing works!"
-George Heymont, The Huffington Post
"It is a delight to report that there is a theatrical marvel in store for you: Cutting Ball Artistic Director Rob Melrose has gone well beyond a mere modern interpretation - he has re-envisioned The Tempest as an avant-garde dream; one which elucidates the psychological complexities of Shakespeare in such a way that theatre never seemed so alive, intimate, accessible, extraordinary and (by no means an understatement) brilliant."
-Tony Frankel, Stage and Cinema
"Paring a multi-character Shakespearean play down to a Freudian triangle, The Cutting Ball Theater creates an insightful and entertaining version of The Tempest"
-Susan Cohn, San Mateo Journal
"From a visual standpoint, this play is amazing. The set is a piece of brilliance, leaving the small EXIT on Taylor Theater utterly transformed."
-Arielle Little, The Daily Californian
"In Melrose's alluring vision, characters morph in ways that feel organic and in sync with the island's magical properties, casting new light on the various and ambivalent relationships."
-Jean Schiffman, San Francisco Examiner
"Michael Locher's handsome set looks like a psychiatrist's office at the bottom of a swimming pool because there's therapy afoot."
-Robert Hurwitt, San Francisco Chronicle
"Set on an enchanted island (or, in Cutting Ball's interpretation, at the bottom of a swimming pool) The Tempest begins with stormy weather, but quickly grows into a full-blown hurricane of shipwrecked nobles, nymphs, and drunks, plus the turbulent awakenings of a teenage daughter's libido, and the rumblings of her over-protective papa."
-Nicole Gluckstern, San Francisco Bay Guardian
"Director Rob Melrose and company in a new production greatly enlarges Shakes' vision with audio processing and streaming video on a set with a distinctly modern nautical theme."
-Albert Goodwyn, examiner.com
"Though The Tempest is often presented as Shakespeare's farewell, this is the first time I really felt it that way."
-Patrick Vaz, The Reverberate Hills

Mark your Calendars!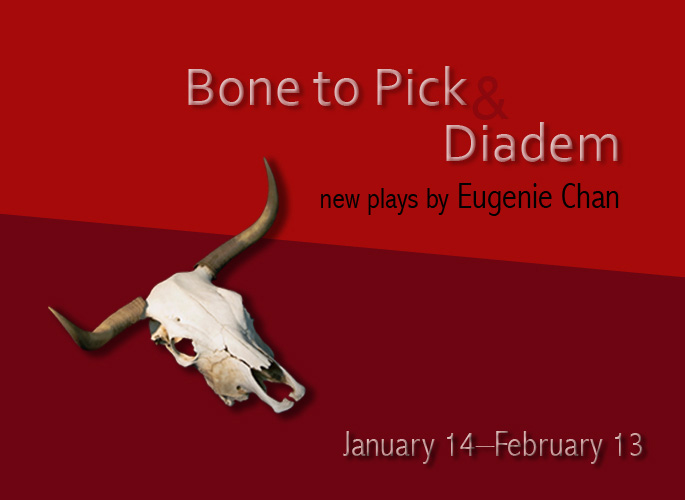 By Eugenie Chan
Directed by Rob Melrose
January 14 - February 13, 2011
Press Opening: January 20
Gala Opening: January 21
Diadem and Bone to Pick are two different one-woman shows about the classical myth of Ariadne. Together, these two original works tell the complete story of Ariadne's epic romance.
In the first, the daughter of cruel tyrant, King Minos of Crete, betrays her family by helping Prince Theseus escape the Labyrinth where he has just slain her half-brother, the Minotaur, an enormous bull who has been devouring Athenian youth in ritual sacrifice. After fleeing her homeland to sail for Greece, Ariadne dreams of the return of her hero new husband while she waits alone on a deserted island.
Back by popular demand, Cutting Ball Theater presents playwright Eugenie Chan's Bone to Pick, which presents Ariadne as a waitress in a diner, 3000 years into a post-apocalyptic world. This incendiary play was nominated for the 2008 Glickman Award for Best New Play, and received its World Premiere in Cutting Ball's 2007-08 season. The San Francisco Chronicle called the production "richly rewarding right down to its marrow," noting Paige Rogers' performance as "riveting;" Rogers will reprise her tour de force role for this re-staging.
Bone to Pick and Diadem gala is on Friday, January 21st and costs $50 for non-members, $25 for members. We will be serving finger food from Le Mediterranee, baklava and mulled wine at intermission and after the show. Please join us! Click here for tickets