CUTTING BALL THEATER NEWSLETTER
January 28, 2011 Volume 7, Issue 11
Having trouble viewing this newsletter? Click Here.
In this issue:

Bone to Pick & Diadem open to rave reviews!
Bone to Pick & Diadem opened last weekend to standing ovations and critical acclaim! Join us through February 13 for Paige Rogers' "masterful" performance of Eugenie Chan's "gripping" plays.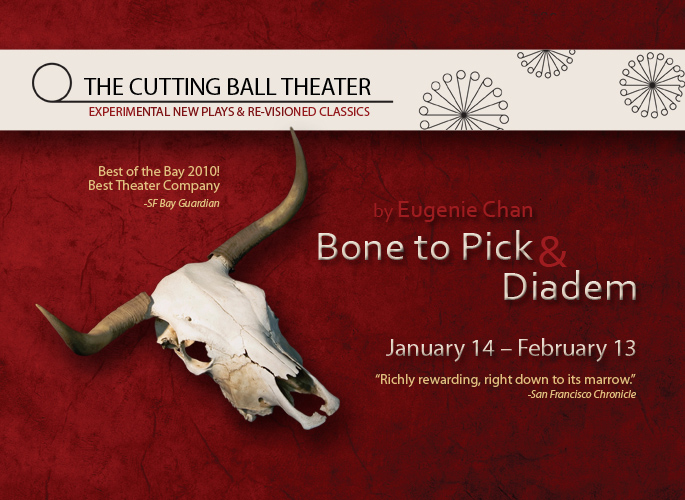 By Eugenie Chan
Directed by Rob Melrose
Featuring Paige Rogers
January 14 - February 13, 2011
A reimagining of the myth of Ariadne, Theseus and the Minotaur in a postmodern exploration, Bone to Pick received its world premiere at Cutting Ball in 2008. The San Francisco Chronicle called Paige Rogers' performance "riveting." For this restaging, Rogers will reprise her tour-de-force role of Ariadne as a waitress in a diner, 3000 years after she was first left on the island of Naxos, now a deserted U.S. Army base.
Accompanying Bone to Pick is a newly commissioned companion piece called Diadem, also by Chan, which examines the day that Ariadne is abandoned by her young husband. Together, these two original works tell the complete story of Ariadne's epic romance.
Bone to Pick & Diadem run approximately 90 minutes, including a 15-minute intermission.
Reviews
"Richly metaphoric, poetic and provocative..."Diadem" is a delightful retelling of the ancient myths. Each play is highly entertaining on its own terms...Melrose stages "Diadem" with a light touch, using the subtle dissonances in Cliff Caruthers' score to accent Ariadne's misgivings. Rogers infuses the tale with poignant sunniness, enhanced by her own sweet songs and Laura Arrington's choreography. The longer "Bone," in the more desiccated setting of Heather Basarab's hot lights, raises the mythic stakes in a contemporary context. As Rogers navigates its intertwined elements of warfare, sexual longing, meat butchering, hunger, geography and incestuous undertones, Chan's writing chills and thrills to, yes, the bone."
-Rob Hurwitt, San Francisco Chronicle
"This is challenging, rewarding theater filled with power, humor and beauty."
-Chad Jones, Theater Dogs
"Astutely guided by director Rob Melrose, Rogers is wildly inventive, giving expansive vocal and physical expression to Chan's beautifully incantatory writing. And Michael Locher's starkly handsome, museum-like set - sand-fringed black floor; backdrop of metallic, reflective squares - plus Heather Basarab's moody lights and Cliff Caruthers' unsettling underscore make for a polished production."
-Jean Schiffman, SF Examiner
"Paige Rogers adeptly centers her solo performances... first as Ariadne, who grasps at love by betraying her family and country, and then as Ria, Ariadne redux, a waitress who serves eternally in a bleak, beyond-the-Thunderdome diner...Together, Chan and Rogers skillfully connect princess and waitress with a thin red string of sexual obsession and capture the Freudian essence of Ariadne's disturbing epic romance."
-Susan Cohn, San Mateo Daily Journal
"Seeing Bone to Pick and Diadem at the Cutting Ball Thursday night made me wish we could see Paige Rogers on stage more often...Her easy command of the stage, under the direction of Rob Melrose, makes for an enchanting performance."
-Lily Janiak, The Split End
"Together, [Bone to Pick and Diadem] tell a gripping love story and showcase Ms. Rogers's remarkably diverse talents. Rogers is immensely skilled at her earnest inhabitation ...She explores the character Ariadne, as well as the myth, with loving care. The program not only gives new insights to an aged story, but it also gives her the opportunity to exhibit her bravura acting skills."
-Albert Goodwyn, Examiner.com
"I'm a big fan of Cutting Ball in the first place. They can do no wrong. Their bold program is a delight to the embodied mind."
-Jim Strope, examiner.com
"An all-star Cutting Ball affair. Playwright Chan has a way with language-her lines are remarkably accessible but manage to maintain an antique linguistic air, as if they came out of another time. ...Without a doubt, a wonderfully staged retelling of the Ariadne myth."
- Arielle Little, The Daily Cal
We had great fun at the gala opening of Bone to Pick and Diadem,
Please join us for the March 18 gala opening of Lady Grey (in ever lower light) and other plays by Will Eno. Click here for tickets.

Rare chance to hear Plautus's Roman Comedy The Braggart Soldier
Join us this weekend for the third installment of this season's Hidden Classics Reading Series! Enjoy a cup of coffee and a cookie while hearing a rarely produced classic in an intimate and up close setting. Each reading is followed by a talk-back with the director and cast.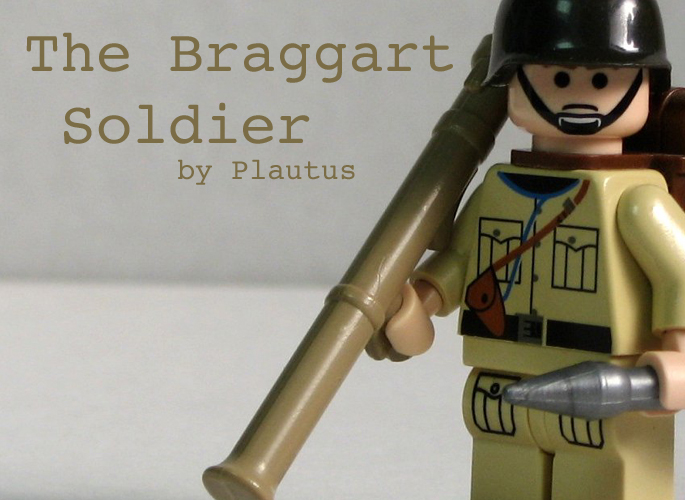 By Plautus
Directed by Evren Odcikin
January 30, 2011
Space is limited; email boxoffice@cuttingball.com to reserve your seat.
A pompous soldier can't help bragging about his exploits while his followers feign admiration (and secretly plot his downfall). The Braggart Soldier witnesses the birth of the stock character used for centuries by Commedia dell'Arte in the form of Capitano, later revived in Sondheim's A Funny Thing Happened on the Way to the Forum.

Cutting Ball makes it onto four "Best of 2010" lists!
2010 was a wonderful year for Cutting Ball! We celebrated our tenth anniversary as well as appearing on many critics' best of 2010 lists including:
"Best of the Bay! Best Theater Company."
- San Francisco Bay Guardian's Best of the Bay Readers' Poll.
"Top Ten of 2010 - #4 Tempest, The Cutting Ball Theater - Director Rob Melrose imaginatively helmed Shakespeare's play with the techno-magic of audio processing and streaming video (designed by Cliff Caruthers) on a surreal set of ladders, chrome and more (designed by Michael Locher). Actors David Sinaiko, Caitlyn Louchard and Donell Hill each skillfully fleshed out a multitude of characters with amazing flexibility. Cutting Ball Theater creates highly theatrical, innovative and challenging productions of classics and provocative new works."
- Tom Kelly, San Francisco Bay Times.
"Best All-Around Design: The Tempest Best Solo Performance Behind a Large Desk: Paul Gerrior in Krapp's Last Tape."
- Robert Avila, San Francisco Bay Guardian
"Top Ten of 2010: #6 ...and Jesus Moonwalks the Mississippi - Marcus Gardley's poetic tale of a lynched black man resurrected as a wandering woman in search of her daughter amid the Civil War was a marvelous melange of mixed mythologies and lush and impish storytelling, leavened with some heavenly spirituals. Marcus Gardley's new play ...and Jesus Moonwalks the Mississippi "was a marvelous melange of mixed mythologies and lush and impish storytelling."
- Sam Hurwitt, Marin IJ critic, on The Idiolect

Vote for Cutting Ball on SF Baylist
Voting has just begun for the third annual SF Baylist contest! Cutting Ball is nominated for Best Theatre Group.
Cast your votes now through March 18 on the SF Baylist.
Thanks for supporting Cutting Ball! See you at the theater!