CUTTING BALL THEATER NEWSLETTER
February 10, 2011 Volume 7, Issue 12
Having trouble viewing this newsletter? Click Here.
Eugenie Chan's "gripping" new plays Bone to Pick & Diadem close this Sunday, February 13!
Don't miss Paige Rogers' "enchanting" performance.
Bone to Pick & Diadem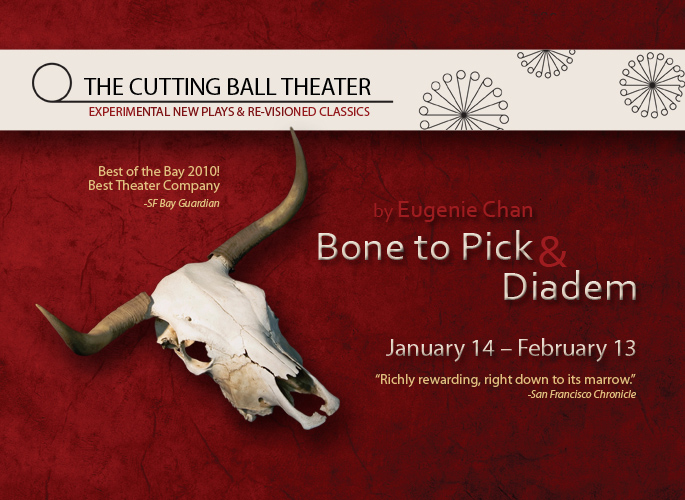 By Eugenie Chan
Directed by Rob Melrose
Featuring Paige Rogers
January 14 - February 13, 2011
Members: Click here to reserve seats.
A reimagining of the myth of Ariadne, Theseus and the Minotaur in a postmodern exploration, Bone to Pick received its world premiere at Cutting Ball in 2008. The San Francisco Chronicle called Paige Rogers' performance "riveting." For this restaging, Rogers will reprise her tour-de-force role of Ariadne as a waitress in a diner, 3000 years after she was first left on the island of Naxos, now a deserted U.S. Army base.
Accompanying Bone to Pick is a newly commissioned companion piece called Diadem, also by Chan, which examines the day that Ariadne is abandoned by her young husband. Together, these two original works tell the complete story of Ariadne's epic romance.
Bone to Pick & Diadem run approximately 90 minutes, including a 15-minute intermission.
Reviews
"Richly metaphoric, poetic and provocative..."Diadem" is a delightful retelling of the ancient myths. Each play is highly entertaining on its own terms...Melrose stages "Diadem" with a light touch, using the subtle dissonances in Cliff Caruthers' score to accent Ariadne's misgivings. Rogers infuses the tale with poignant sunniness, enhanced by her own sweet songs and Laura Arrington's choreography. The longer "Bone," in the more desiccated setting of Heather Basarab's hot lights, raises the mythic stakes in a contemporary context. As Rogers navigates its intertwined elements of warfare, sexual longing, meat butchering, hunger, geography and incestuous undertones, Chan's writing chills and thrills to, yes, the bone."
-Rob Hurwitt, San Francisco Chronicle
"This is challenging, rewarding theater filled with power, humor and beauty."
-Chad Jones, Theater Dogs
"Astutely guided by director Rob Melrose, Rogers is wildly inventive, giving expansive vocal and physical expression to Chan's beautifully incantatory writing. And Michael Locher's starkly handsome, museum-like set - sand-fringed black floor; backdrop of metallic, reflective squares - plus Heather Basarab's moody lights and Cliff Caruthers' unsettling underscore make for a polished production."
-Jean Schiffman, SF Examiner

Please help Cutting Ball REPRESENT.
It's not too late to return your Intrinsic Impact Survey!
If you've already seen Bone to Pick & Diadem, you know that Cutting Ball is participating in a groundbreaking national study of the Intrinsic Impact of live performance. We are one of 18 theaters in the country chosen to survey our audiences and find out how theater affects people intellectually, emotionally, spiritually, and socially.
We hope you took home the survey envelope that was on your seat at the theater. Please fill it out and pop it in the mail; the postage is free. Your response helps Cutting Ball to know what our work means to you - and it helps theaters across America to study and share the importance of live performance.
Every response counts! Please help us to represent experimental theater in San Francisco.
Plus, by filling out the green mini- survey, you'll be entered to win a season membership for Cutting Ball's 2011 - 2012 season (even if you also sent in a survey for The Tempest)! Thank you for sharing your thoughts with us!
The Intrinsic Impact study is commissioned by Theatre Bay Area, with support from the Doris Duke Charitable Foundation.