CUTTING BALL THEATER NEWSLETTER
March 9, 2011 Volume 7, Issue 13
Having trouble viewing this newsletter? Click Here.
Lady Grey (in ever lower light) and other plays
preview this weekend!
Lady Grey (in ever lower light) and other plays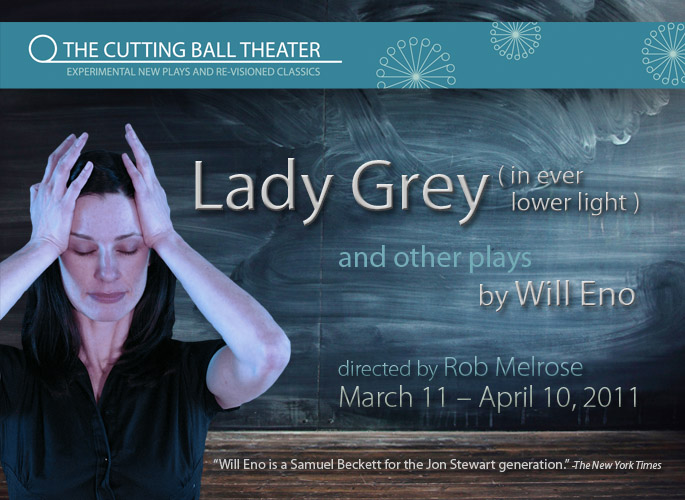 By Will Eno
Directed by Rob Melrose
March 11 - April 10, 2011
Press Opening: March 17
Gala Opening: March 18
Hailed by The New York Times as "a Samuel Beckett for the Jon Stewart generation," Will Eno returns to Cutting Ball for the Bay Area Premieres of his Lady Grey (in ever lower light), Intermission and Mr. Theatre Comes Home Different. Lady Grey relives a painful memory of show-and-tell in the classroom when she was a little girl. Intermission is a meta-theatrical wonder. Like looking in a mirror, the Cutting Ball audience watches another audience during the intermission of a mysterious play. Finally, in his brief time on the world's stage, Mr. Theatre lives out the seven ages of man in a playful manner that echoes Shakespeare as much as it does Beckett in Mr. Theatre Comes Home Different. An intimate, hilarious, and ultimately searing confrontation of actor and audience, Lady Grey is the perfect follow-up to Cutting Ball's 2009 hit production of Eno's Thom Pain (based on nothing).
Lady Grey and other plays run approximately 85 minutes, including a 15-minute intermission.
Join us for a talkback after every Sunday performance.
Gala night for Lady Grey (in ever lower light) and other plays is on Friday, March 18. Tickets are $50 for non-members, $25 for members. At 6:30pm, join us for a talk-forward with playwright Will Eno. We will be serving platters of freshly made sushi from We Be Sushi along with unfiltered sake, chilled white wine and coffee and miniature cheesecakes for dessert. Please join us!
Artistic Director Rob Melrose says:
We are honored to be producing the Bay Area Premieres of Will Eno's Lady Grey, Intermission, and Mr. Theatre Comes Home Different. The New York Times called Eno, "a Samuel Beckett for the Jon Stewart generation." As a director who has worked on numerous productions of Beckett, I am struck by what a perfect description of Eno's work that is.
Both Beckett's and Eno's plays are filled with a wicked sense of humor. What separates both authors from their contemporaries, however, is their profound depth. Their work burrows down into the most intimate vulnerabilities of the human soul. With both writers, at one moment I am laughing myself to the floor and the next I feel as though I am having an epiphany. What makes Eno "a Samuel Beckett for the Jon Stewart generation" is that he is so much of our time. Just as Beckett exploited the forms of slapstick comedy, vaudeville, and silent movies, Eno puts his ideas in the forms of stand-up comedy and the 24-hour news cycle. The fact that Eno is able to tackle such weighty themes in these forms (which we normally associate with glibness and superficiality) is exactly what makes his work so surprising and catches us off guard. Will Eno is one of the most exciting playwrights alive today and having him in residence at The Cutting Ball Theater for two weeks of March has been an extraordinary treat.
Cutting Ball prides itself on producing playwrights who push the boundaries of what theater can be. In these meta-theatrical plays, Eno looks at theater from many peculiar angles - from the view of a child doing show and tell, from the view on stage looking at the audience, and from the view of a character who embodies the very idea of theater itself. It is a refreshing reminder of what makes this art form alive, vulnerable, comical, and mysterious.

Cutting Ball is nominated for
Seven 2010 Bay Area Theatre Critics Circle Awards!
...and Jesus Moonwalks the Mississippi
Best Production
Best Ensemble
Best Director - Amy Mueller
Best Original Script - Marcus Gardley
Best Male Performance - Aldo L. Billingslea
The Tempest
Best Set Design - Michael Locher
Best Sound/Video Design - Cliff Caruthers
Join us April 4 at the awards ceremony to hear who the winners are!