CUTTING BALL THEATER NEWSLETTER
June 21, 2011 Volume 7, Issue 17
Having trouble viewing this newsletter? Click Here.
In this issue:
Vote for The Cutting Ball Theater for the Best of the Bay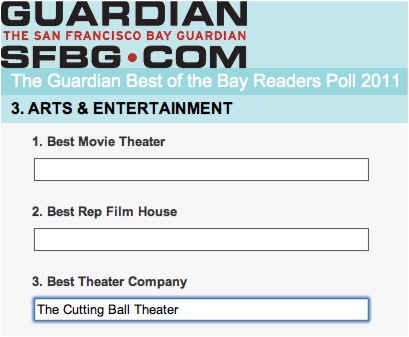 The Cutting Ball Theater won The San Francisco Bay Guardian's contest for the Best of the Bay in 2010 and we need your help to do it again! The Best of the Bay awards give recognition to the people, places, and things that make the Bay Area great. We believe Cutting Ball is emblematic of the Bay Area aesthetic - adventurous and brainy - and is part of what makes this a great place to live. Help us spread the word that we're the Best of the Bay!
Cast your vote now before voting ends on June 29:
www.sfbg.com/best2011

Next up in RISK IS THIS: Tenderloin
Annie Elias' documentary-style play about Cutting Ball's neighborhood wraps up our RISK IS THIS... festival this weekend!
RISK IS THIS... is one of the only play festivals in America solely dedicated to experimental works for the stage. This year's festival features five staged readings of new plays that push the boundaries of what theater can be.
All performances are FREE and open to the public on Fridays and Saturdays at 8pm.
You may reserve your seat in advance with a $20 donation. Ozma of OZ was sold out every night - don't risk getting turned away at the door!
Click here to make a reservation.
TENDERLOIN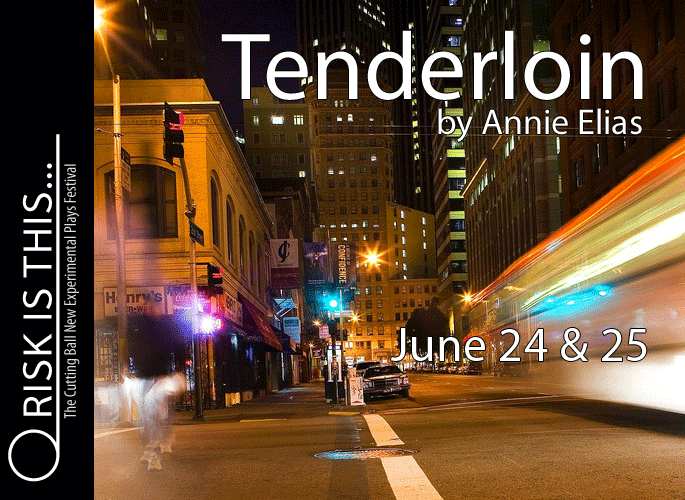 Cutting Ball Commission
by Annie Elias with Tristan Cunningham, Siobhan Doherty, Rebecca Frank, Michael Kelly, Leigh Shaw, David Sinaiko and David Westley Skillman
Directed by Annie Elias
June 24 & 25, 2011
Friday and Saturday at 8pm
at The Cutting Ball Theater in residence at EXIT on Taylor.
Annie Elias brings her years of experience in documentary theater to the Tenderloin, creating an unforgettable piece about the people and places in Cutting Ball's neighborhood.

Grub Street: Where to Grab a Pre-Show Dinner in Our Neighborhood

Cutting Ball's RISK IS THIS...festival was recently mentioned in Grub Street's recent article about the best places to eat in San Francisco's Theater District. The New York Magazine foodie blog suggested a number of great restaurants at a range of prices right near our theater. Our favorites include the inexpensive Show Dogs at Taylor and Market and the French bistro Grand Café at Taylor and Geary. Click here to read more.