CUTTING BALL THEATER NEWSLETTER
November 16, 2011 Volume 8, Issue 5
Having trouble viewing this newsletter? Click Here.
In this issue:
Pelleas & Melisande must close Sunday, November 27!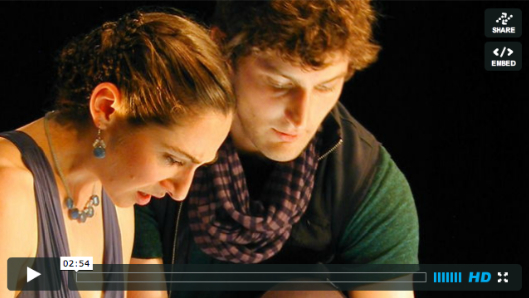 Click the image above to watch the video trailer for Pelleas & Mellisande.
After six glorious weeks of performances, Pelleas & Melisande will close on Sunday, November 27. Tickets are still available to performances this weekend, and following the Thanksgiving holiday.

Robert Hurwitt from the San Francisco Chronicle gave the production "the clapping man" and said the production "shimmers like a fairy tale." Click here to read the full San Francisco Chronicle review.
SF Weekly's review, published today, leads with the headline "Cutting Ball Theatre's Pelleas and Melisande Boasts Stunning Performances" and calls Caitlyn Louchard who portrays Melisande "breathtaking." The review continues, "To simply watch [actress Caitlyn] Louchard be present, in that dress, on that stage, is to discover the drama inherent in the still, the slow and the soulful." For the full review please click here.
Since our last newsletter, the San Francisco Examiner also published a review praising the Cutting Ball production.
"We've come to expect rare revivals of 20th-century plays, original translations from the French and new, experimental works from Cutting Ball Theater, and the small company's latest effort does not disappoint. [Playwright Maurice] Maeterlinck's plays... are laden with portents that hint at a shadowy reality - a sense of fate or inevitability - on the periphery of our human perception. [Director Rob] Melrose and colleagues have captured all that, and more, in this mesmerizing production...Performed without an intermission, the play casts a dreamy, magical spell." - San Franciso Examiner
Click here for the entire review.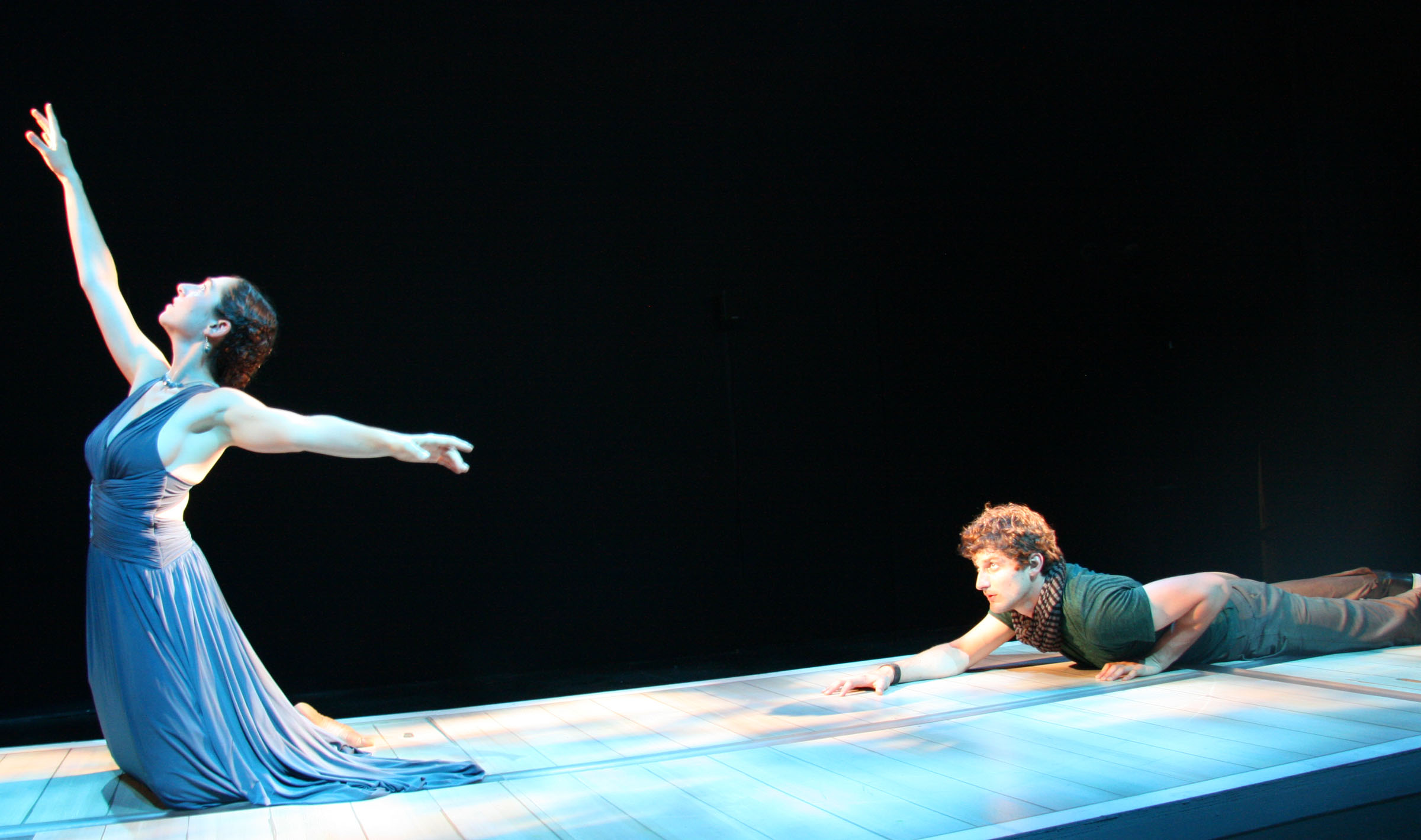 Melisande (Caitlyn Louchard) and Pelleas (Joshua Schell) watch as her doves fly out of the castle's tower in Cutting Ball Theater's Pelleas & Melisande Photo by Annie Paladino.
Nobel Prize winner Maurice Maeterlinck's symbolist classic Pelleas & Melisande has all the makings of a fairy tale: a princess in distress, a handsome prince, and a beautiful castle. Yet Melisande's growing feelings, for her husband's brother Pelleas, threaten to jeopardize her happily ever after. The story of their tragic love affair has inspired music from Claude Debussy's opera to orchestral works by Gabriel Faure, and Jean Sibelius. Newly translated by Artistic Director Rob Melrose, Cutting Ball's production will feature a musical score by composer Cliff Caruthers, choreography by Laura Arrington, and video installation by Wesley Cabral.
Tickets to all performances may be purchased at www.cuttingball.com.
PRICES
Week of November 17-20, Regular Prices:
Thursday at 7:30PM: $20
Friday at 8:00PM: $30
Saturday at 2:00PM: $25
Saturday at 8:00PM: $30
Sunday at 5:00PM: $25
Week of November 25-27, Closing Weekend:
Friday at 8:00PM: $35
Saturday at 2:00PM: $30
Saturday at 8:00PM: $35
Sunday at 5:00PM: $30
Cutting Ball Theater operates on a dynamic pricing model. Single ticket costs are subject to change without notice. Purchase your tickets early for the best prices.
Season Members: click here to reserve your seats.

This Saturday: Encore Special Event "Music Inspired by Pelleas & Melisande"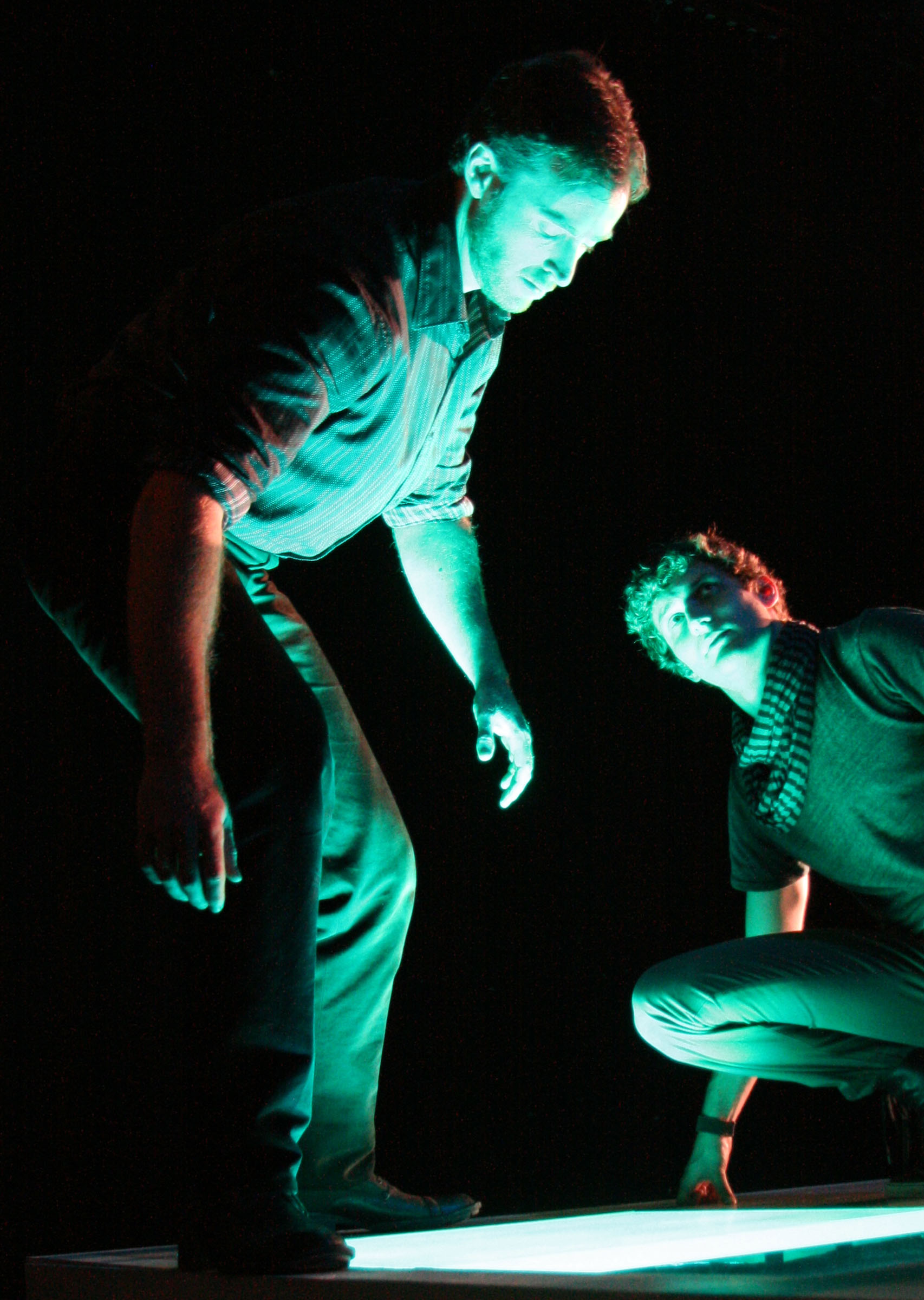 Golaud (l. Derek Fischer) and Pelleas (r. Joshua Schell) climb down into the poisonous caverns beneath the castle in Cutting Ball Theater's Pelleas & Melisande Photo by Annie Paladino
1PM, Saturday, October 30, 2011
The Cutting Ball Theater
277 Taylor Street (at Ellis), San Francisco
FREE
Arrive at the theater one hour before this Saturday's 2PM matinee and listen to the music inspired by Pelleas & Melisande through the ages. Executive Director of New Century Chamber Orchestra, Parker E. Monroe, will review selections from Debussy's famous opera of the same title and music composed by Gabriel Faure, Jean Sibelius, and Arnold Schoenberg before exploring the musique concrete created for the Cutting Ball production by composer Cliff Caruthers.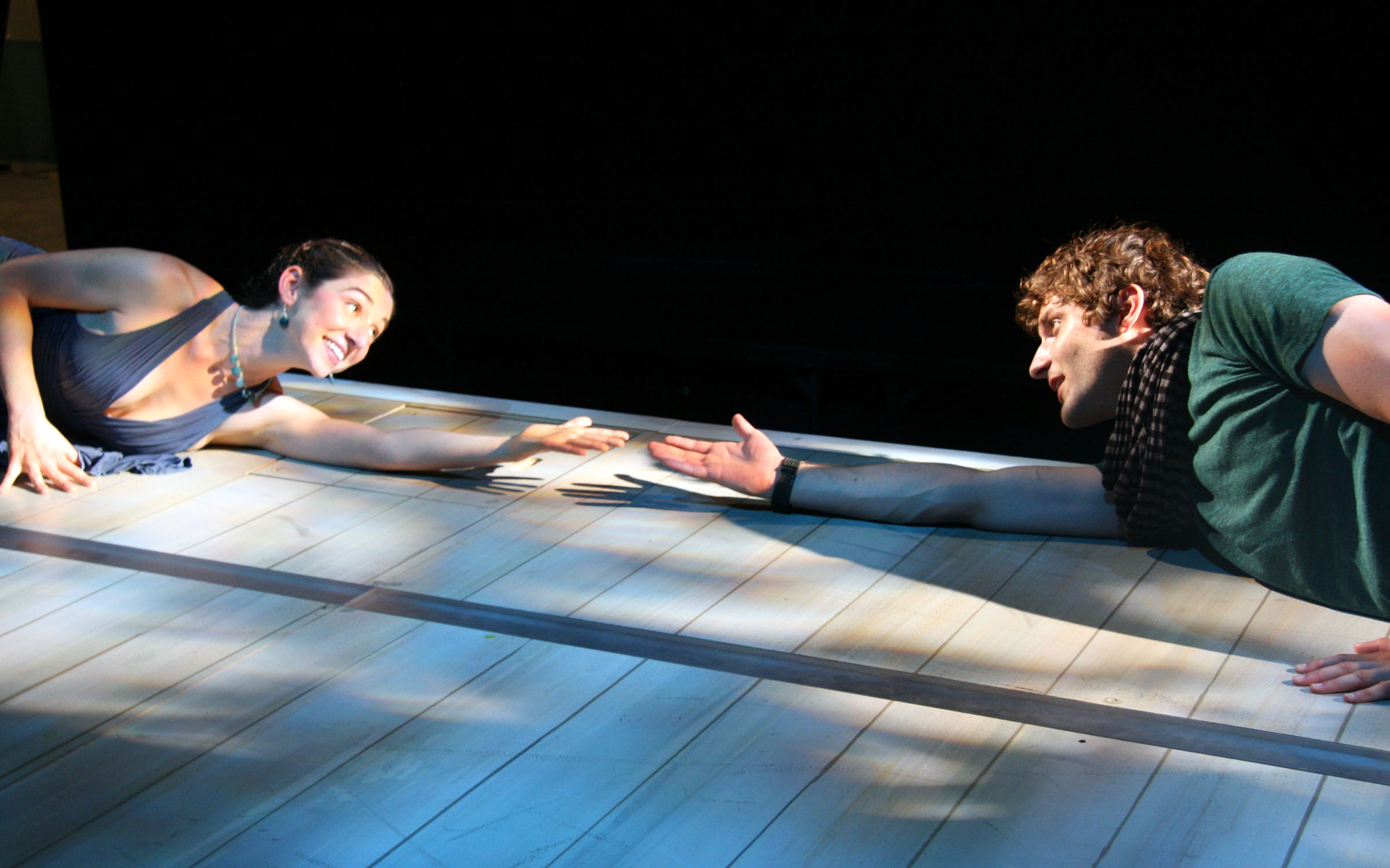 Melisande (Caitlyn Louchard) and Pelleas (Joshua Schell) reach for each other as he climbs up to her window in the castle's tower in Cutting Ball Theater's Pelleas & Melisande Photo by Annie Paladino
More Special Events!
The Cutting Ball offers a range of special events to deepen your experience of Pelleas & Melisande. Check out the Pelleas & Melisande events page for more information.
Join us for our final Thursday Deliciously Brainy Happy Hour
Join dramaturg Bennett Fisher at 6PM at 50 Mason Social House before our last Thursday performance for a talk on Maeterlinck and Symbolism.
Happy Hour specials at 50 Mason include:$1 off all drafts
25% off all bottles of wine
$5 glass house red wine
$5 glass house white wine
All cocktails $4
$8 beer/shot combo (Underburg Bitters shot & Kirin Ichiban)
Fridays: post-show drinks with the cast
Our next Friday night outing will take place on November 18 at a bar near the theater. We'll have up to the minute details about drink specials and location at cuttingball.com and at the performance.
Sundays: post-show talkback with the artists.
Stay after the show for a Q & A with the cast.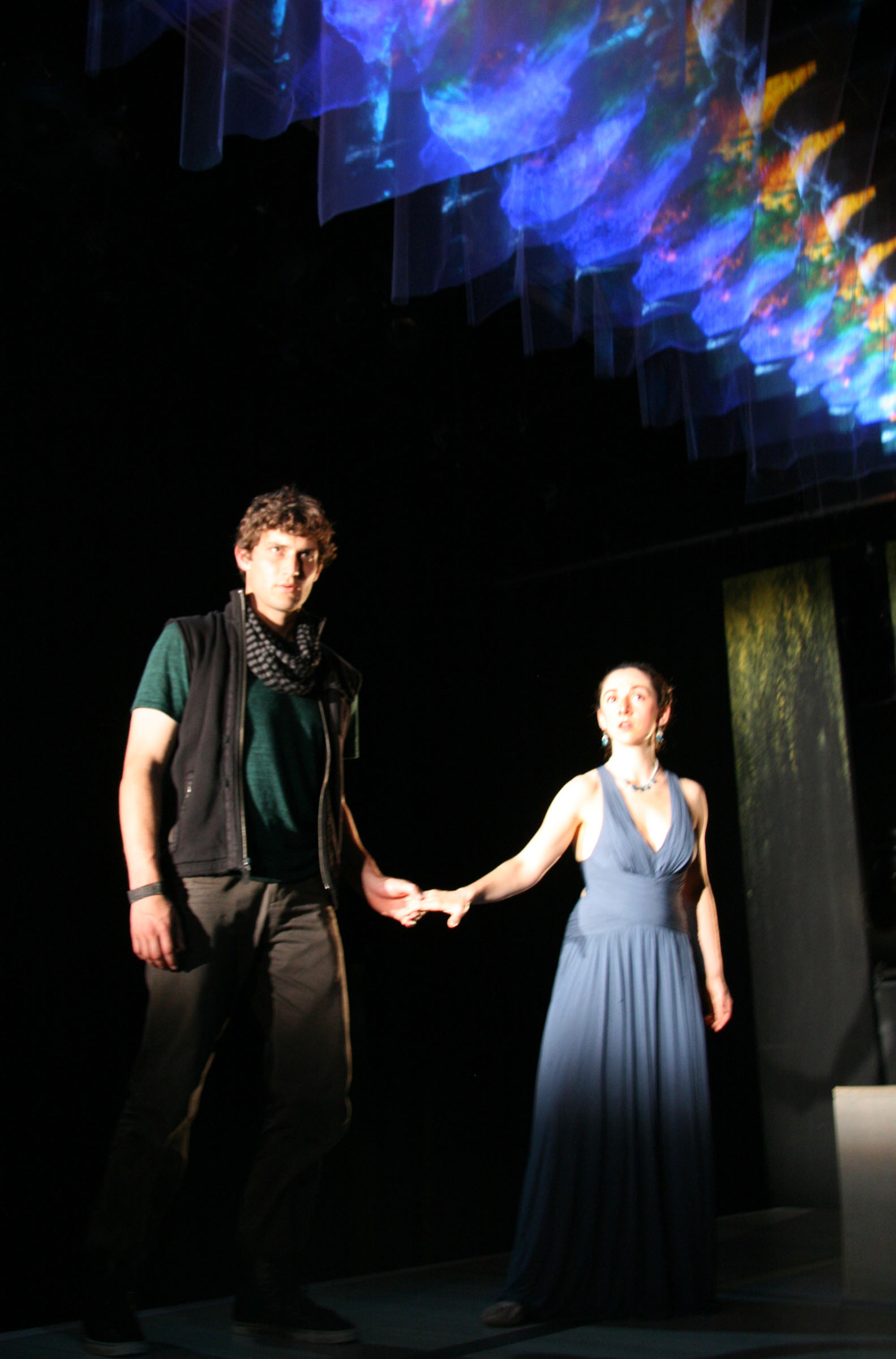 Cutting Ball in the News: Theater Bay Area breaks down "Symbolism"
Theater Bay Area published a great editorial piece on the symbolist movement, which gives great insight into how audience members and scholars might connect Pelleas & Melisande to other work of the avant-garde tradition, for which Cutting Ball is so well known. Read this article as a supplement to Rob Melrose's director's statement and Bennett Fisher's dramaturgy notes, which can be accessed here.
Looking Behind the Avant Garde in Pelleas & Melisande
By Caroline Anderson
Cutting Ball Theater has carved its niche in the Bay Area theatre landscape as a producer of avant-garde theatre, from new experimental pieces like Eugenie Chan's Bone to Pick & Diadem to reenvisioned classics like its three-actor interpretation of The Tempest. Cutting Ball's latest play, Maurice Maeterlinck's Pelleas & Melisande, however, actually goes back to an earlier artistic movement that predates the avant-garde theatre movement: Symbolism. The difference between the two movements reflects the historical developments in the world from the 19th century to the 20th.
To read the full article, click here

Put your Pelleas & Melisande ticket towards a Membership at Cutting Ball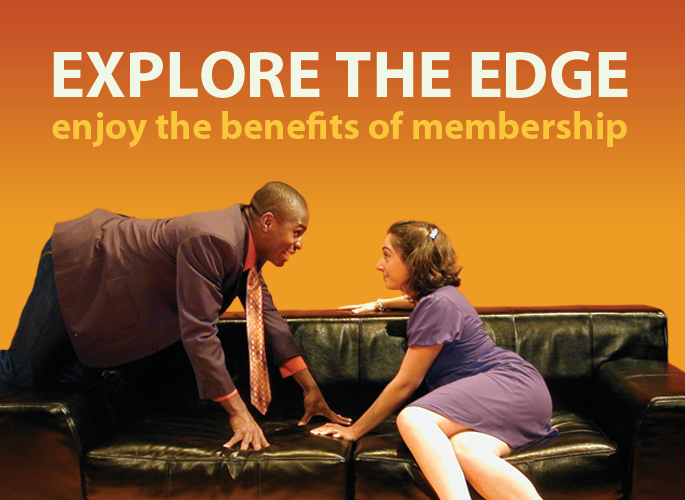 If you enjoyed Pelleas & Melisande and want to have access to all that Cutting Ball has to offer this season, or give the gift of daring, high quality performance in our intimate theater, become a member!
Explore the edge with us and experience a larger and more ambitious season than any we have ever produced before. All three of our full productions this year, Pelleas & Melisande, Tontlawald and Tenderloin, bring together large casts of our favorite actors to tell stories that explore the worlds of fantasy and reality. In addition, our Hidden Classics Reading Series and RISK IS THIS... The Cutting Ball New Experimental Plays Festival will focus on the work of August Strindberg as part of our year-long 2012 celebration of the international Strindberg Centennial.
The Season Membership Card gives you complete flexibility to see ALL of our 2011-2012 productions any time you want and as many times as you want!* Membership benefits include phone orders, free ticket exchange, and savings over single ticket prices.
Choose the membership that's right for you:
$50 Preview Membership
Reserved seating for our full productions.
An online subscription to Cutting Ball's newsletter
Valid only for previews: February 17-19 (Tontlawald); April 27-29 (Tenderloin).
$85 Regular Membership
best value: save 20% on single tickets
All of the above benefits plus...
Reserved seating for full productions and RISK IS THIS.
$5 discount for your friends when they come to the theater with you.
Invitations to special members-only events.
Not valid for Opening Night Gala performances.
$145 Opening Night Gala Membership
celebrate with us!
All of the above benefits plus...
Reserved seating for full productions, including our Opening Night Galas: February 24 (Tontlawald); May 4 (Tenderloin).
Reserved seating for RISK IS THIS and the Hidden Classics Reading Series (excluding Miss Julie and A Dream Play on January 29).
$225 Premium Membership
explore more
All of the above benefits plus...
Reserved seating for RISK IS THIS and the Hidden Classics Reading Series, including Miss Julie and A Dream Play on January 29, which features a Swedish dinner between performances.
3 parking vouchers for a garage near the theater.
To put the price of your Pelleas & Melisande ticket towards a membership, email our box office manager at boxoffice@cuttingball.com or call (415) 525-1205 for more information.
Full price memberships, good for the remainder of the season including Pelleas & Melisande, may be purchased by clicking here

2012 Membership Raffle Winner
Thank you to all of our patrons who participated in Cutting Ball's 2010-2011 season surveys. We learned a tremendous amount about our audience, including demographic and behavioral information that help us to serve you better and allow us to continue to receive important support from our government and foundation funders that is critical to our ability to continue to present high quality performances. As an incentive to complete our survey, Cutting Ball raffled off a full membership for the 2011-2012 season. We are proud to announce that our raffle winner is Michele Gibson, of Palo Alto. Michele came up from the South Bay last season to see The Tempest, Bone to Pick & Diadem, and Lady Grey in Ever Lower Light, . Congratulations Michele!
When Michele heard that she won a season membership her response was an immediate "How exciting! Thank you so much!" Michele promptly reserved tickets to Pelleas & Melisande, and will be bring with her three friends new to Cutting Ball to take advantage of $5 off tickets for member friends as part of her membership benefits.