CUTTING BALL THEATER NEWSLETTER
December 20, 2011 Volume 8, Issue 7
Having trouble viewing this newsletter? Click Here.
In this issue:
A Gift for You from Cutting Ball - Music Inspired by Pelleas & Melisande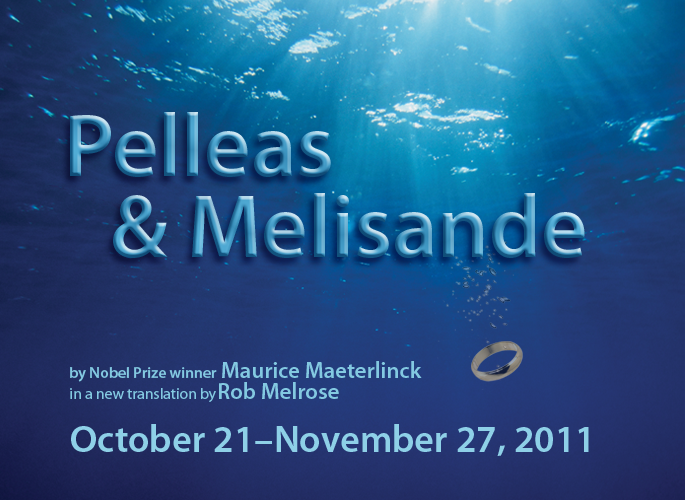 Click Here to Listen
Happy Holidays from The Cutting Ball Theater! Our gift to you this December is an mp3 file of our popular pre-performance lecture "Music Inspired by Pelleas & Melisande." Parker Monroe, Executive Director of New Century Chamber Orchestra, guided our audience to listen to the music inspired by Pelleas & Melisande through the ages, and now you can join in too. You'll hear Parker review selections from Debussy's famous opera of the same title as well as music composed by Gabriel Faure, Jean Sibelius, and Arnold Schoenberg before exploring the musique concrete created for the Cutting Ball production by composer Cliff Caruthers.

Help Cutting Ball Check Off Our Holiday Wish List
This fall's Pelleas & Melisande received many accolades in the press, which you can read online at cuttingball.com. We're most proud of the San Francisco Examiner's review, which begins, "We've come to expect rare revivals of 20th-century plays, original new translations from the French, and new experimental works from The Cutting Ball Theater, and the small company's latest effort does not disappoint." What made this review stand out was a confirmation that we are upholding our promise to our Bay Area patrons. Despite a growing audience of over 4,000 patrons per season, ticket revenue covers less than 20% of our costs, and we could not produce our season without supporters like you.
Here's what our funding model looks like, as illustrated on Michael Locher's sketch of the Pelleas & Melisande set: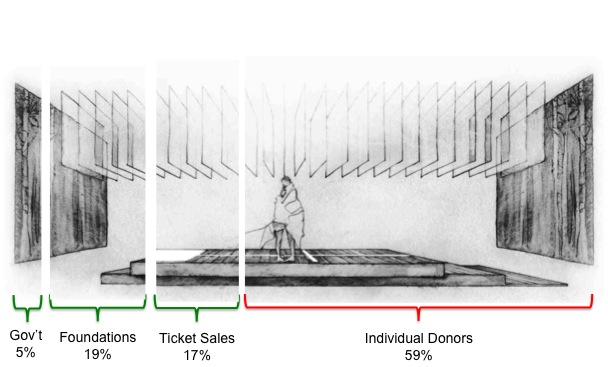 We need your help to give the remaining plays in our season, Tontlawald and Tenderloin, the best productions possible. Both plays require extended rehearsal processes, actor training workshops, and a level of investment beyond our previous work.
Please consider making a gift today help us check off our holiday wish list:
$100 (need 50 gifts): Provides studio space for Tontlawald rehearsal and workshops.
$250 (need 40 gifts): Contributes to the installation design for Tontlawald.
$500 (need 10 gifts): Pays for 25 local high school students to see Tenderloin for free.
$1000+ (need 10 gifts): Supports an actor's process for Tenderloin, from interview transcription through the rehearsal period.
You can make your gift online now at cuttingball.com.
Donate by mail by sending a check to:
The Cutting Ball Theater
141 Taylor Street
San Francisco, CA 94102
Cutting Ball gladly accepts gifts of stock. For more information please call: 415-419-3584
Thank you in advance for your generous support!

Entrances and Exits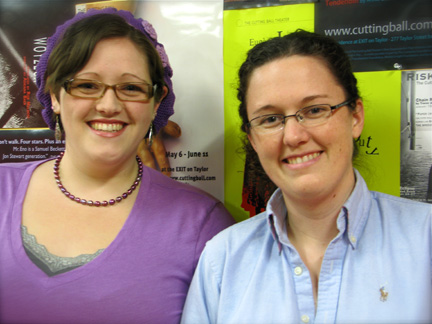 Cutting Ball's outgoing General Manager Amy Clare Tasker and incoming General Manager Laura Mason
The Cutting Ball Theater's much beloved General Manager, Amy Clare Tasker will be leaving Cutting Ball at the end of this month to pursue her freelance directing career. Amy was Cutting Ball's first full time administrative employee and has been with the company for three and a half years. Many of our patrons have gotten to know Amy in our lobby over the years. We wish Amy the very best, and expect that you'll see her at Cutting Ball from time to time. You can also keep up with her online at www.amyclaretasker.com
We're proud to announce that we've hired Laura Mason as Cutting Ball's new General Manager. Laura is relatively new to the Bay Area and was most recently an administrator at Houston Grand Opera. Laura led the opera's recent tour to Paris as Company Manager. Laura's management skills will make her a great addition to the Cutting Ball staff and you'll see her often at the theater and at Cutting Ball events.

Last Minute Gift Ideas - Give the Gift of Cutting Ball
Give the gift of daring, high quality performance in our intimate theater, by purchasing a Cutting Ball Membership!
The Season Membership Card gives you or someone you love complete flexibility to see ALL of our 2011-2012 productions any time you want and as many times as you want!* Membership benefits include phone orders, free ticket exchange, and savings over single ticket prices.
Choose from our discounted memberships for the remainder of the 2011-2012 season, including Tontlawald and Tenderloin
$28 Preview Membership
Reserved seating for our full productions.
An online subscription to Cutting Ball's newsletter
Valid only for previews: February 17-19 (Tontlawald); April 27-29 (Tenderloin).
$60 Regular Membership
All of the above benefits plus...
Reserved seating for full productions and RISK IS THIS.
$5 discount for your friends when they come to the theater with you.
Invitations to special members-only events.
Not valid for Opening Night Gala performances.
$95 Opening Night Gala Membership
celebrate with us!
All of the above benefits plus...
Reserved seating for full productions, including our remaining Opening Night Galas: February 24 (Tontlawald); May 4 (Tenderloin).
Reserved seating for RISK IS THIS and the Hidden Classics Reading Series (excluding Miss Julie and A Dream Play on January 29).
$195 Premium Membership
explore more
All of the above benefits plus...
Reserved seating for RISK IS THIS and the Hidden Classics Reading Series, including Miss Julie and A Dream Play on January 29, which features a Swedish dinner between performances.
3 parking vouchers for a garage near the theater.
*Memberships are individual, non-transferrable, non-refundable, valid only for the 2011-2012 season, and are not tax-deductible. Reserved seating is subject to availability.
Purchase your membership by clicking here.