Antigone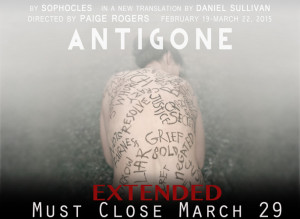 Written by Sophocles
In a new translation by Daniel Sullivan
Directed by Paige Rogers
February 19 – March 22, 2015
Gala opening: February 21
Press opening: February 22
Extended to March 29!
In this seminal Greek play by Sophocles, Antigone defies the royal edict sent out by her uncle, Kreon, not to bury the body of her brother, Polynices. Exploring the struggle between the individual and the state, this elegant tragedy about tyrannical power and civil disobedience is considered to be Sophocles' masterpiece and has become synonymous with political protest.
Antigone
appeared as a staged reading as part of Cutting Ball's Hidden Classics Reading Series in 2013. Associate Artistic Director Paige Rogers, who helmed Cutting Ball's productions of
Tontlawald
and
Mud
, will direct, using a cappella music and movement techniques inspired the company's August 2014 residency at the Grotowski Institute in Poland. Cutting Ball was the first American theater company to be given this honor in over a decade. Featuring Bay Area favorite Madeline H.D. Brown as Antigone.
A special thanks to our Gala Opening Night Sponsors: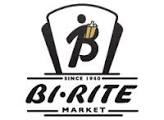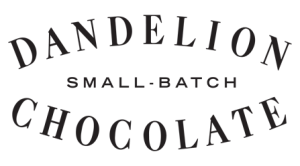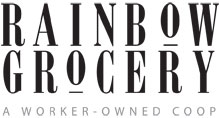 ANTIGONE

SPECIAL EVENTS
FRIDAY NIGHT HAPPY HOUR
Happy Hour at Cutting Ball! Most Friday Nights from 7-8PM
Cutting Ball offers beer, wine and specialty cocktails at most Friday evening performances. Come early to grab a drink and take it with you into the theater for the performance.
(February 20, February 27, March 13, March 20)
INJUSTICE SEASON DISCUSSION SERIES: Fridays with the cast; Sundays themed
Get more out of Antigone by attending one of our Friday cast talks or Sunday themed discussions in the company of the cast, design team and experts. The discussions are FREE and open to the public!
Friday Cast Series (February 27, March 6, March 13, March 20)
Sunday Examining Injustice Themed Talks: (March 1, 8, 15, 22)
March 1: Kirsten Schlenger and Mary Jane Weaver
InJustice in US Immigration Impacting the Family
Kirsten Schlenger and May Jane Weaver from WSM, a Business Immigration Law firm, join us to discuss the troubles and injustices faced by many families fleeing the violence in Central and South America. Schlenger and Weaver will illustrate the tension between the individual's rights to flee persecution, a mother's desire to protect her children, and our government's practice of imprisoning, fast tracking removal and denying due process to refugees.
March 8: Mark Aaronson
The Berkeley Free Speech Movement
Mark Aaronson, Honorable Raymond L. Sullivan Professor of Law at UC Hastings shares his involvement with the Berkeley Free Speech Movement, what it meant and stood for, and how its reverberations are still felt today.
March 15: Captain Gary Jimenez
Justice in the Tenderloin
Gary Jimenez, retired Police Captain of the Tenderloin district shares stories of justice, crime, trouble, and hope in our neighborhood.
March 22: Professor Frank Sulloway
Sibling Rivalry
Frank Sulloway, professor at UC Berkeley, joins us to speak about the psychology of sibling love, companionship, fighting, and rivalries.
SUNDAY PRE-SHOW TEA
Join us before the show for tea with Artistic Director Rob Melrose, Antigone translator Daniel Sullivan, and Antigone Director and Associate Artistic Director Paige Rogers. Sunday, March 1, 4pm (free with tickets to that day's 5pm performance)
141 Taylor Street, San Francisco, one block from the Exit on Taylor
TENDERLOIN WALKING TOURS
Purchase a ticket to the 40-min "Human Rights Fight" Tenderloin tour. Tours take place before the Saturday matine?e performances on March 14 and 21.
$15 online at www.cuttingball.com or by phone at 415-525-1205
Meet Up point: 1pm in front of the theater, 277 Taylor Street, SF. Tours are operated by Deleano (Del) Seymour www.tlwalkingtours.com – (415) 574-1641.
Artists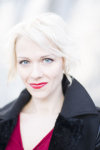 Madeline H.D. Brown (Antigone) is a San Francisco based performer and a member of Actors' Equity Association. You may remember her from the Cutting Ball production of Tontlawald in 2012. Her focus is collaborating on and performing in ensemble-devised theatre. She holds a BFA in Acting from Santa Fe University of Art and Design and a Three Year Diploma in Corporeal Mime from Ecole de Mime Corporel Dramatique. Before landing in the Bay Area she traveled as a cabaret performer in Europe.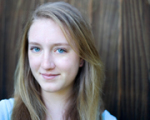 Hannah Donovan (Ismene) is very excited to be making her Cutting Ball Theater debut in Antigone! Favorite theatrical credits include: A Midsummer Night's Dream (Puck), Spring Awakening (Wendla), and An Absolute Turkey (Lucienne). Hannah received her B.A. in Dramatic Arts from The University of Southern California and attended the British American Drama Academy in London. Following her recent graduation, she has performed in several New York City productions and has just returned from a month-long theatrical immersion program in Ecuador.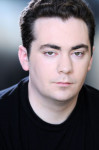 Tim Green (Messenger) is ecstatic to be working with The Cutting Ball Theater for the first time. His recent projects include Kristin Hersh's Rat Girl (SF DIVAfest), First (Alumnious Collective), Bill and Lenny (A.C.T's Costume Shop) and Blood Wedding (Bigger than a Breadbox Theater). He also occasionally participates in New Works readings for Playwrights Foundations.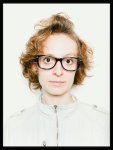 Emma Crane Jaster (Eurydice, The Sentry and Tiresius' boy) is a performer and generative artist. She has been called a "splendid mover" (The Washington Post) and "a master of her craft" (Baratunde Thurston). Trained in mime, clown, mask, puppetry, physical theater, classical acting and a variety of dance forms, she has spent her life in the study and practice of physical expression. She performed from childhood with her father, acclaimed mime Mark Jaster, student of Decroux and Marceau. She has recently relocated to the Bay Area.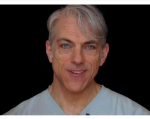 Paul Loper (Tiresias) has performed, choreographed, and/or taught/facilitated in 19 countries over 40 years. His work covers a variety of ilks, from concerts to performance art to community-based projects. Before San Francisco (and earning his Ph.D. in Learning and Change in Human Systems), he danced with Twyla Tharp, the American Dancemachine, and in two Olympic Games Opening Ceremonies. Locally he's performed in flash mobs, sitespecific work, and installation art in addition to various established theatre companies. A personal favorite, his second one-man-show, "Dinner Party," at le Théâtre Tremplin, in Paris, was très acclamé.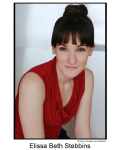 Elissa Beth Stebbins (Chorus Lead) is thrilled to be joining Cutting Ball for the very first time as part of Antigone. Elissa was seen most recently as Elizabeth Bennet in Livermore Shakespeare Festival's Pride and Prejudice. Other recent projects include the TheatreWorks Educational Tour, Wendy in Custom Made's production of Peter/Wendy, and Joan in Impact Theatre's What Every Girl Should Know. Elissa graduated from Santa Clara University with a B.A. in Theatre and English, and has continued her training with Shakespeare & Company. She is a proud recipient of Theatre Bay Area's Titan Award, and is a 2013 TBA FACES honoree.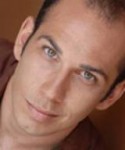 Wiley Naman Strasser (Haemon) has been an artistic Associate with Cutting Ball since 2012, and has appeared inTontlawald, Krispy Kritters in the Scarlett Night, Communique No. 10, and numerous RISK IS THIS… workshops. He has also worked locally with other companies including Mugwumpin, Crowded Fire, Golden Thread, and Aurora. He holds a BA in Theater from UCLA and is a 2014/2015 Titan Award winner.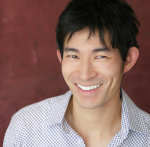 Jason Wong (King Kreon) has been acting in the Bay Area for over twelve years. You may have seen him in previous collaborations with Cutting Ball, including Taming of the Shrew, the workshop for Mister Fujiyama's Electric Beach, and various Hidden Classics readings. He earned his degree in fine art at the University of Westminster in London, England, concentrating on performance art as well as experimental film and video.

Production Notes
Click any of the links below to learn more about Antigone and our production, or head over to our blog and read the posts tagged Antigone!
---
Antigone Teaching Notes
We put together this education packet by collecting dramaturgical, production and artistic notes throughout the creative process of Antigone and organizing them in a way that could be useful to teachers teaching a class about this Greek tragedy and Cutting Ball's experimental staging of it. The packet is intended primarily for teachers who are bringing their students to the play but also
for anybody interested in reading more about our production of Antigone.
---
 An Artistic Journey to Poland
Our Antigone artists were invited to spend two weeks studying at the Grotowski Institute in Brezenkia, Poland in August 2014 with the famed Teatr ZAR. The trip was funded by generous donors through a Kickstarter campaign. Click here to see our Kickstarter page and to learn more about our journey.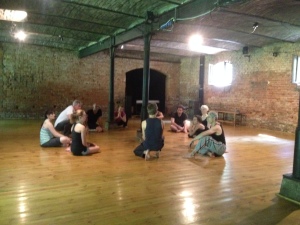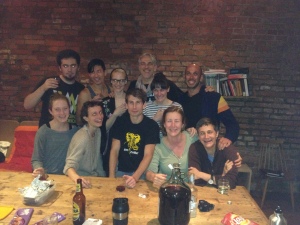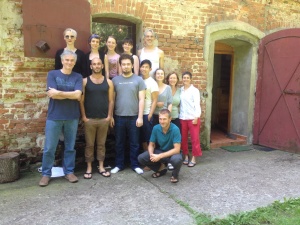 Listen:
Paige Rogers and Madeline H.D. Brown on "Open Air"
KALW Radio 91.7
Listen:
Paige Rogers on "State of the Arts" 
KDFC Radio 89.9
Antigone Trailer
Rehearsal Video
Audio
Check out our cast singing in the polyphonic choral style below!
Press Photos
Photos: Chase Ramsey
| | |
| --- | --- |
| Antigone (r, Madeline H.D. Brown*) argues against her sister, Ismene (l, Hannah Donovan) in Cutting Ball Theater's production of Antigone. | The chorus (l-r, Paul Loper, Madeline H.D. Brown*, Wiley Naman Strasser, Jason W. Wong) regards Kreon's edict in Cutting Ball Theater's Antigone. |
| The chorus (l-r, Paul Loper, Hannah Donovan, Madeline H.D. Brown*, Wiley Naman Strasser, Emma Crane Jaster, Elissa Beth Stebbins, Tim Green) regards Kreon's edict in Cutting Ball Theater's Antigone. | The chorus (l-r, Madeline H.D. Brown*, Wiley Naman Strasser, Jason W. Wong, Elissa Beth Stebbins) regards Kreon's edict in Cutting Ball Theater's Antigone. |
| Antigone (l, Madeline H.D. Brown*) talks with her sister, Ismene (r, Hannah Donovan) in Cutting Ball Theater's production of Antigone. | Kreon (l, Jason W. Wong) argues with his son Haemon (r, Wiley Naman Strasser) in Cutting Ball Theater's production of Antigone. |
* Member of Actors' Equity Association, the Union of Professional Actors and Stage Managers in the United States.
Pricing And Discounts
General Tickets: The Cutting Ball Theater operates on a dynamic pricing model. This means that like with airline tickets our prices are generally lower earlier in the run and when you buy your ticket in advance. Our least expensive tickets are available during previews (February 19-20) before the press has reviewed the production when you can find a ticket for $10-$15. Following our Opening Night on February 22 tickets range from $20-$50, with the least expensive tickets available on Thursday nights. Become our friend on Facebook https://www.facebook.com/CuttingBall or follow us on Twitter @Cuttingball to find last minute discounts to select performances.
Student Tickets (reserved): Reserved student tickets are available to all performances for just $15. Select your desired performance on our ticketing page and guarantee your seat at any performance. You will be asked to present your student ID at the box office.
Free Student Rush Tickets: Cutting Ball is offering free student rush tickets to all performances of Antigone. Arrive at the box office up to 30 minutes in advance of any performance to get on our rush list. Rush tickets will be distributed 5 minutes prior to the performance start time.
You can help us to provide these free student rush tickets by making a gift to Cutting Ball
Neighborhood "Pay-What-You-Can" Tickets
Pay What You Can" tickets are available to Tenderloin residents, as well as people who work and volunteer in the neighborhood for all performances (excluding February 21) as long as open seats remain available.
To Secure Neighborhood Tickets
Arrive at the EXIT on Taylor theater at 277 Taylor street at least 30 minutes prior to a performance
Approach the Box Office Manager and request a "Neighborhood Ticket" or a "pay-what-you-can" ticket.
Please do pay what you can for neighborhood tickets, but no one will be refused entry due to their ability to pay for the performance.
If the performance is sold out you will be asked to return at another time.
Expectations of All Audience Members
All audience members are expected to arrive at the theater on time in advance of the listed start time of a performance.
The Cutting Ball Theater may not honor tickets not claimed prior to 15 minutes in advance of the start time of a performance.
Audience members should expect to remain in the theater once they are seated until the play is over.
Audience members who must leave the theater in the middle of the performance may not be readmitted to the theater. Antigone will run 90 minutes with no intermission.
We hope that you enjoy Antigone!
The Cutting Ball Theater reserves the right to refuse service to anyone.
"A thorough, often seamless integration of music and choreography …deeply effective…dramatically rich" – Robert Hurwitt, San Francisco Chronicle
"An intense performance style and dancerly movement make [associate] artistic director Paige Rogers' staging of this Antigone feel like a bold interpretation" – Sam Hurwitt, KQED Arts
"A moving, three-dimensional work…haunting" – Rhonda Shrader, DogMom's Dish
"Strong performances and an imaginative integration of song and movement result in a production that is as accomplished as it is ambitious…"Antigone" inhabits a timeless space — that place where tragedy strikes and human lives are held in the balance." – Sarah Elizabeth Adler, The Daily Californian