Communiqué n° 10
American Premiere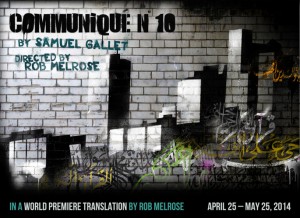 By Samuel Gallet
In a World Premiere translation by Rob Melrose
Directed by Rob Melrose
April 25 – May 25, 2014
Press opening: May 1
Gala opening: May 2
"Cutting Ball Theater's production of Communiqué n?10 bursts out of the gate with incredible, anarchic energy that grabs the audience from the very beginning and doesn't let go" – SF Station
"Show me a clear enemy. A man who I can take and seize and touch and fight. An address, a location, a life. Something tangible." – Hassan, Communiqué n° 10
In a city engulfed by riots a young immigrant is killed after a confrontation with a security guard. His brother, Hassan, vows vengeance and attempts to take control over his seemingly written destiny. Rebels, vagrants, and officers of the law all seek asylum. Their elders, who have difficulty making sense of society's radical changes, are simultaneously dead and very much alive to bear witness to the resulting devastation. All hide in fear from unseen state forces as they contemplate the consequences of action and inaction.
Exploring the tensions of the underclass in a city that is bursting at the seams, French playwright Samuel Gallet's Communiqué n° 10 was inspired by the 2005 Paris riots led by North African youth. Cutting Ball's production examines the assumptions we make about immigrants, and consequences of growing income inequality. Melrose's translation of Communiqué n° 10 was commissioned and developed as a part of the 2012 Des Voix Festival and is produced in association with Golden Thread Productions.
"That city, when you look at it, you can make out the future according to the color it takes. But without ever knowing if you should cry or rejoice." – Old Man, Communiqué n° 10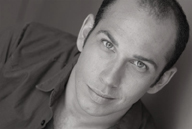 Wiley Naman Strasser (Yag) returns to Cutting Ball having previously appeared in Krispy Kritters in the Scarlett Night, Tontlawald, and RISK IS THIS… readings of Stegosaurus, Insect Play, Ubu Roi, Aulis, and Ozma of Oz. Other credits include work with Golden Thread, Mugwumpin, Crowded Fire, Aurora, Playwrights Foundation, Shakespeare Santa Cruz, and the Los Angeles Theater Center. Later this year he will appear with Shotgun Players in their production of Our Town, followed by Cutting Ball's Antigone in early 2015. Mr. Strasser holds a BA in Theater from UCLA and is a Cutting Ball Associate Artist.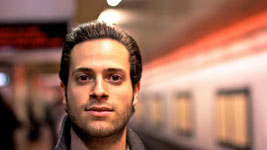 Paris Hunter Paul (Damien): SF Playhouse: Camelot; The Guthrie Theater: A Christmas Carol 2012 & 2013 (as Young Scrooge), In Game or Real, the Dowling Studio; Berkeley Repertory Theatre: (as understudy) Pericles, No Man's Land, Vanya & Sonya & Masha & Spike; California Shakespeare Theater: Titus Andronicus, Candida; Great River Shakespeare Festival: Titus Andronicus, Othello; Walking Shadow Theatre Company: Orpheus in Eurydice; UMN Xperimental Theatre: Equivocation (actor, director, producer); Tides Theatre with Center for Investigative Reporting: Storyworks. Next: Jungle Theatre: The Heiress. Training: University of Minnesota/Guthrie Theater B.F.A. Actor Training Program (2012); Shakespeare's Globe Theatre (UK), London International School of Performing Arts.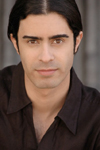 Damien Seperi (Hassan): This is Damien's first production with Cutting Ball Theater. Recent credits: TheatreFIRST, Masquers Playhouse, Town Hall (Lafayette), Role Player's Ensemble and Marin Shakespeare Company. Training: Diablo Valley College, A.C.T. and Berkeley Rep. School of Theater.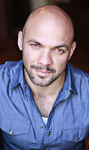 Hugo E Carbajal (The Child) is a proud recipient of the 2013 Theatre Bay Area Titan Actor Award. He is excited to be performing in his first Cutting Ball production. Hugo has performed with Bay Area companies such as Shotgun Players, TeatroVision, Stagebridge, Alter Theater Ensemble, Bay Area Children's Theatre, and the San Francisco Mime Troupe. He is also a proud member of BALTAN (Bay Area Latino Theatre Artists Network). Visit hugocarbajal.com & Follow on twitter: @oogoever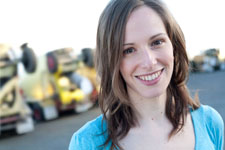 Maura Halloran (Marlene) is delighted to return to Cutting Ball after appearing last year in Andrew Saito's Krispy Kritters in the Scarlett Night (Nurse Candy/Judge Gristle). Maura holds a BFA in Acting from the University of British Columbia in Vancouver and performed in theatre, film and radio across Western Canada as well as in Diary of a Madman (Madgie) at Setkani Festival in Brno, CZ before moving to San Francisco in 2010. Bay Area credits include The Pride (Sylvia) at New Conservatory, Merchants (Mercedes) with No Nude Men, SF Shakes touring Tempest (Miranda/Ariel) and appearances with CalShakes, SF Theater Pub and The Bay One Acts Festival. In 2012 Maura debuted her solo show PUSSY at SF DIVAFest and has since played Women in Solodarity, Stage Werx Solo Sundays, FringeNYC, Seattle Fringe, and won "Best Actress" at The United Solo Theatre Festival in New York. maurahalloran.com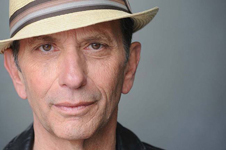 Aaron Malberg (Old Man) is a Vietnam era Navy Veteran and a singer and trumpet player and was last seen as Jean Paul Marat in the Thrillpeddlers production of Marat/Sade. Training: Marin Actor's Workshop, Berkeley Rep School of Theater, Beau Bonneau Casting, School of the Performing Arts (NYC). This is Aaron's first play with Cutting Ball. Other credits: Marin Shakespeare Company, Ross Valley Players, Woodminster, Haight Ashbury community theatre and Eureka Theatre. Radio: SelectQuote, Insurance Service; TV commercial: The Good Guys. Aaron is a member of SAG/AFTRA.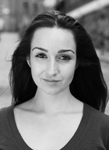 Ponder Goddard (Anne) is a graduate of NYU's Experimental Theater Wing and Drama Centre London's MA in Classical Acting. Favorite roles include Titania/Hippolyta with the Grassroots Shakespeare London Company, The Poet in A Dream Play with 21 Limbs (London), Natasha in Three Sisters at the Vakhtangov Institute Moscow, Imogen in Cymbeline with Shakespeare's Globe Conservatory, Bianca in Women Beware Women at Drama Centre London and several featured roles in Cutting Ball Theater's 2012 Strindberg Cycle and was Mother Ubu in the recent Ubu Roi. She has performed locally with Performers Under Stress and Faultline Theater and has been a Cutting Ball Associate Artist since 2007.
Reviews
"Cutting Ball Theater's production of Communiqué n?10 bursts out of the gate with incredible, anarchic energy that grabs the audience from the very beginning and doesn't let go" – SF Station
"Communique No. 10." moves past the political and into the personal, challenging not only what a state owes its citizens, but what citizens owe themselves and each other…a group of nimble and fearless actors [are] constructing an elaborate environment with the Cutting Ball Theatre's "Communique No. 10." – Daily Cal
"Communiqué n?10 is an 'ambitious American premiere'" – San Francisco Chronicle
[Director and translator Rob] "Melrose's lively production is…rewarding to watch" – Marin Independent Journal
"timely…[a] tinder box of extreme inequality" – SF Bay Guardian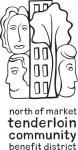 "Pay-What-You-Can" tickets for people who live, work, or volunteer in the Tenderloin are sponsored in part by the North of Market/Tenderloin Community Benefit District.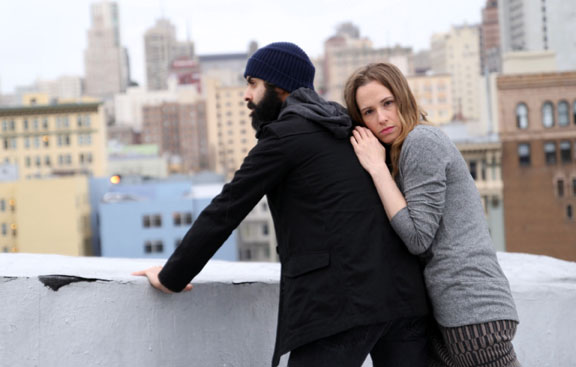 Actor Talk Backs Every Friday Night: Following every Friday performance actors will join audience members for a post-show discussion about their process and the making of Communiqué n° 10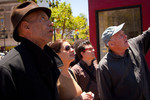 Tenderloin Immigration Tours Every Saturday at 1PM: Delano Seymour of Tenderloin Walking Tours http://www.tlwalkingtours.com/ will provide a 40 minute tour of the Tenderloin neighborhood with a focus on the history of its large immigrant populations. Meet at the theater at 12:50PM. Please book tour in advance when purchasing tickets: May 3, May 10, May 17, May 24.
Happy Hour at Cutting Ball! Every Saturday Night 7-8PM – Cutting Ball is able to offer beer, wine and specialty cocktails at all Saturday evening performances. Come early to grab a drink and take it with you into the theater for the performance.
Free Lecture/Discussion Series Every Sunday 6:30PM
Click to jump to events on: April 27, May 4, May 11, May 18, May 25
$10 Ticket Night, Friday, April 25 First Preview: This darkly poetic and riveting exploration of a city bursting at the seams fueled by the tensions of an immigrant underclass will resonate with anyone who is concerned about the growing income inequality in our city, or who has ever felt like an outsider. Get in on it first!
Discussion with Playwright Samuel Gallet, Sunday April 27, 6:30PM: Join playwright Samuel Gallet and translator and Cutting Ball Artistic Director Rob Melrose for a discussion of the origins of Communiqué n° 10 and its translation for an American audience. FREE and open to the public.
Press Opening Night,Thursday, May 1 7:30PM: Join us as we bring the American Premiere of Communiqué n°10 to San Francisco's theater critics and theater industry insiders. Tickets $25
Gala Opening Night, Friday, May 2 8:00PM: Join us for the American Premiere of Communiqué n°10 followed by a Transatlantic Celebration with the cast and crew, the French Consulate, and the producers of the Des Voix Festival. Tickets $50 each include reserved seating.
Lecture/Discussion, Sunday May 4 6:30PM: FREE and open to the public.
Movement in the Wasteland – a discussion with choreographer Emma Jaster.
Emma Jaster explains how she worked with the cast to translate the words from the script to movement on the stage.
Soiree Francaise, Thursday, May 8, 6:30-7:30PM: Celebrate the end of World War II in France and the beginning of the Des Voix Festival. Free wine (21+ only) and French cheeses for all ticket Communiqué ticket holders to this performance.
Des Voix Festival May 1-25: The Left Coast Meets the Left Bank! Communiqué n° 10 is the featured full production of this month long celebration of new French plays and cinema. Don't miss staged readings of three contemporary French plays recently translated into English, and a month long series of French cinema. Festival Weekend May 8-May 11 also includes the Bal Litterairé a Produced in partnership with the Playwrights Foundation, Tides Theater, and the French Consulate. http://www.desvoixfestival.com/
"Playing with Culture" Sunday May 11 6:30PM: Join us for a discussion led by Artistic Director of Golden Thread Productions Torange Yeghiazarian into contemporary plays representing immigrant identity. FREE and open to the public.
Celebration of North African Culture, Friday, May 16, 7-8PM: Join us for Halal snacks, contemporary North African music, and a celebration of the roots of one of the immigrant groups whose experience inspired Communiqué n° 10 . Free for all ticket holders to this performance.
Lecture/Discussion Sunday, May 18 6:30PM: FREE and open to the public.
Designing Communiqué n° 10 – a discussion With set designer Michael Locher.
Cutting Ball's Resident Set Designer Michael Locher speaks about his influences and process when designing the play.
Lecture/Discussion Sunday, May 25 6:30PM: FREE and open to the public.
The 2005 French Riots – a discussion with Cutting Ball's Literary Manager Rem Myers.
An in depth discussion with dramaturg Rem Myers on why France erupted in riots in the fall of 2005.
Thanks to our Gala Opening Night Sponsors:

Production Notes
In France, lower-income residents do not live in the inner city, but in housing project filled suburbs known as banlieues. On October 27, 2005, 10 friends from African and Arabic families were returning home after playing soccer in one the banlieues of Paris, Clichy-sous-Bois. On the way home, the boys saw police and scattered. While it is unclear whether the police were actively pursuing the boys, it is understandable why the boys fled. Police in the area were known to demand identity papers and detain youths for hours.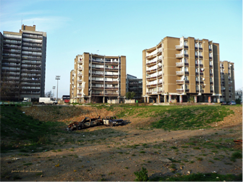 Three of these boys, Muhittin Altun, Zyed Benna, and Bouna Traore, climbed into a nearby power station to hide and were electrocuted. Altun was severely injured, while Benna and Traore died instantly. That night riots began in Clichy-sous-Bois, quickly traveled to other banlieues of the Paris metro area, and ultimately spread to the banlieues of all major French cities.
The deaths on October 27 were the tipping point of many years of frustration, discrimination, and violence experienced by the citizens of these poor and mostly immigrant suburbs. Racism, unemployment, and police brutality were commonplace. As one man said: "On paper we're all the same, but if your name is Mohamed, even with a good education, you can only find a job as a porter at the airport." Source.
Many in the government blamed radical Islam while Interior Minster Nicolas Sarkozy called the rioters scum, suggested washing out the suburbs with a high-pressure water cleaner, and issued an order to deport all immigrants convicted of riot involvement. This attitude of ignorance and disdain was in fact one of the causes of the riots in the first place.
Although the riots subsided after a few weeks, the banlieues are generally the same as they were before. As one young man says: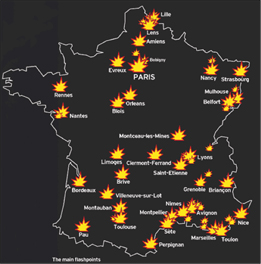 "The reality is, lots of people are happy the banlieues exist to cage up people they don't want to see or worry about. If we're out of sight and out of mind, c'est bien. I'm not even sure they'd care if rioting broke out again—so long as it stayed in the banlieues and didn't threaten to spill into where the rest of France lives." Source.
The 2005 French Riots can be understood on a global level and are not uniquely applicable to France. In America, many groups of people have fought back violently after years of bigotry and ignorance. For example, the 2005 French Riots share similarities with both the L.A. Riots and the Stonewall Riots. Although Samuel Gallet's play is a reaction specifically to the French Riots, his play encompasses a universal feeling of frustration, rage, and the need for revenge when a country chooses to discriminate, ignore, or forget about its people.
| | |
| --- | --- |
| The Child, a young rebel. | Marlene, an idealistic young woman of means. |
| Anne, a squatter who knows the industrial wasteland like the back of her hand. | Hassan, a poetic young man seeking vengeance for the death of his brother. |
| The Old Man, who lingers between life and death, alone. | Yag, an eccentric scavenger |
| Damien, a security guard on the run. | |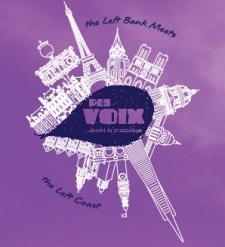 Playwrights Foundation, Tides Theatre & Cutting Ball Theater Present
DES VOIX… FOUND IN TRANSLATION BIENNIAL 2014
A festival of new French plays and cinema
May 8-11, 2014New Play Festival Weekend
Sundays In May – Films Screenings
For more information, and to purchase tickets, click HERE!
Stage Readings of New Translations:
Death of a Young Man by Christophe Honoré Translated by Kimberly Jannarone and Erik Butler, directed by Evren Odcikin
A country road. A car crash. Nocturnal rituals ensue, releasing phantoms past and present.
One Upon Another by Léonore Confino, Translated by Michelle Haner, directed by Marilee Talkington.
A fast-talking, fast-sleeping, fast-eating satire of a modern family.
Where and When We Died by Riad Gahmi, Translated and directed by Rob Melrose
A bourgeois Parisian apartment transforms into a theater ideological war. Highly provocative, and darkly comic – not for the feint of heart.
BAL LITTÉRAIRE
a new play nightclub
FRIDAY, MARCH 9: 7p Doors; 8p Show
Led by Nathalie Fillon
Imagine a nightclub where literary erudition meets dance floor disco! Six French and American playwrights manifest a whole play in 48 hours, and perform it live – with wild dancing between scenes! Join the Party!!
Film Screenings
Le Chef by Daniel Cohen
A foodie fantasia! A veteran chef faces off against his restaurant group's new CEO.
SUNDAY, MARCH 4, 5:30p
Mood Indigo by Michel Gondry
A manic Visionary love story.
SUNDAY, MARCH 4, 8p
Paulette by Jêrome Enrico
A bitter Granny finds her heart, and her way out of poverty, by taking over the neighborhood drug trade.
SUNDAY, MARCH 18, 7p
Age of Panic by Justine Tiet
A frazzled young mother tries to keep it together on the home front.
SUNDAY, MARCH 18, 8p
Queen Margot by Patrice Chereau
Re-issued director's cut of this magnificent film.
SUNDAY, MARCH 25, 5:30p