Risk Is This…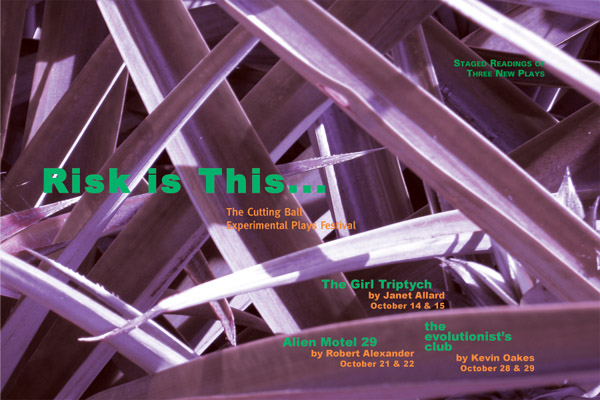 The Cutting Ball Experimental Plays Festival
Staged Readings of Three New Plays
October 14 – 29 at EXIT Stage Left
156 Eddy Street between Taylor and Mason
Fridays and Saturdays at 8pm
Staged readings will be followed by a discussion with the playwright.
Free to the public ($10 – $20 suggested donation)
The Girl Triptych by Janet Allard Oct. 14 & 15
Alien Motel 29: The Secret Outtakes of The Ebony Lady Macbeth
by Robert Alexander Oct. 21 & 22
the evolutionist's club by Kevin Oakes Oct. 28 & 29
Jessa Santens in The Sandalwood Box
by Mac Wellman

The Girl Triptych
by Janet Allard
Oct. 14 & 15
directed by Adriana Baer

With an impish artillery of curiosity and unyielding passion, a Gen-X heroine explodes America's nostalgic yearning for a "postcard past" as she embarks, undaunted, on a mythic journey. In her epic search, she confronts and conquers several articles of the past: A desiccated Don Quixote, the Real Estate Queen of the Western Hemisphere, a decaying academic, and a fallen Southern Belle whose most cherished secret is slipping away. A boundless comic trip through the unexpected.
Alien Motel 29: The Secret Outtakes of The Ebony Lady Macbeth
by Robert Alexander
Oct. 21 & 22, Free Theater Night preview Oct. 20 directed by Rob Melrose

A free hand afrocentric adaptation of Macbeth, from the perspective of Lady Macbeth. Set in another galaxy in the future, this language driven play delights with humorous word play as two half-sisters struggle to reconnect with their absent father.


Jaxy Boyd in The Sandalwood Box
by Mac Wellman

Lasse Christiansen (as Bear), Jessa Santens, and Elizabeth Bullard in The Vomit Talk of Ghosts
by Kevin Oakes

the evolutionist's club
by Kevin Oakes
Oct. 28 & 29
directed by Rob Melrose

In a remote field house on the edge of a wilderness, a research scientist lives with his emotionally fragile wife. Into their tainted eden a mysterious stranger appears. But is he there to help, or hurt? So begins a battle as they seek to control not only each other, but reality itself.
Featuring Felicia Benefield, Ty Blair, Alexaendrai Bond, Ted D'Agostino, Daveed Diggs, Daniel Krueger, Carolyn Joy Lenske, Ryan Oden, Danielle O'Hare, Mia Paschal, Garth Petal, David Skillman, David Sinaiko, Ian Walker and Valerie Weak
Workshop designs by Claire Calderwood, Cliff Caruthers, Liliana Duque, Erik Flatmo, Robert McPhee, Micaela Neus, and Luiza Silva
Stage Managed by Robert McPhee
Graphic Design by Debra Singer
Risk is This … was made possible in part by generous grants from the William and Flora Hewlett Foundation, the Tournesol Project, and the Zellerbach Family Foundation