Superheroes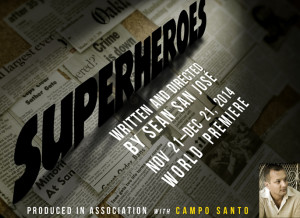 Written and Directed by Sean San José
Produced in Association with Campo Santo
WORLD PREMIERE
November 21-December 21, 2014
Press opening: December 2
Gala opening: December 5
Defiant, passionate, and bursting with poetic energy, Superheroes tells the story of a journalist working to separate fact from fiction as she investigates the sordid history of the crack-cocaine epidemic. Partially inspired by Gary Webb's groundbreaking investigative journalism into the relationship between the CIA and Nicaraguan drug traffickers, this incendiary new play traces a lyrical labyrinth through churches, courthouses, and street corners in pursuit of a shocking truth. Superheroes was developed as part Cutting Ball's 2013 edition of RISK IS THIS…The Cutting Ball New Experimental Plays Festival.
Artists
Sean San José (Playwright, Director) is a Director, Writer, Performer and Co-Founder of Campo Santo. Since Campo Santo's founding in 1996, San José's body of work spans 50 premiere theatre productions for the group including the first plays by Sharif Abu-Hamdeh, Jimmy Baca, Jorge Cortinas, Junot Diaz, Dave Eggers, Chinaka Hodge, Denis Johnson, Greg Sarris, Luis Saguar, and Vendela Vida. Campo Santo and San José, with Intersection developed multiple works by Philip Kan Gotanda, Jessica Hagedorn, Naomi Iizuka, Octavio Solis, John Steppling, Erin Cressida Wilson, and many others. For Campo Santo, he heads Clika- a new writing and performance Lab; and is developing new works with Luis Alfaro, Richard Montoya, Star Finch, Erin Cressida Wilson, Felonious. For 15 years San José was the Program Director of Performance at Intersection for the Arts and is the new Artistic Director of Youth Speaks' New Performance Program. Upcoming work includes multiple projects with the Magic Theatre and Loretta Greco and a new piece as part of American Conservatory Theatre's Monstress in 2015 at the new Strand Theatre.
Juan Amador (Bayuncoso) A modern day renaissance man, Juan's artistic resume includes emcee freestyle champion, DJ, radio host, and actor. Since joining SF's Campo Santo, Juan has appeared in the world premieres of Block by Block, Tree City Legends, Holy Crime, has appeared with the Shotgun Players at the Ashby Stage for Daylighting and in Pittsburg, California's Teatro L.O.C.O.S . Other credits include sound design for Chinaka Hodge's critically acclaimed Chasing Mehserle.
Delina Patrice Brooks (Aparecida) earned a 2009 Isadora Duncan "Izzie" Award nomination for "Beauty, The Beast: A Dance-Theater Production. International performance & dance studies: Western Europe, Southern Philippines and Guinea, West Africa. Grants & Scholarships: YBCAway, Anna Deavere Smith's Global Narratives Workshop, Zellerbach Family Foundation, City of Oakland's Cultural Funding Program, East Bay Community Foundation. Presented by: Youth Speaks, The Black Choreographers Festival, University of Wisconsin-Madison, among others. Performance: The Living Word Project, ASE Dance Theatre Collective, City Circus, Willows Theater, Deep Waters Dance Theater, African American Shakespeare Company, Cherrie Moraga/Cihuatl Productions, Rhesus Media Group, among others. Education: B.A. Kinesiology, B.A. Ethnic Studies, M.A. Ethnic Studies. Website (coming soon): www.delinadream.com
Myers Clark (Free) was born in Moorehead, Minnesota and grew up in the Bay Area and is thrilled to be returning to the Cutting Ball stage where he is an Associate Artist. Previously at Cutting Ball: Blackman with the Watermelon in The Death of the Last Blackman in the Whole Entire World and Damascus/Demeter in …And Jesus Moonwalks the Mississippi. He has worked in Campo Santo productions Angry Black White Boy. Other Bay Area Theater Credits: Holy Crime with ACT and Roosevelt in An Ideal Husband, at the Douglass Morrison Theater. Myers solo performance of Adam Clayton Powell, Keeping the Faith was selected for United Solo Festival in New York. His film credits include Rent, Hemmingway, and Gelhorn. Up next Marcellus in Xtigone for African American Shakespeare theater in February 2015.
Britney Frazier (Magnolia) is an actor, playwright, director and producer. She has performed with: Shotgun Players, Campo Santo, Lorraine Hansberry Theatre and Marin Theater Company. She has written two full length plays, Obeah and SugarWater which received staged readings at the SF Playhouse, in the Our Voices, Our Stories Staged Reading Festival in 2013 (Which she co-produced) and Brava Theater for Women in May of 2014. Brit most recently performed with the BACCE at Brava in Sweet Maladies.
Donald E. Lacy, Jr. (Rev) Stage credits include: 45 city tour of Miles Davis Experience. Solly 2 Kings, Gem of The Ocean, Peoples Temple, Alleluia The Road, Hotel Angulo by Luis Saguar, Fists of Roses, Hairy Ape, Good Person of Szechwan at Berkeley Repertory Theater and The Shelter at Odyssey Theater directed by Valery Belyakovich of Moscow Art Theater. His one man show Color Struck, now in its 8th year, has played colleges across the country. T.V./Film credits include: About Cherry, NBC'S Trauma, Blood In, Blood Out, L.A. Heat, Hangin' with Mr. Cooper, and Wolf. Donald is on Saturdays 7AM-12PM on KPOO 89.5 F.M. He was inducted into the Bay Area Blues Society Hall of Fame as a comedian and emcee in April 2013.
Ricky Saenz (Nicoya) is a member of Campo Santo. He was recently featured in Lorraine Hansberry Theatre's production of Placas by Paul Flores. TV credits include NBC's Trauma, Southland, CBS's The Mentalist, and Hulu's East Los High.
Reviews
"A performance equivalent of the AIDS Quilt for the crack epidemic and a reflection of the streets outside the theater"
– Robert Hurwitt, San Francisco Chronicle
"Powerful…THIS is what theatre is for!"
– Charles Kruger, Theatrestorm blog
"Superheroes draws you in with its intensity and never lets go"
– Sam Hurwitt, San Jose Mercury News
"…powerful…[Sean] San José illustrates fantastic directing chops, launching his cast into strange, brittle, hyper-real performances."
– Adam Brinklow, EdgeSF
"an impeccable script…an enthrallingly powerful production."
– Melanie Jemenez, The Daily Cal
"Powerful performances all around…See it with friends and get ready to be galvanized."
– Rhonda Shrader, Dog Mom's Dish blog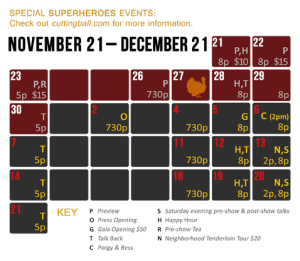 Special Events
Join us for these Superheroes events, all are free with ticket purchase (except where noted).
Pre-show Tea – 4pm, Sunday November 23
Join us at 141 Taylor Street for a pre-performance tea and conversation with playwright and director Sean San José and Cutting Ball artistic director Rob Melrose.

Gala Opening – Friday, December 5
Join us for a party celebrating the world premiere of Superheroes, and a few of our own Tenderloin Superheroes following the performance. Tickets $50, may be purchased from our ticket page.
SF Recovery Theater Performance: Porgy & Bess Songbook– December 6, 2PM
The Gerswhin's rich songbook for this classic opera delves into the lives of the citizens of Catfish Row, who wrestle with addiction and poverty. http://www.sfrecoverytheatre.org/
Happy Hour Fridays 7-8pm
Join us starting at 7PM on Friday evenings in the Cutting Ball lobby for well priced wine, beer and a specialty cocktail that can all be carried with you into the theater.
Talk Backs
Creating Superheroes (Nov 23)
Rem Myers (Associate Producer/Literary Manager) and Andrew Saito (Dramaturg/Resident Playwright) discuss how the play Superheroes grew, from simple research to the production you see today.
Lingering Superheroes (Nov 30)
Playwright/Director Sean San Jose joins us for an open frank discussion about the still lingering effects of the crack cocaine epidemic that began in the 80s and is still seen today in our neighborhood today.
The (legal) War on Drugs (Dec 7)
Hadar Aviram, Professor at UC Hastings College of the Law, joins us to discuss criminal justice, victims of the crack cocaine epidemic, and the war on drugs.
Witnessing Superheroes (Dec 14)
Actor Donald Lacy shares stories from San Francisco in the 80s and the destruction crack cocaine had on its communities.
(Dec 21 – TBA)
Tenderloin Tours – 1pm Saturdays December 13 and 20
Delano (Del) Seymour returns to Cutting Ball to give this 45 minute tour of the Tenderloin with a focus on the history of the crack-cocaine epidemic in the area. Tickets for tours before performances may be purchased in addition to your ticket purchase on the Cutting Ball website, or you may contact Del to arrange a tour independently at another time at tenderloinwalkingtours@yahoo.com. http://www.tlwalkingtours.com/
Production Team
Michael Locher (Set Designer) is a longtime Cutting Ball Associate Artist and a frequent collaborator with director Rob Melrose. Previous designs for the Cutting Ball include Ubu Roi, Krispy Kritters in the Scarlett Night, The Chairs, Strindberg Cycle: The Chamber Plays in Rep, The Tempest, Pelleas & Melisande, … And Jesus Moonwalks the Mississippi, and Sidewinders. Elsewhere, recent/upcoming credits include designs for Oregon Shakespeare Festival, the Guthrie, Cal Shakes, the Magic, Yale Rep, Great Lakes Theater, Idaho Shakespseake Festival, Center Rep, and Northern Stage. Michael teaches set design at San Jose State University, and is also a founding member of Hollywood-based Tilted Field Productions. Education: University of California, San Diego; Yale School of Drama.
Alejandro Acosta (Lighting & Projection Designer) is a longstanding member of Campo Santo. He currently serves as Technical Director at Intersection for the Arts and Teaching Artist at Tamalpais High School (Conservatory Theater Ensemble).
Jake Rodriguez (Score & Sound Designer) has carved out sound and music for multiple theaters across the San Francisco Bay Area and beyond. Recent credits include The Christians and brownsville song (b-side for tray) at Actors Theatre of Louisville; The Orphan of Zhao at American Conservatory Theater; Tribes at Berkeley Repertory Theatre; Hamlet and Pygmalion at California Shakespeare Theater; Buried Child at Magic Theatre; and Emotional Creature at the Pershing Square Signature Center. Rodriguez is the recipient of a 2003 Bay Area Theatre Critics Circle Award and a 2004 Princess Grace Award.
Courtney Flores (Costume Designer) is a Bay Area native. Recent productions include: Taming of the Shrew at San Francisco Shakespeare Festival, Daylighting at Shotgun Players, Chasing Mesherle at Intersection For The Arts, James and The Giant Peach at Douglas Morrison Theatre, Medea at African American Shakespeare Company and Cat On A Hot Tin Roof at Los Altos Stage Company. Courtney received her AA in Fashion Design at College of Alameda and her BA in Theatre Arts at California State University Hayward. Courtney is also a member of Bay Area Latino Theatre Artists Network.
Brittany White (Props Master) Her latest projects as prop master include Ubu Roi (Cutting Ball) and Twelfth Night (CalShakes). As a semi-young treasure hunter and habitual fine-item collector, she has spent her most recent years utilizing these endeavors as a Prop Artisan/ Master for theatre and film. BA in Theatre & Film, Humboldt State University (2012).
Pricing & Discounts
Ticket Pricing and Discounts for Superheroes
General Tickets: The Cutting Ball Theater operates on a dynamic pricing model. This means that like with airline tickets our prices are generally lower earlier in the run and when you buy your ticket in advance. Our least expensive tickets are available during previews (November 21-30) before the press has reviewed the production when you can find a ticket for $10-$20. Following our Opening Night on December 2 tickets range from $20-$50, with the least expensive tickets available on Thursday nights. Become our friend on Facebook https://www.facebook.com/CuttingBall or follow us on Twitter @Cuttingball to find last minute discounts to select performances.
Student Tickets (reserved): Reserved student tickets are available to all performances for just $15. Select your desired performance on our ticketing page and guarantee your seat at any performance. You will be asked to present your student ID at the box office.
Free Student Rush Tickets: Cutting Ball is offering free student rush tickets to all performances of Superheroes. Arrive at the box office up to 30 minutes in advance of any performance to get on our rush list. Rush tickets will be distributed 5 minutes prior to the performance start time.
You can help us to provide these free student rush tickets by making a gift to Cutting Ball
Neighborhood "Pay-What-You-Can" Tickets
Pay What You Can" tickets are available to Tenderloin residents, as well as people who work and volunteer in the neighborhood for all performances (excluding December 5) as long as open seats remain available.
To Secure Neighborhood Tickets
Arrive at the EXIT on Taylor theater at 277 Taylor street at least 30 minutes prior to a performance
Approach the Box Office Manager and request a "Neighborhood Ticket" or a "pay-what-you-can" ticket.
Please do pay what you can for neighborhood tickets, but no one will be refused entry due to their ability to pay for the performance.
If the performance is sold out you will be asked to return at another time.
Expectations of All Audience Members
All audience members are expected to arrive at the theater on time in advance of the listed start time of a performance.
The Cutting Ball Theater may not honor tickets not claimed prior to 15 minutes in advance of the start time of a performance.
Audience members should expect to remain in the theater once they are seated until the play is over. Superheroes is a 90-minute production.
Audience members who must leave the theater in the middle of the performance may not be readmitted to the theater.
We hope that you enjoy Superheroes!
The Cutting Ball Theater reserves the right to refuse service to anyone.