The Bald Soprano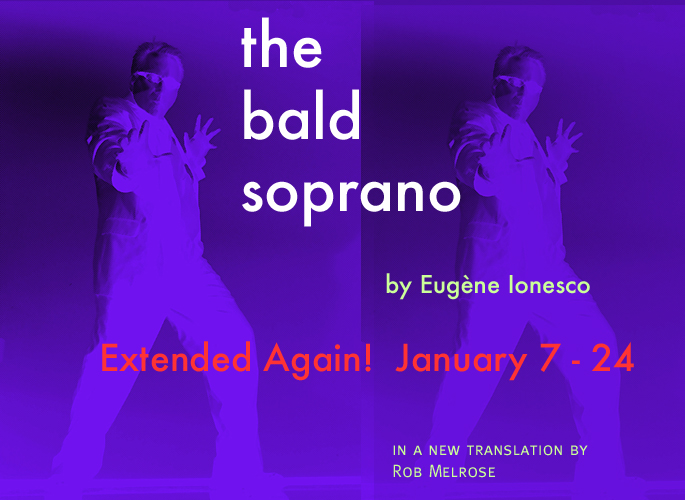 by Eugène Ionesco
In a new translation by Rob Melrose
Directed by Rob Melrose
October 23 – January 24
EXTENDED AGAIN! JAN. 7 – 24
65 minutes with no intermission
This is the play that breaks all the rules! Mr. and Mrs. Smith have invited Mr. and Mrs. Martin over for dinner as chaos cheerfully reigns over logic and conventional manners. Known all over the world as one of the quintessential absurdist masterpieces, this hilarious play is the perfect follow-up to last season's hit production of Ionesco's Victims of Duty, which garnered a Bay Area Critics Circle Award for Best Production.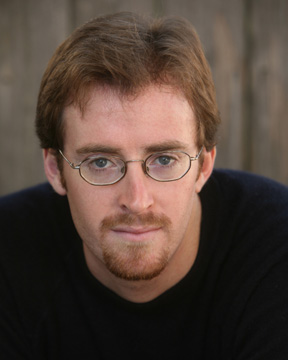 Derek Fischer (The Fire Captain) has numerous North Bay credits, including most recently The Three Musketeers at the Sebastopol Shakespeare Festival and Welcome Home Jenny Sutter with Sonoma County Repertory. He recently moved down from Ashland, Oregon where he studied theatre at Southern Oregon University and was seen in Of Mice and Men, The White Plague, Who's Happy Now, and many others.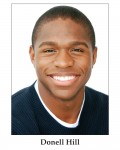 Donell Hill (Mr. Martin) was last seen in Stanford Summer Theater's Electra Festival as Aegisthus in Sophocles' Electra, Orestes in Aeschylus' Libation Bearers, and Pylades in Euripides' Electra. He made his professional theater debut at Berkeley Repertory Theatre in Amy Freed's You, Nero. Donell holds a B.A. in Drama from Stanford University and looks forward to becoming part of the Bay Area theater community.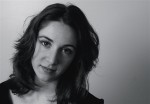 Caitlyn Louchard (Mrs. Martin) recently received her BFA from NYU's Tisch School of the Arts. Bay Area acting credits include Catherine in A View From the Bridge with Actor's Theatre of San Francisco, Isabella in Measure for Measure with Shady Shakespeare, and most recently, Emily Dickinson in Tell It Slant with the Pear Avenue Theatre/Bootstrap Foundation. She has understudied at Berkeley Rep, TheatreWorks and SF Shakes. In April, Caitlyn will appear again in Tell it Slant, which will be remounted at the Southside Theater at Fort Mason.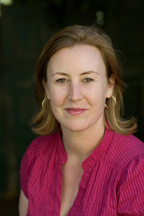 Paige Rogers (Mrs. Smith) is the Associate Artistic Director and co-founder of The Cutting Ball Theater where she has appeared in My Head Was a Sledgehammer, As You Like It, The Vomit Talk of Ghosts, Macbeth, The Taming of the Shrew and Bone to Pick. She has worked locally with Berkeley Opera, Lamplighters, Sonoma Rep and on tour with Cal Shakes. Nationally, she has been seen at The Kennedy Center, McCarter Theatre, Trinity Rep and the Oregon Shakespeare Festival. Last year she made her professional directorial debut at Cutting Ball with the highly acclaimed Mud.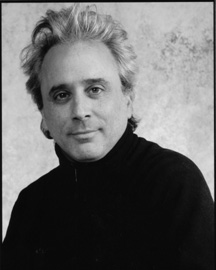 David Sinaiko (Mr. Smith) has appeared in Cutting Ball's productions of Krapp's Last Tape, Endgame, TheTaming of the Shrew, As You Like It, The Sandalwood Box, Ajax for Instance, Macbeth, 365 Plays/365 Days, Woyzeck and Victims of Duty. He was a founding member of Chicago's New Crime Productions where credits include Heart of a Dog, The Balcony, Fear & Loathing in Las Vegas, Accidental Death of an Anarchist, Methusalem and Alagazam! In Chicago he also worked at The Actor's Gang and the Goodman Theatre. Recent credits include the annual SantaLand Diaries by David Sedaris, Golden Thread's Jihad Jones & the Kalashnikov Babes, Crowded Fire's Wreckage and SF Playhouse's One Flew Over the Cuckoo's Nest.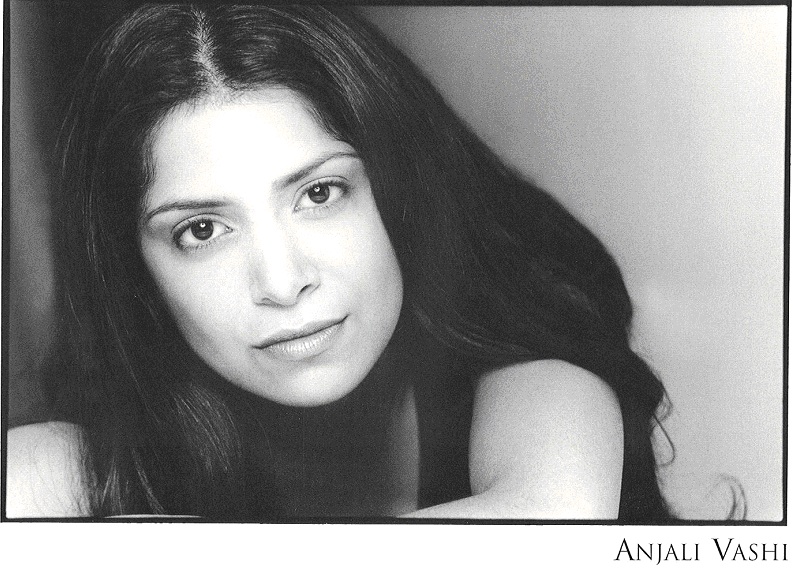 Anjali Vashi (Mary, the maid) has directed several US and World Premieres off-off Broadway, most recently the world premiere of Chuck Mee's Coney Island Avenue. She has just completed a season-long apprenticeship at Magic Theatre for Artistic Direction in new play development. She served on the full-time faculty in Pace University's BFA Acting Program in NYC and now serves on the faculties of University of San Francisco and San Francisco State University, teaching Directing and Viewpoints training. She received her MFA in acting from Columbia University's Graduate School of the Arts.
Cast and director ground the play's giddy, unhinged quality in bright, highly articulate, physically taut comedic performances.
Rob Avila – San Francisco Bay Guardian
http://www.sfbg.com/entry.php?entry_id=9441
It's glorious and weird, and you absolutely shouldn't miss it.
Chris Jensen – San Francisco Weekly
The Cutting Ball ensemble functions like a well-oiled machine… Within Melrose's tight orchestration, each actor finds whole volumes of delicious nuances.
Jean Schiffman – Examiner
It's a lively production of a compact gem that could just as easily be impenetrable in less capable hands.
Sam Hurwitt – Marin IJ
Acting is excellent throughout, as can be expected of Cutting Ball productions.
Eryka M. Fraczek – Bay Times
Fast, fun, and fluid… the cast is uniformly outstanding.
Patrick Vaz
http://reverberatehills.blogspot.com/search/label/Cutting%20Ball%20Theater
The Bald Soprano moves beyond absurd theatre to absurdly funny entertainment.
George Heymont – myculturallandscape.blogspot.com
This production rocked, from the translation to the hilarious and precise movement of each of the killer actors.
Tim Bauer
http://timbauer.wordpress.com
It's wonderful that Rob Melrose and The Cutting Theater takes these risks to bring us such challenging, eclectic material.
Clinton Stark
http://www.starksilvercreek.com/2009/10/theater-review-the-bald-soprano-an-acid-trip-in-the-tenderloin-how-curious.html
Notes from the Dramaturg
The Bald Soprano Dramaturg Nakissa Etemad explores Absurdism and delves into the life and work of Eugène Ionesco.
Nakissa Etemad is a San Francisco-based dramaturg, producer, and translator and the newly appointed Resident Dramaturg of The Cutting Ball Theater. She served as dramaturg for last season's award-winning production of Victims of Duty, and is the former Dramaturg & Literary Manager for The Wilma Theater, San Jose Rep, and San Diego Rep.
Absurdity in Numbers By Dramaturg Nakissa Etemad
Dozens of chairs clutter the room for an audience that never arrives… pleasantries among new acquaintances erupt into a cacophony of nonsensical words and phrases… the decades-old corpse in the bedroom invades the living room as it grows weed-like to gigantic proportions… an everyman-hero fights to retain his humanity while his fellow citizens mutate into wild beasts…
There is nothing quite like an absurdist play. Anything is possible. What appears as humdrum everyday life soon transforms into the ridiculous and unimaginable. Theatre of the Absurd, a close relative of the Surrealist movement launched by Alfred Jarry (Ubu Roi, 1896), explores the comic in the mundane, the preposterous in the rational, the strange in the straightforward, the dreams in those who are wide-awake.
In the aftermath of the German occupation of Paris, the City of Lights of the mid-1940s & '50s sought to rebuild itself and reclaim a cultural and personal identity for its people. The French Resistance—which included many writers—returned from the underground with less purpose now that the fight had ended, and artists were once again free to examine their experiences, restore their pride and prestige, and unabashedly explore the meaning of life. Eugène Ionesco and his contemporaries, including Irish expatriate Samuel Beckett (Waiting for Godot, 1953) and Parisian Jean Genet (Les Bonnes, 1947; The Maids), found themselves responding to the existentialist philosophies of fellow writers Jean-Paul Sartre (Huis Clos, 1944; No Exit) and Albert Camus (Caligula, 1945). Camus coined the term that would soon identify this group of the Paris avant-garde who would each in their own way redefine the dramatic art form; in his essay "The Myth of Sisyphus" (1942), Camus states that the human situation is essentially absurd, devoid of purpose.
To this post-war generation of writers, rational and meaningful choices seemed impossible, and fate seemed uncontrollable, so they carved their own vision of what it is to exist. Thus to the absurdists, in a world without purpose, it is easier to exist if one accepts the lack of meaning, the difficulty of valid communication, and that truth is found in chaos and lack of order, of logic, of certainty. As Ionesco said in his Notes et Contre-Notes, or Notes and Counter-Notes (pub.1962), "truth lies in our dreams, in our imagination." The very structure of absurdist plays embody this vision with non-linear plotlines, events triggered by patterns rather than by cause-and-effect, archetypal characters instead of naturalistic persons, devalued language full of repetition, clichés, non sequiturs (illogical statements) and puns, forward movement of time replaced by a timeless, circular quality…. Ionesco, especially, seems to reject traditional drama to replace it with his own form of comedy-anarchy to convey oneiric worlds (of dreams) without clear meaning, governed by uncertainty and chance rather than logic, where farce covers up a surface of metaphysical distress (distress from a reality beyond what is perceptible to the senses)…. In short, a place where chairs can multiply for no reason, men can turn into rhinoceroses without explanation, and a man can literally, physically dig through the memories in his mind….
©2009 Nakissa C. Etemad
The Creator of the Anti-play By Dramaturg Nakissa Etemad
I personally would like to bring a tortoise on to the stage, turn it into a race horse, then into a hat, a song, a dragoon, and a fountain of water. One can dare anything in the theatre, and it is the place where one dares the least. I want no other limits than the technical limits of stage machinery. People will say that my plays are music-hall turns or circus acts. So much the better – let's include the circus in the theatre! Let the playwright be accused of being arbitrary. Yes, the theatre is the place where one can be arbitrary. As a matter of fact, it is not arbitrary. The imagination is not arbitrary, it is revealing. …I have decided not to recognize any laws except those of my imagination, and since the imagination obeys its own laws, this is further proof that in the last resort it is not arbitrary.
— "Eugène Ionesco ouvre le feu" (with parallel English translation),
World Theatre, Paris, vol. VIII, no. 3, Autumn 1959
The Man Behind the Curtain
Born in Romania in 1909, young Ionesco was son of a French mother, Thérèse Ipcar, and a Romanian father, named Eugen Ionescu (Romanian spelling), who moved his wife and two-year-old son from Romania to Paris for his pursuit of a Doctorate of Law. Shortly after, Ionesco's sister Marilina was born. Four years later, their father returned to Bucharest to fight in World War I, while the family remained in Paris. They lost contact with the father and believed him to be killed in action, when in fact, back in Romania, he had claimed his wife's desertion of their home and divorced her in absentia, remarrying in 1917 without informing his family. In 1918, the 8-year-old Ionesco and his sister lived with their mother, whom he adored, in a modest hotel on rue Blomet in the 15th district of Paris. For fear of bombing raids (or due to a developing anemia in Ionesco, according to Martin Esslin, author of The Theatre of the Absurd), Thérèse had the children moved for some months to the countryside of Northwestern France, which Ionesco would later claim to be among the happiest times in his childhood. In 1922, father Eugen demanded that his children be sent to him and his new wife, and the reluctant 13-year-old Ionesco left his mother for Bucharest. Thérèse would later follow and take in his sister, who was driven out by his stepmother. Ionesco learned Romanian to enter lycée (high school).
Ionesco did not get along with his father or his stepmother, always having harbored a deep resentment towards his father for his deception and cowardliness. He eventually moved out of his father's home in 1926. Even from a young age, Ionesco disapproved of his father's falseness in siding with whatever regime was in power, especially with the rising fascist regime in Romania. Around this time, Ionesco discovered the work of fellow Romanian Tristan Tzara, the father of Dadaism, a nihilistic literary and artistic movement rejecting convention and exploring life & art through irrationality, the bizarre, disintegration of language; etc. Ionesco was studying French Literature at the University of Bucharest and began his career as a budding literary critic and poet. He wrote avant-garde essays and poems for literary reviews, most notably a collection of controversial essays attacking the best of Romanian literati, entitled Nu (1934; No). Two years later, he married Rodica Burileanu, and soon after, lost his mother to a stroke. While teaching French at the lycée in Bucharest, he received a State grant to write his doctorate on "Sin and Death in French Poetry" in Paris, beginning in 1939. During World War II, in 1942, they moved to Marseilles as poor refugees, spending those years of the German occupation in hiding. Two years later, their only daughter Marie-France was born, on the very day of France's liberation. Now that France was free from the occupation, Ionesco, his wife, and daughter moved permanently to Paris in 1945. His father Eugen died in 1948. That same year, Ionesco became a French citizen and wrote his first play, the first version of The Bald Soprano (La Cantatrice chauve) in Romanian under a title meaning English without a Teacher, next writing the version in French that we have today.
Once Ionesco began writing plays, it took almost a decade for him to get full recognition from critics and audiences, as this 'new theatre' was quite shocking and different for audiences of the day. But there was no denying Ionesco's mastery, thanks to the enthusiasm of fellow writers and proclamations of critics such as Jacques Lemarchand, first writing for Combat then Le Figaro Littéraire, (who unlike his fellow critics praised Ionesco from the start). Lemarchand was one of Ionesco's most loyal supporters, revealed aptly in his review of Victims of Duty (Victimes du devoir) in its premiere in early 1953. His words can be applied to all Ionesco plays: "It seems to me that with this play Mr. Ionesco has come closer than he ever did before to bringing his dramaturgy in line with his vision.… For me, it is a theater of adventure, the inner adventure of the mind…. He is able both to wring our hearts making us shed tears and to have us collapse with laughter" (Translated by Ionesco scholar Rosette Lamont). Ionesco, a stranger in his homeland and foreigner in a recently liberated nation, finally found an acceptance for his new form of theatre. Lamont lists some of the finest features of Ionesco's plays: "the underlying seriousness, the poetic power of his astonishing stage images rising from the depths of his subconscious, and the liberating effect of his anarchic humor." (Lamont, Ionesco's Imperatives, Univ. of Michigan Press, 1993)
Ionesco's Plays
Victims of Duty , produced at The Cutting Ball last October, is one of many Ionesco plays that explore his relationships with his parents and reflect memories of his childhood. Lamont calls him "the eternal wanderer, interrogating the world, and plumbing his own psyche" (Lamont, Ionesco's Imperatives). Ionesco perhaps unknowingly describes himself in 1958: "It is the dreamer, the thinker or the scientist who is the revolutionary; it is he who tries to change the world."
Ionesco authored 28 plays, many of which have been produced several times over. Victims of Duty was written in 1952, a mere four years after he began playwriting. It is his first confessional dream play, (and first of many autobiographical plays), one in which he "tried to sink comedy in tragedy… to confront comedy and tragedy in order to link them in [their natural] co-existence." Ionesco's first play The Bald Soprano is subtitled Anti-play, whereas Victims' subtitle is Pseudo-drama, or false drama: "I have called my comedies 'anti-plays' or 'comic dramas', and my dramas 'pseudo-dramas' or 'tragic farces': for it seems to me that comic and tragic are one, and that the tragedy of man is pure derision" (Ionesco, 1958). Lamont calls Victims a "personal drama; on one level, it is a bold public confession enclosed in the form of self-psychoanalysis, while on the other, it constitutes a lucid meditation on the vagaries of contemporary European history." She calls Ionesco "an artist who celebrates the childlike wonder of constant renewal and fresh discoveries," much like the activity of the characters in The Bald Soprano.
The Bald Soprano
Ionesco likes to say that his first play The Bald Soprano happened almost "by accident." Little did he know that this one-act comedy would "set into motion the mechanism of a new genre, the tragic farce," or "metaphysical farce" (Lamont). In 1948 at the age of 38, while learning conversational English from his Assimil textbook L'Anglais sans peine, (meaning English without pain but translated as English Made Easy), Ionesco literally found the absurd in the fictional English characters of "Mr. & Mrs. Smith" who used everyday niceties and overly simplistic truths to teach the reader the English language. All six characters from his textbook and their meaningless phrases landed on the pages of his "Anti-play" The Bald Soprano. Although they are English characters with some very English statements, Ionesco denies that the play is a satire of the English, rather that it is: "above all about a kind of universal petite bourgeoisie…a man of fixed ideals and slogans, a ubiquitous conformist… [a] conformism revealed by the mechanical language." He has also stated that had he been attempting to learn Italian, Russian or Turkish at the time of writing the play, the play would have been about couples living in Italy, Russia, or Turkey (Ionesco, 1958). In our production of a new translation by Rob Melrose, we keep all original references of the English characters and their lives, but we do not use English accents in an effort to honor Ionesco's original intention.
The original title of the play, English Made Easy (probably named after his English textbook), and later The English Hour, was changed to The Bald Soprano, or La Cantatrice chauve, due to a happy accident when the actor playing The Fire Captain stumbled with his lines by saying: "une cantatrice chauve" (a bald soprano) rather than "une institutrice blonde" (a blond schoolteacher). The premiere of The Bald Soprano in 1950 had only 25 performances, and a 1952 remount in another theatre with his second play The Lesson, or La Leçon, ran for six months. But it was the revival of both in 1957 that has broken world records. Under the title Le Spectacle Ionesco, The Bald Soprano playing with The Lesson, has run continuously since 1957 at the 95-seat Théâtre de la Huchette in Paris—over 16,300 performances and counting.
Whether The Cutting Ball production makes history on this continent in our 70-seat theatre, as was done with the production in Paris, only time will tell. What we hope is to honor the legacy of a great artist in bringing to life, simply told, one of our favorite plays.
©2009 Nakissa C. Etemad
Welcome to The Cutting Ball Theater's online press room.
For all media-related inquires, please contact: Erica Lewis-Finein brightbutterfly pr brightbutterfly[at] hotmail.com
The Bald Soprano
Press Release HTML | PDF Hi-Res Images(Click on an Image to download the high-res version) Images are provided exclusively to the press, and only for purposes of publicity for the duration of The Bald Soprano at The Cutting Ball Theater. The Cutting Ball Theater grants permission to use images only to the extent of its ownership rights relating to those images' the responsibility for any additional permissions remains solely with the party reproducing the images. In addition, the images must be accompanied by the credit line and any copyright information as it appears below, and the party reproducing the images must not distort or mutilate the images. More digital images are available. Please contact erica lewis-finein brightbutterfly pr brightbutterfly[at] hotmail.com [nggallery id=2] The Cutting Ball Theater opens its 10th Anniversary Season with Eugène Ionesco's The Bald Soprano in a new translation by Rob Melrose, directed by Rob Melrose. October 23 – January 24, 2010 (opening: Thursday, October 29 at 8pm) Thursdays – Saturdays at 8pm and Sunday at 5pm at EXIT on Taylor 277 Taylor St, San Francisco. Photo Credit: Rob Melrose Pictured: David Sinaiko and Paige Rogers as Mr. and Mrs. Smith
CUTTING BALL THEATER OPENS 10TH ANNIVERSARY SEASON WITH IONESCO'S ABSURDIST MASTERPIECE THE BALD SOPRANO October 23 – January 24, 2010
SAN FRANCISCO (August 30, 2009) – San Francisco's cutting-edge Cutting Ball Theateropens its 10 th season with Eugéne Ionesco's comic masterpiece THE BALD SOPRANO, in a new translation by Cutting Ball Artistic Director Rob Melrose. This hysterically funny play is the perfect follow up to last season's hit production of Ionecso's Victims of Duty, which garnered a Bay Area Critics Circle award for Best Production. Featuring Paige Rogers, David Sinaiko, Caitlyn Louchard, Donell Hill, Derek Fischer, and Anjali Vashi with direction by Rob Melrose, THE BALD SOPRANO plays October 23 through January 24 (Press opening: October 29) at the Cutting Ball Theater in residence at Exit on Taylor (277 Taylor Street) in San Francisco. For tickets ($15-35) and more information, the public may visit cuttingball.com or call 800-838-3006.
In THE BALD SOPRANO, Mr. and Mrs. Smith invite Mr. and Mrs. Martin over for a cheerful dinner. Plans for a sedate evening soon give way to hilarious chaos as polite conversation turns to confusion and the two couples engage in an escalating battle of linguistic acrobatics. Simultaneously comic and profound, THE BALD SOPRANO, about which The New York Times recently said, "The play has not aged. One might even suggest that we have caught up with [it], is a play that breaks all the rules." While trying to learn English, Ionesco noticed the absurdity of the dialogues between the husband and wife in the textbook he was studying – she would inform him that they live in London, that they have three children, that the ceiling is above them and the floor is below them, all things he already knew perfectly well. Ionesco took these strange seeds of dialogue and developed them into an entire play, or anti-play as he called it. While there was no traditional story or conflict, there was definitely something happening, as if language itself were a character; THE BALD SOPRANO premiered in Paris in 1950 and became Ionesco's first work for the theater. "It's hard to imagine a better play to celebrate our 10 th Anniversary than Eugéne Ionesco's The Bald Soprano," said Cutting Ball Artistic Director Rob Melrose. "It is a wonderful follow up to last season's Victims of Duty and is the earliest of the plays that critics group together as being part of 'the theater of the absurd.' In many ways, the past 10 years has been a walk through the history of the absurd. We've produced absurdist plays by Ionesco, Beckett, and Genet, and have followed their influence through productions of major American experimental playwrights such as Mac Wellman, Richard Foreman and, Suzan-Lori Parks. We have also helped to develop the next generation of playwrights touched by the absurdist spirit by staging plays by playwrights such as Marcus Gardley and Eugenie Chan. In staging The Bald Soprano, we also honor the EXIT Theatre's rich history of producing Ionesco works. After 10 years of being steeped in absurdist theater, Cutting Ball's challenge now is to create an Ionesco production that indeed catches up with his revolutionary text, and captures his delightful sense of humor – what a welcome challenge that is!" The Cutting Ball Theater has assembled a gifted ensemble for THE BALD SOPRANO. Returning to the Cutting Ball stage is Paige Rogers (Mrs. Smith), Associate Artistic Director and co-founder of The Cutting Ball Theater. Rogers most recently appeared in the company's acclaimed production of Eugenie Chan's Bone to Pick, and was featured in productions of My Head Was a Sledgehammer, As You Like It, The Vomit Talk of Ghosts, Macbeth, and The Taming of the Shrew. She has been seen locally with Berkeley Opera, Lamplighters, Sonoma County Repertory Theater, and on tour with California Shakespeare Theater. Additionally, Rogers has performed at The Kennedy Center, McCarter Theater, Trinity Repertory Company, and the Oregon Shakespeare Festival. At Cutting Ball, her directing credits include The Hidden Classics Reading Series, Suzan Lori-Parks' 365 Plays/365 Days, and Risk is This…The Cutting Ball New Experimental Plays Festival; she made her full-length directorial debut with last season's acclaimed production of Mud. David Sinaiko (Mr. Smith) has appeared in Cutting Ball's productions of Victims of Duty, Endgame, The Taming of the Shrew, As You Like It, The Sandalwood Box, Ajax for Instance, Macbeth, 365 Plays/365 Days, Woyzeck, Chain Reactions, and as part of The Hidden Classics Reading Series and Risk is This… The Cutting Ball New Experimental Plays Festival. Other recent credits include Golden Thread's Jihad Jones & the Kalashnikov Babes, Crowded Fire's Wreckage, and SF Playhouse's One Flew Over the Cuckoo's Nest. Additionally, Sinaiko has been seen at the Goodman Theatre, The Actor's Gang, and in the popular Bay Area one-man production of David Sedaris' SantaLand Diaries. He was a founding member of Chicago's New Crime Productions. Making their Cutting Ball debuts in THE BALD SOPRANO are Caitlyn Louchard (Mrs. Martin) and Donell Hill (Mr. Martin). Louchard's Bay Area acting credits include A View From the Bridge with Actor's Theatre of San Francisco, Measure for Measure with Shady Shakespeare, and most recently Tell It Slant with the Pear Avenue Theatre/Bootstrap Foundation; as a teaching artist, she has worked with San Francisco Shakespeare Festival, TheatreWorks, and Peninsula Youth Theatre. Hill was last seen in Stanford Summer Theater's Electra Festival; he made his professional theater debut at Berkeley Repertory Theatre in Amy Freed's You, Nero. Anjali Vashi (The Maid) and Derek Fischer (The Fire Captain) round out the cast. Artistic Director and co-founder of Cutting Ball Theater Rob Melrose has directed several productions for the company including Krapp's Last Tape, Victims of Duty, Avant GardARAMA!, Endgame, The Taming of the Shrew, Macbeth, Hamletmachine, The Death of the Last Black Man in the Whole Entire World, Mayakovsky: A Tragedy, Roberto Zucco, The Vomit Talk of Ghosts (World Premiere), The Sandalwood Box, Pickling, Ajax, for Instance, Helen of Troy (World Premiere), and Drowning Room (World Premiere). Additionally, he has translated No Exit, Woyzeck, Pelléas and Mélisande, and Ubu Roi. Melrose's other directing credits include productions at the Guthrie Theater (Happy Days, Pen), California Shakespeare Theater (Villains, Fools, and Lovers), and Crowded Fire (The Train Play), among others. He has assistant directed productions at The Public Theater/New York Shakespeare Festival (Hamlet, Oskar Eustis, director), Berkeley Repertory Theatre (The Pillowman, Les Waters, director), American Conservatory Theater (Indian Ink, Carey Perloff, director), Guthrie Theater (Othello, Joe Dowling, director), and Yale Repertory Theatre (Twelfth Night, Mark Rucker, director). He is currently a 2007 – 2009 recipient of the NEA/TCG Career Development Program for Directors. Romanian-born playwright Eugene Ionesco is considered the father of the Theatre of the Absurd. Rejecting the logical plot, character development, and thought of traditional drama, Ionesco created his own anarchic form of comedy to convey modern man's existence in a universe ruled by chance. He is the author of more than 20 plays, including THE BALD SOPRANO (1950), The Lesson (1951), The Chairs (1952), Victims of Duty (1953), Jack, or the Submission (1954), Rhinoceros (1959), Exit the King (1962), A Stroll in the Air (1963), Macbett (1972), and Journeys Among the Dead (1980). Ionesco's peers included Samuel Beckett and Arthur Adamov; his work in absurdism laid the foundation for contemporary playwrights including Harold Pinter and Tom Stoppard. Co-founded in 1999 by theater artists Rob Melrose and Paige Rogers, Cutting Ball Theater presents avant-garde works of the past, present, and future by re-envisioning classics, exploring seminal avant-garde texts, and developing new experimental plays. Cutting Ball Theater has partnered with Playwrights Foundation, Magic Theatre, and Z Space New Plays Initiative to commission new experimental works. The company has produced a number of World Premieres and West Coast Premieres, and re-imagined various classics. Recipient of the 2008 San Francisco Bay Guardian Goldie award for outstanding talent in the performing arts, Cutting Ball Theater earned the Best of SF award in 2006 from SF Weekly, and was selected by San Francisco Magazine as Best Classic Theater in 2007. FOR CALENDAR EDITORS: WHAT: The Cutting Ball Theater opens its 10 th season with Eugéne Ionesco's comic masterpiece THE BALD SOPRANO, in a new translation by Rob Melrose. The Smiths are a couple from London who have invited another couple, the Martins, over for a visit. Mr. and Mrs. Smith mourn the loss of Bobby Watson, but can't quite decide which Bobby Watson they are mourning. Mr. and Mrs. Martin are pleased to have just met even though they have been married for many years and have a child together. This hysterically funny play, the perfect follow up to last season's hit production of Ionecso's Victims of Duty, which garnered a Bay Area Critics Circle award for Best Production, premiered in Paris in 1950 and was Ionesco's first work for the theater. Cutting Ball Artistic Director Rob Melrose helms THE BALD SOPRANO, about which The New York Times said, "The play has not aged. One might even suggest that we have caught up with [it]." WHEN: Previews: October 23, 24 at 8pm, October 25 at 5pm Opens: October 29 at 8pm Press opening: Thursday, October 29 at 8pm Closes: January 24, 2010 All performances Thursday-Saturday at 8pm and Sunday at 5pm WHERE: The Cutting Ball Theater in residence at EXIT on Taylor 277 Taylor St., San Francisco TICKETS: For tickets ($15-35) and more information, the public may visit cuttingball.com or call 800-838-3006; discounts available for students and seniors PHOTOS: Art for THE BALD SOPRANO can be found at http://www.cuttingball.com/press.php or by emailing brightbutterfly[at]hotmail.com