The Taming of the Shrew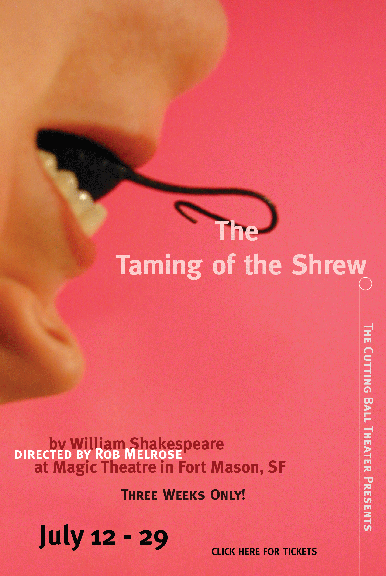 directed by Rob Melrose
July 12 – 29
Blossoming beauty Bianca can't get married until her caustic older sister Kate has tied the knot. But who can tame wild Kate?
Hip Hop Dancing and San Francisco's Leather Fair meet Italian Commedia dell'Arte in this wild exploration of Shakespeare's Classic.  It's a production of The Taming of the Shrew unlike any other!
"The Cutting Ball's artistic director, Rob Melrose, has a talent for mining classics for hidden themes and bringing musty old texts to life with intelligent physicality and arresting visual metaphor."
– SF Weekly
[nggallery id=11]
Bios
Cast
Felicia Benefield (Bianca) has appeared with Cutting Ball in Alien Motel part of our Risk is This . . . Experimental New Plays Festival. She has also been seen in Death of the Last Black Man in the Whole Entire World, 365 plays/365 days, and Woyzeck. Next year she will be in the world premiere of Mr. Fujiyama's Electric Beach by Kevin Oakes. Felicia has studied with ACT's Young Conservatory, the University of East Anglia – Norwich, England and interned with the SF Mime Troupe. Past performances include Speak to Me and Hamlet. She holds a BA in Drama from San Francisco State University.
Chad Deverman (Lucentio) has appeared with Cutting Ball playing the title role in Woyzeck earlier this year and in our Hidden Classics Reading Series . Most recently he was seen as Tommy in First Person Shooter at SF Playhouse, The Sisters Rosensweig at TheatreWorks and in both Restoration Comedy and As You Like It at CalShakes. Other credits include On the Razzle, Our Country's Good, Carrie: The Musical at the Williamstown Theatre Festival, the Off-Broadway production of Moonchildren and Romeo and Juliet at RADA. Chad holds a BFA in Theater from New York University.
Sam Gibbs (Biondello) is making his Cutting Ball debut. Previous roles include the title role in Hamlet, Dromeo of Ephesus in Comedy of Errors, Snout the Tinker in A Midsummer Night's Dream, Eumaeus in The Odyssey and Truffeldino in The Servant of Two Masters at Marin Academy under the direction of Rob Melrose. Most recently Sam has been seen as Geoffrey in In the Livingroom with John Livingston at UCLA where he is currently majoring in Theater.
Ponder Abra Goddard (Tranio) has previously worked with Cutting Ball in the Hidden Classics reading series. At Marin Academy Ponder was seen as Valarie Solanas in The Love of Three Oranges, Titania in A Midsummer Night's Dream, Rosalind in As You Like It, Shui Ta Good Person of Szechwan, Scheherazade in Arabian Nights and the title character in Sarita. Ponder is taking time off from getting her BFA from NYU's Experimental Theater Wing.
Cat Lum (Dancer, Servant) is making her Cutting Ball debut and will also appear in the world premiere of Kevin Oakes' Mr. Fujiyama's Electric Beach in 2008. Cat just finished her junior year at Marin Academy High School and has studied many forms of dance and acting.
Avery Monsen (Grumio) is making his Cutting Ball debut. He recently graduated from Oberlin College where he received his B.A. with high honors in theater. Favorite roles there include Benvolio in Romeo and Juliet, Baz in A Bright Room Called Day and Woody in Six Degrees of Separation. He has also trained at the Moscow Art Theater and with the Upright Citizens Brigade in Los Angeles.
Karl Mossberger (Hortensio) has previously worked with Cutting Ball in The Hidden Classics Reading Series. At Actor's Theatre of Santa Rosa he has appeared in Boy Gets Girl and Wonder of the World and at Sonoma Rep in Spinning into Butter, Death of a Salesman, Much Ado about Nothing and Christmas Carol. Karl has recently been seen in several episodes on The History Channel's "Man, Moment, Machine" and will soon appear in the newly released movie, Sail Away. He is a graduate of the American Conservatory Theatre.
Gwyneth Richards (Assistant Vocal Coach, Pedant, Widow) has appeared with Cutting Ball playing the title role in Snakewoman for Risk is This . . . Experimental New Plays Festival. Favorite roles include Eleanor of Aquitaine in The Lion in Winter, Emily Dickinson in The Belle of Amherst, the Countess in All's Well that Ends Well, Mistress Page in The Merry Wives of Windsor, Gaia in The Train Play, and Melanie Garth in Quartermaine's Terms, for which she won a BATTC award. She has taught and coached at A.C.T., California Shakespeare Theatre, College of Marin, Shakespeare at Stinson, Marin Academy and for Theatre Bay Area's spotlight series. Her upcoming projects include her one-person shows: Born Again through Shakespeare, Shakespeare's Women, and The Hollow Crown: Shakespeare and Elizabeth I.
Paige Rogers (Katherina) co-founded The Cutting Ball Theater in 1999 and has appeared in their productions of My Head Was a Sledgehammer, As You Like It, The Vomit Talk of Ghosts and Macbeth. She has worked locally with Berkeley Opera, Lamplighters, Sonoma Rep and on tour with Cal Shakes. Nationally she has been seen at The Kennedy Center, McCarter Theater, Trinity Rep and The Oregon Shakespeare Festival.
Elena Scott (Dancer) is making her Cutting Ball debut. She has been dancing for ten years and has worked with director Rob Melrose on various Marin Academy productions where she just finished her junior year.
David Sinaiko (Petruchio) returns to Cutting Ball after appearing in As You Like It, The Sandalwood Box, Ajax, for example, Macbeth, 365 Plays/365 Days, Woyzeck, The Hidden Classics Reading Series and Chain Reactions, part of Risk is This . . . Experimental New Plays Festival. He was a founding member of Chicago's New Crime Productions where credits include The Balcony, Heart of a Dog, Accidental Death of an Anarchist, Methusalem, and Alagazam!. He was seen in A Midsummer Night's Dream at the Goodman Theater, The Big Show with The Actor's Gang, and recently in the one-man production of David Sedaris' SantaLand Diaries. Film and television credits include The Grifters, Bob Roberts and The Untouchables. David is an alumnus of NYU's Experimental Theater Wing and the Stella Adler Conservatory.
David Westley Skillman (Gremio) has been seen in Cutting Ball's Risk is This . . . Experimental New Plays Festival in Alien Motel and Wet and in last year's Death of the Last Black Man in the Whole Entire World . This year David performed at The Thick House and later at San Jose Stage Company in Octavio Solis' Gilbraltar. Work at local theater companies include The Bay Area Like Second Wind Productions, The Lorraine Hansberry Theatre, Central Works, Theater First, The African American Shakespeare Company, SF Fringe Festival and FoolsFury. Some of David's favorite roles include a stepsister in Cinderella, Booth from Suzan-Lori Parks' Top Dog Under Dog and the title role in Othello at AASC. Film credits include The Confession The Calling of Harvey Brewster, Deep End, Small Things, Ju Ju Love, The Last, Thomas Dailey and Live Intel. This summer he shooting two, new films; Ari Sturm's Fat Chicks and Hester Schell's Just Under a Million.
Lisa Tsubouchi (Dance Choreographer, Servant) is making her Cutting Ball debut. She has studied dance, including jazz, tap, ballet, hip-hop, hula, and bellydance for nearly a decade. As a dancer she has worked with Rob Melrose on many Marin Academy productions and as choreographer on The Comedy of Errors and Hamlet. Lisa just finished her first year of college at the University Hawai'i at Manoa.
LeNeac Weathersby (Baptista) has appeared with Cutting Ball as Queen Then Pharaoh Hatshepsut in The Death of the Last Black Man in the Whole Entire World. Locally she has been seen in Cabaret, Beauty and the Beast, and Ragtime. Training credits; BA in Theatre Arts, Broadway by the Bay Music Conservatory and Studio A.C.T.
Jason Wong (Curtis, Vincentio) has previously worked with Cutting Ball in the Hidden Classics Reading Series and, for the past year has been collaborating on Mr. Fujiyama's Electric Beach, part of Cutting Ball's 207 – 2008 season. He earned his degree in fine art at the University of Westminster in London, England, concentrating on performance art as well as experimental film and video. After moving to San Francisco, he studied further at A.C.T. As a resident artist of Crowded Fire Theater Company, Jason has appeared in Maid and Porcelain. Locally, he has been seen at Shotgun Players, New Conservatory Theatre, Fool's Fury and No Nude Men Productions.
Designers and Production Staff
Rob Melrose (Director) is the artistic director and co-founder of The Cutting Ball Theater where he has directed The Death of the Last Black Man in the Whole Entire World, My Head Was a Sledgehammer, Hamletmachine, Mayakovsky: A Tragedy, Drowning Room (with CRISUS), William Shakespeare's As You Like It & Macbeth, Roberto Zucco, Avant GardARAMA! and the world premiere production of The Vomit Talk of Ghosts by Kevin Oakes. For The Cutting Ball, he has also translated No Exit, Woyzeck, and Ubu Roi. In the Bay Area, Mr. Melrose has directed Liz Duffy Adams' The Train Play with Crowded Fire, Trevor Allen's Chain Reactions with C.A.F.E., Hedda Gabler with the Actors' Collective, The California Shakespeare Festival's touring show and a musical version of Tom Sawyer for The Dublin Theater Company. Locally he has assistant directed Tom Stoppard's Indian Ink directed by Carey Perloff at A.C.T. as well as Martin McDonagh's The Pillowman directed by Les Waters at Berkeley Rep. Before moving to San Francisco, Mr. Melrose lived for ten years on the East Coast and directed over 30 plays including: A Dream Play, The Great Highway, and Creditors by August Strindberg, Macbeth, Twelfth Night, Woyzeck, Endgame, Rhinoceros, The Seagull, No Exit, The Architect and the Emperor of Assyria, and the world premiere of Kevin Oakes' All Spoken by a Shining Creature: A Hypertext Punk Tragedy. He has a M.F.A. in directing from the Yale School of Drama and graduated magna cum laude from Princeton University. Next season, he will be directing the world premieres of Bone to Pick by Eugenie Chan and Mr. Fujiyama's Electric Beach by Kevin Oakes at The Cutting Ball Theater. He will also direct Pen by David Mashall Grant at The Guthrie Theater in November.
Fred Kinney (Set Designer) has recently worked at Cats Talk Back & Sub-Urban Stories (NYC Fringe Festival); Intimate Apparel (San Diego Rep) W.E.T. (Moxie Theatre) On Golden Pond, Bus Stop, Proof, Angel Street (Triad Stage); Ghosts, The Fastest Woman Alive, Dragons, Six Hands & The Night Watchman (Luna Stage); The Good Daughter, The Adjustment, Color of Flesh and Winterizing a Summer House (New Jersey Repertory Theatre); Fully Committed, Stones in His Pockets (What Exit? Theatre); The Grouch (The Shakespeare Theatre of New Jersey); Underneath the Lintel (Beowulf Alley). Additional credits include Peter Pan and Wendy at Prince Music Theatre in Philadelphia and Serious Money at Yale Repertory Theatre. He is a recipient of the NEA/TCG Career Development Program for Designers and holds a M.F.A. from the Yale School of Drama and a B.A. from the University of Texas at Austin.
Claire Calderwood (Costume Designer) returns to The Cutting Ball. Her previous work included Death of the Last Black Man in the Whole Entire World, The Maids, and Cutting Ball's Risk is This . . . Experimental New Plays Festival. Next season, she well design Mr. Fujiyama's Electric Beach. Claire is an alumnus of San Francisco State University.
Heather Basarab (Lighting Designer) designed Cutting Ball's production of The Maids. Other recent Bay Area designs include The Forest War with Shotgun Players; We Are Not These Hands, One Big Lie, and Maid with Crowded Fire; Birdhouse Factory and Highwater Radio with the Pickle Circus; Philip Kan Gotanda's Floating Weeds and Fist of Roses, both with Campo Santo; and the scenic design for Shotgun Players' Cabaret. Heather's work has also been seen with Project Bandaloop, the Dorsch Gallery in Miami, LACMA, Thick Description, The Magic Theatre and the Joe Goode Performance Group, with whom she received an Isadora Duncan Award for the production design of Drowsy.
Cliff Caruthers (Sound Design) has designed and composed for several Cutting Ball productions Risk is This, including Woyzeck, The Death of the Last Black Man in the Whole Entire World, Macbeth, No Exit, and The Vomit Talk of Ghosts. Other credits include San Jose Stage Company's Tenders in the Fog, Moxie Theater's Wet, Crowded Fire's Anna Bella Emma, and The Clean House's Baby Taj, Arcadia, and TheatreWorks' M. Butterfly where he is Resident Sound Designer. Mr. Caruthers' electronic music has been featured at the San Francisco Electronic Music Festival, Deep Wireless, Quiet American's Field Effects series, and the San Francisco Tape Music Festival. His design for Cutting Ball Theater's Fighter Airplanes will be part of the interactive design exhibit at the Prague Quadrennial 2007.
Carlos Aguilar (Props & Assistant Designer) is excited to be working on his second production with Cutting Ball having previously worked on Woyzeck. Other credits include work with the Magic Theatre and Pullover Productions. He is a graduate of San Francisco State University with a degree in Set Design.
Kelli Jew (Producer) is delighted to have recently joined The Cutting Ball Theater as Producing Director. Past Cutting Ball productions include Woyzeck. Past producing credits were at University of the Pacific and The East Bay Center for the Performing Arts. She has worked in General and Company Management at Berkeley Rep and in Development at TheatreWorks. Kellie is currently the Manager of Patron Services at Smuin Ballet. She holds a BA in Theatre from the University of the Pacific.
Natasha Lynn Victorious (Production Stage Manager) has previously worked on Cutting Ball's Risk is This . . . Experimental New Plays Festival and on The Vomit Talk of Ghosts. Locally Natasha has worked for CalShakes, Crowded Fire and The New Conservatory Theatre. Most recently she stage managed An Evening of New Writing, a new playwrights showcase, for the Signature Theatre, NYC in collaboration with SUNY Purchase. This fall she will receive a B.F.A. in Stage Management from The State University of New York, Purchase College.
Joan Wolkerstorfer (Stage Manager) graduated in June 2006 from the University of Chicago with a B.A. in interdisciplinary studies in the humanities. While an undergraduate, she worked on electrics, carpentry, and scenic painting and stage managed Oleanna, Electra, Fun, Crave, Hamletmachine, The Public Eye, and No Exit. At A.C.T. she has stage managed Red Scare on Sunset for the Master of Fine Arts Program and interned on the mainstage shows The Circle and After the War.
Adriana Baer has been the Associate Artistic Director of The Cutting Ball Theater since 2003. Company directing credits include Woyzeck, The Maids, No Exit, The Girl Triptych for Cutting Ball's Risk is This . . . Experimental New Plays Festival and several Hidden Classic Reading Series. Other directing credits include Miss Julie, Girls in Uniform, and Spring Awakening. She has worked with The Public Theater, Theater Communications Group, Berkeley Rep, SF Circus Center, CalShakes and ACT. She received her BA from Sarah Lawrence College and will begin the MFA Directing program at Columbia University this Fall.
Ari Poppers (Technical Director) returns to Cutting Ball after working on The Death of the Last Black Man in the Whole Entire World and Woyzeck. He has a B.A. in Technical Production/Design from San Francisco State University.
Enter the Shrew
by Lucia Scheckner, dramaturg for The Taming of the Shrew
We are excited to announce The Cutting Ball Theater's upcoming production of Shakespeare's The Taming of the Shrew, directed by Artistic Director Rob Melrose, at Magic Theatre in San Francisco.
The Cutting Ball's production of Shrew emphasizes the play's induction (the first two scenes), which Melrose sets in San Francisco. These first two scenes are often cut from the production altogether. Rather than the modernist tendency to focus on the taming of the shrew plot and reinterpreting the anti-feminist theme, we have presented the shrew story as a play-within-a-play.
Shakespeare's induction begins with Christopher Sly (David Sinaiko), a drunkard. He is found passed out just outside a bar (placed here in the Mission District) by a rich Lord (Paige Rogers) and her entourage. As a practical joke, the Lord decides to take Sly home and trick him into believing that he is a gentleman of great wealth who has suffered dementia for the past fifteen years. The audience watches Sly slowly begin to doubt his own sense of self and ultimately adopt the Lord and entourage's perception of him.
A troupe of players arrive and are employed by the Lord to stage a comedy for the baffled Sly. While the play is meant to entertain him, it is evident that it also serves as a learning tool. The essence of the play they stage is the story of how a woman's unruly behavior – which is not all that dissimilar to that of Sly, a belligerent drunkard – is sobered or "tamed".
The play-within-a-play structure is a Shakespearean hallmark. A Midsummer Night's Dream and Hamlet are two examples of how this device – meta-theater – is used. In the case of Shrew, the audience's experience of the taming plot is colored by Sly's own perception of it; he is, after all, the primary audience.
By framing the famous breaking of Kate story with the induction, Melrose enables his audience to move beyond an ethical focus on contemporary gender politics to explore identity and self-perception instead.
One of the inspirations behind this concept, Melrose explains, is "Erving Goffman's work The Presentation of Self in Everyday Life. Goffman's idea is that we don't have one true self, but rather many selves and that they are changeable depending on our environment." Melrose has applied Goffman's sociological insight – that people behave or "perform" in certain social situations in order to present themselves a particular way to others – to theater and the ways in which actors attempt to control the audience's impression of a character.
Audiences are set up to watch the actors take on the characters within the shrew story, but also the shrew story itself is rich with characters that swap or create false identities. For example, Lucentio poses as Cambio, Tranio as Lucentio, the Pendant as Vincentio. Illusion is layered on top of illusion. This behavior only reiterates how fluid personalities actually are and that personality is dependent on the way one is perceived and treated.
By setting the induction in San Francisco and specifically in an underground world of sexual fetishism, Melrose is able to use location to embody the changeability of identity and reflect upon expressions of gender. The result is an invitation to the resident San Francisco audience member to examine one's own perception of self and custom. Woven throughout the production – as interludes between various scenes – the music and dance sequences create an atmosphere of subculture characteristic of San Francisco. Even Melrose's casting choices reflect the city's diversity. This production explores San Francisco as much as it does The Taming of the Shrew.
While our production joins this tradition of drawing upon the induction and use of commedia stock characters, Melrose deepens the audience's experience by inviting Sly and the Lord to take part in the secondary play. In past productions Sly remains on the side watching the entire play, or at some point dissolves as the play progresses. In this case, Sly is cast by the players as Petruchio and the Lord as Kate. The result is that the real world power dynamic – a manipulative lord controlling the impressions of a poor drunkard – is inverted. Sly, as Petruchio, is now master over the Lord, as Kate. "In the San Francisco induction, Rogers will have a high status to Sinaiko's low," explains Melrose, "While in the play world of Padua their status will be reversed, especially after the wedding."
This framework allows the characters in the induction to inform the characters in the shrew story. As a result, Melrose manages to unify the play's three plots – the duping of Sly, the wooing of Bianca, and the taming of Kate – as well as raise questions about gender, sexuality, and class. The ultimate effect is a production that moves beyond material matters to a more metaphysical exploration of identity. Melrose's approach is a manifold achievement. It takes advantage of Shrew's intrinsic comedy, reminding audiences of the pleasure of slapstick humor, while also making a statement about self-perception and the power of theatrical illusion. Most of all it recalls the theater's very roots: the play as a learning device.