2012 - 2013 Season

Sidewinders
h3.post-title {display: none;} #titlebox { padding-bottom:5px; text-align:center; } #titlebox img { padding: 0 } #infobox button { font-size: 16pt; font-weight: bold; padding: 5px; } #moviebox {margin-top: 30px; text-align: center; width: 100%;} #infobox {position: relative; height: 60px; width: 100%;} Buy Tickets
October 18 – November 17, 2013
Press opening: October 24… [Read more]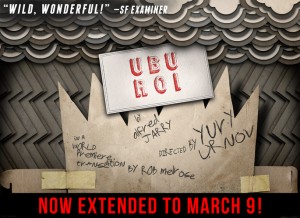 Ubu Roi
By Alfred Jarry
In a new translation by Rob Melrose
Directed by Yury Urnov
Now Extended to March 9!
Press opening: January 30
Gala opening: January 31
Buy Tickets
When Alfred Jarry's Ubu Roi premiered in Paris on December 10, 1896, the audience broke into a riot at the … [Read more]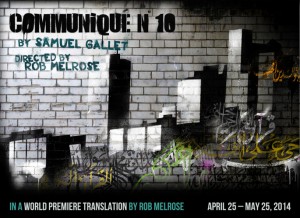 Communiqué n° 10
American Premiere
By Samuel Gallet
In a World Premiere translation by Rob Melrose
Directed by Rob Melrose
April 25 – May 25, 2014
Press opening: May 1
Gala opening: May 2
Buy Tickets
"Cutting Ball Theater's production of Communiqué n?10 bursts out of the gate with incredible, anarchic energy that … [Read more]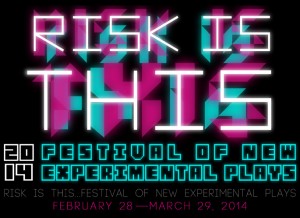 RISK IS THIS…
is one of the only play festivals in America solely dedicated to experimental works for the stage. This year's festival features five new works in staged readings that push the boundaries of what theater can be.
This FREE Sunday afternoon readings series used to be the best kept secret in town. Member reservations are strongly encouraged. All readings at 1PM at The Cutting Ball Theater, in residence at EXIT on Taylor 277 Taylor Street

The Cutting Ball Theater's 2013-2014 Season is made possible in part by Grants for the Arts / San Francisco Hotel Tax Fund, The William and Flora Hewlett Foundation, Mental Insight Foundation, The National Endowment for the Arts, RHE Foundation, The Kenneth Rainin Foundation, The San Francisco Arts Commission, The San Francisco Foundation and The Zellerbach Family Foundation and by our many individual donors.