CUTTING BALL THEATER NEWSLETTER
December 28, 2009 Volume 6, Issue 12
Having trouble viewing this newsletter? Click Here.
Three Ways to Ring in the New Year with The Cutting Ball Theater!
(and a Thank You for 10 great years from Artistic Director Rob Melrose)
1. Donate to our 10th Anniversary Fund Drive
Click Here to see Cutting Ball Associate Artist Avery Monsen's hilarious animation!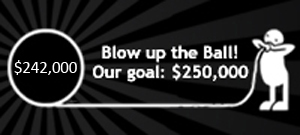 2. Bring Your Friends to see Cutting Ball's best selling show ever The Bald Soprano! Extending Again! Jan. 7-24
"It's glorious and weird, and you absolutely shouldn't miss it."
-Chris Jensen, SF Weekly
Tickets are on sale now. Click here to buy!

Click here to see the trailer and information

3. Buy a Season Membership!
Click here to buy a season membership!
With The Bald Soprano's three-week extension in January, a season membership is still the best way to see all three Cutting Ball shows. Later this season we have such a treat in store for you: two fascinating new plays by Marcus Gardley and Eugenie Chan. And best of all, The Cutting Ball's unique season membership lets you see our shows as many times as you want.

Thank you from Artistic Director Rob Melrose
It has been a pretty wild decade, one that started with Paige and I backstage at the San Francisco Fringe Festival putting on our $450 production of Richard Foreman's My Head Was a Sledgehammer. Paige was just getting over morning sickness and I was frantically setting props during our fifteen minute allotted turnover time. Now we have a nine year old, an eight year old, and a thriving theater company in the heart of San Francisco dedicated to doing risk-taking work.
"We've come a long way, Baby!" to quote a Virginia Slims ad. Thank you to every audience member and donor, we have had over the past decade. You've helped to get us where we are today. We are doing quite well and at the same time, making the move to our own space and a three-play season during an economic downturn has been a struggle. We need all the help we can get to make sure that The Cutting Ball is able to succeed in its new home at EXIT on Taylor. Please spread the word. We are only $98,545 away from our goal of $250,000. Tell your friends about our shows, bring them to the theater and please help us reach our 10th Anniversary Fundraising goal.

Thank you and happy new decade!
Sincerely,

Rob Melrose
Artistic Director