CUTTING BALL THEATER NEWSLETTER
February 26, 2010 Volume 6, Issue 18
Having trouble viewing this newsletter? Click Here.
East Coast Friends of Cutting Ball
On Saturday, February 27 at 1pm, Cutting Ball Theater will present a reading in New York City at New Dramatists, one of our country's premier centers for the development of playwrights. Cutting Ball Associate Artist and frequent collaborator, Eugenie Chan, is a member of New Dramatists and her brand new play Diadem will be read publically for the first time by Associate Artistic Director, Paige Rogers, along with the much acclaimed Bone to Pick, which was part of Cutting Ball's 2008 season. Both are one-woman takes on the classical tale of Ariadne, Theseus and the Minotaur -- a triangle of sorts. In Diadem, Ariadne as a giggling Minoan princess, dreams of the return of her hero husband to Naxos. Bone visits her 3000 years later in a diner at the end of a post-apocalyptic world. An exploration of love, war, and complicity. As our final production this year, Bone to Pick and Diadem will cap off Cutting Ball's 2009-2010 season. Please join us at 424 West 44th Street this Saturday!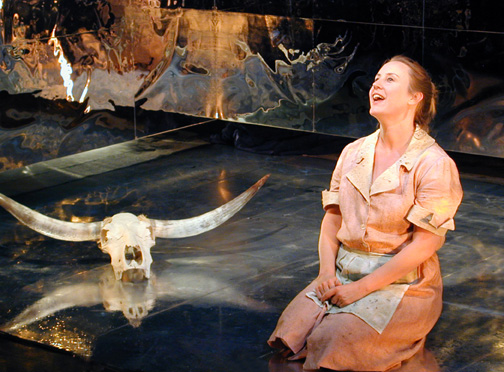 Five-Minute Play Winner!
As part of our ten-year anniversary celebration, Cutting Ball hosted the Dr. Monologue and Mr. Five-Minute Play workshop. Actors were coached on monologues by Paige Rogers while playwrights were tutored in writing a five-minute play by Eugenie Chan. We convened for an inspired afternoon where workshop actors spontaneously performed the newly written plays. The winning play, In the Dumps, by Jan Probst will be performed by Dr. Monologue participants, Maria Giere and Brittany Berg, on the Cutting Ball stage before the Thursday, March 25 production of ...and Jesus Moonwalks the Mississippi.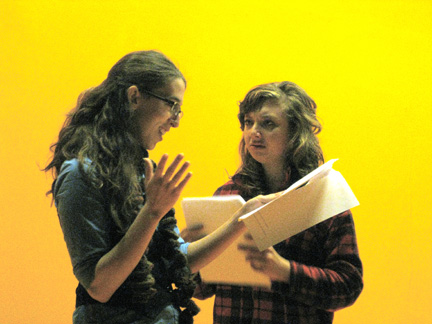 Thank you for your support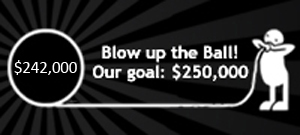 As always, we thank you for your continued support and interest in Cutting Ball. As we celebrate ten years of bringing you groundbreaking Bay Area theater, we are still $94,000 away from our fundraising goal. This year, more than ever, we count on your generosity.
Many thanks,

Rob Melrose