MacBeth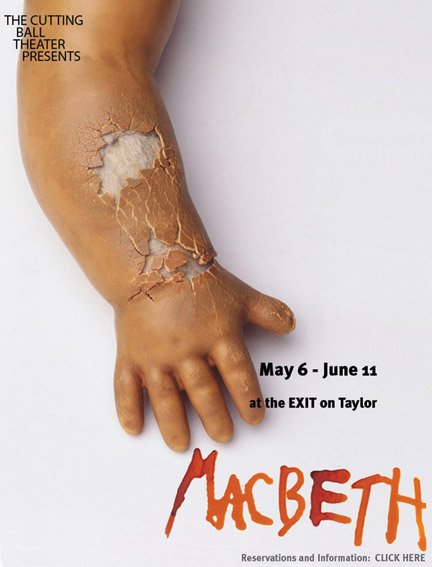 by William Shakespeare
in a six-actor version
directed by Rob Melrose
May 6 – July 16
Please note: no performances on June 17 & 18
Fridays and Saturdays at 8pm
at the EXIT on Taylor
277 Taylor Street, San Francisco
Six actors enter the room to perform one of Shakespeare's greatest tragedies. In a relentless, muscular adaptation, we find ourselves in a hall of mirrors in a Macbeth that lives in dreams, nightmares, and a surreal twentieth century landscape.
Named in the Top Ten stage productions of 2005!
by The San Francisco Bay Times
The Cutting Ball's Production of Macbeth was made possible in part by a generous grant from The Mental Insight Foundation and support from the San Francisco Arts Commission.
[nggallery id=14]
Featuring Garth Petal, Paige Rogers, Keith C. Davis, Andrew Harkins, Daniel Krueger, David Sinaiko & Jack Sale
Produced by Adriana Baer
Set Design by Michael Locher
Costume Design by Raquel Barreto
Sound & Music Design by Cliff Caruthers
Lighting Design by Rob Melrose
Stage Manager Corinne Kane
Assistant Stage Manager Laura Davis
Graphic Design by Debra Singer
Why Macbeth: A Note From The Director
Macbeth has been a pet project of mine for some time. I first directed it as a student at the Yale School of Drama in 1995. Since that time, I have been determined to revisit Macbeth and to take more risks with it. At the same time, I have been frustrated with what I witnessed as two extremes in American productions of Shakespeare: reverent but potentially stale renderings on one hand and inventive but not textually meaty on the other. After graduate school, I received a grant to live in Europe for a year to observe rehearsals and productions of Shakespeare in translation. As a lover of literature, I appreciated the depth with which the Europeans dove into the text in order to translate it and was delighted with the freedom with which they explored the text in production.
After returning to the U.S. and founding The Cutting Ball in 1999, one of my goals has been to see if I could have the best of both worlds: the informed inventiveness of the European productions coupled with detailed text work on Shakespeare's original words.
In 1995, I had a deep sense of needing to be faithful to Shakespeare. Now that I am older, I have a more mature understanding of faithfulness, one that is less concerned with being right and more interested in having a lifelong engagement with Shakespeare's work.
I hope you enjoy our production and hope you continue to be deeply engaged with us as we embark on our 2005 – 2006 season.
-Rob Melrose, Artistic Director