Sidewinders

October 18 – November 17, 2013
Press opening: October 24
Gala opening: October 25
Running Time: 80 Minutes
"These hands were a part of building all that we could be. Limited only in our ability to imagine ourselves."
The world premiere of Sidewinders owes as much to Samuel Beckett's Waiting for Godot as it does to SF Pride. In this absurdist-Western romp through gender queerness, Dakota and Bailey are new friends who find themselves lost, possibly upside down, on a vast frontier. Their journey to getting right side up provokes questions of sex anatomy, transgenderism, and who we really are from the inside out. M. Graham Smith makes his main stage directing debut at Cutting Ball with Sidewinders, which was developed as part of the 2012 edition of RISK IS THIS… The Cutting Ball New Experimental Plays Festival.
Sidewinders is the winner of the 2013 Rella Lossy Award for playwriting.
Cutting Ball is providing free student rush tickets to queer youth and their allies to see Sidewinders. Please consider helping us to make this production available to young people who will benefit from seeing their experiences reflected on our stage.
Make a gift or find out more about our campaign and thank you rewards here: www.cuttingball.com/donate.
Thanks to our Gala Opening Night Sponsor: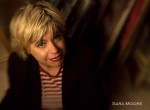 Sara Moore (Dakota)
nis artistic director of Thrillride Mechanics, a troupe of human cartoons in residence at SF's Creativity Theatre where she recently wrote and starred in the critically acclaimed smash "Wunderworld." She's also known for her genderqueer one woman show "Show Ho" at NCTC and has worked locally at Aurora, Make-A-Circus, Brava, Rhino, Climate , & Center Rep as well as Off-Broadway and indie theater in NYC. Nationally she's toured with Ringling Bros. & Barnum & Bailey Circus, Tropicana Casino, Royal Caribbean, & Merv Griffin's Resorts where she logged a lot of celebrity moments. She also wrote & directed the feature film "Homo Heights" starring the inimitable Quentin Crisp! She is happy to be making her Cutting Ball debut in this beautiful play.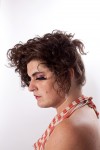 DavEnd (Bailey) is a tender-hearted, genderqueer, accordion wielding songwriter, performing artist and costume designer. Ms. End has released two studio albums (How To Hold Your Own Hand, Fruits Commonly Mistaken For Vegetables) and tours the U.S. extensively, performing at queer teen centers, festivals, colleges and backyards. Most Recently, DavEnd wrote, produced and starred in 2 sold out runs of her original musical, Fabulous Artistic Guys Get Overtly Traumatized Sometimes: The Musical! at CounterPULSE.


Donald Currie (Sandy) is a company member of Boxcar Theatre and Artist in Residence at Virago Theatre. Credits include productions at Virago Theatre, Theatre Shark, Theatre Rhino, Boxcar Theatre, and New Conservatory Theatre Center.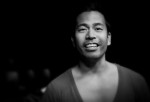 Norman Muñoz. (Sam) is a dance, theater, circus, and burlesque performer. A current teaching artist with TheatreWorks, credits include productions at San Francisco Playhouse, New Conservatory Theater, and tours of Europe and Africa with Theatre of Yugen.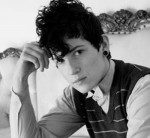 Basil Kreimendahl (Playwright) Basil Kreimendahl's play Sidewinders won the Rella Lossy Playwright's Award from the San Francisco Foundation and will have its world premiere at The Cutting Ball Theater in San Francisco as part of their 2013/2014 season, Orange Julius was developed at the 2012 O'Neill National Playwrights Conference and included in La Jolla Playhouse's DNA new work series. Basil's plays have also been developed by New York Theatre Workshop, About Face Theatre, Inkwell, WordBRIDGE, The LARK, Courier 12 Collective in Chicago, Stageworks in Florida, and Oregon Shakespeare Festival. Basil is a Jerome Fellow 2013/2014 at the Minneapolis Playwright's Center, and a recipient of an Arts Meets Activism grant from the Kentucky Foundation for Women for theatre work with the trans community in Louisville. Basil has taught playwriting to elementary, high school and college students, founded and ran a playwrights group for queer youth in Louisville called Out On The Edge, and is the Provost's Visiting Writer at the University of Iowa 2013/2014. Basil's work has been published by Dramatic Publishing and included in Xlibria's Becoming: Young Ideas on Gender and Identity, Dancing the Dark was included in Actors Theatre of Louisville's 24-hour play festival, The Cost of a Goat won a National Science Award at KCACTF in 2012. BFA University of Tampa MFA University of Iowa, 2013.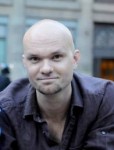 M. Graham Smith (Director) is the producer of Aurora Theatre's Global Age Project. He has directed at HERE in New York City and many venues in SF including Berkeley Repertory Theatre's Ground Floor, A.C.T., Aurora Theatre, The EXIT Theatre, Asian American Theatre Company, PlayGround, Playwright's Foundation, BRAVA, Berkeley Playhouse, Golden Thread, SF Opera, and New Conservatory. He directed the West Coast Premiere ofJerry Springer: The Opera in San Francisco as well as Truffaldino says no at Shotgun Players for which he won a Best Director award from the Bay Area Theatre Critics Circle. He teaches acting in Barcelona, Spain, and at A.C.T. and Waterfront Studio in San Francisco. This fall he directed the World Premieres of The Shakespeare Bug for Killing My Lobster. His previous work at Cutting Ball includes the staged reading of Camino Real for Hidden Classics. He's thrilled to be making his Cutting Ball Mainstage debut with Sidewinders.
Designers
Michael Locher (Set Designer) is a longtime Cutting Ball artistic associate and a frequent collaborator with director Rob Melrose. Previous designs for the Cutting Ball include Krispy Kritters in the Scarlett Night, The Chairs, Strindberg Cycle: The Chamber Plays in Rep, The Tempest, Pelleas and Melisande, Jesus Moonwalks the Mississippi, and The Vomit Talk of Ghosts. Elsewhere, recent/upcoming credits include The WInter's Tale, Spunk (Cal Shakes), Troilus and Cressida (Oregon Shakespeare Festival), The Taming of the Shrew (Great Lakes Theater), Off Broadway: Dramatis Personae, Sin, Crane Story. Broadway: Guys & Dolls (assistant designer). Michael is also a founding member of Hollywood-based Tilted Field Productions. Education: University of California, San Diego; Yale School of Drama.
Heather Basarab (Lighting Designer) is a Cutting Ball Associate Artist; CB productions include Krispy Kritters in the Scarlett Night, The Chairs, The Tempest, Bone to Pick and Diadem, …and Jesus Moonwalks the Mississippi, Mud, The Taming of the Shrew, Victims of Duty, Endgame, and The Maids. Other recent projects include Dogsbody, with Erik Ehn's national Soulography Project,Salomania with Aurora Theatre; Light Essays with Im'ij're Dance; God's Plot and Truffaldino Says No with Shotgun Players; AXIS Dance Co.'s Full of Words (Marc Brew), ODD (Shinichi Iova-Koga), and Light Shelter (David Dorfman); Birdhouse Factory with Cirque Mechanique; Wonderboy and Drowsy (Isadora Duncan Award) with the Joe Goode Performance Group.
Heidi Hanson (Costume Designer) is a costume designer working in theatre, television and film. Recent projects Good People at Marin Theatre Company, Band Fags at New Conservatory Theatre as well as four operas with La Musica Lirica's traveling opera in Italy (assistant designer). Other Projects include Netflix's Arrested Development (set costumer), the film of the musical Lucky Strike (assistant costume designer) directed by Christopher Ashley, and Steel Magnolias directed by Jenny Sullivan at the Laguna Playhouse. Heidi holds an MFA in costume and set design from the Yale School of Drama, and a BA cum laude in theatre from California State University Long Beach. www.heidileigh.com
Matt Stines (Sound Designer) makes sound art in various forms. His creative work has been seen in his apartment as well as a few theatres and festivals locally, nationally, and internationally. He teaches sound for theatre at SFSU, tries to write sketch comedy, and makes ridiculous short films and obnoxious long form musics both in his own right and as a part of Avant Digs. Some of this can be experienced at mattstines.wordpress.com.
The Gender ABCs
Welcome! Presented here are the Gender ABCs, a list from A to Z of words related to gender and gender identity.
Before you begin, here are a few short notes.
Sidewinders is a play that from its outset defies the very labels that are presented in the Gender ABCs. In fact, the actors in Sidewinders do not use a single term among those listed below. This list is offered with the goal of introducing the big and complex world of gender by teaching 26 key words.
As the alphabet only has 26 letters, there are only 26 terms listed: one per letter. Unfortunately this meant not listing every word related to gender identity, including Gender Bending, LGBT, Two-Spirit, and more. The Gender ABCs is not a comprehensive list, but simply an introduction.
Vocabulary is constantly changing, evolving, and growing. Words, particularly those describing gender, are also subjective and personal. Many of the terms below have different meanings for different people and none of these definitions are set in stone.
– Rem Myers
Literary Manager/Dramaturg
Let's Begin!
A is for Androgynous: Someone who exhibits a combination of male and female characteristics, either physically or behaviorally.
Andrej Pejić (left) and Casey Legler (right)
B is for Binary Gender: The classification of gender into two separate and distinct categories: male and female. This includes gender identity, gender roles, and gender expression. Biological women identify as women, act as women and dress as women. Biological men identify as men, act as men and dress as men. This is overwhelmingly the most common type of gender system in the West and dictates how we see, view, treat others around us. Unfortunately, it excludes any person that does not fit in this system.
C is for Cis, or Cisgender which describes the gender of a person if their current identity matches the gender assigned at birth.
D is for Drag: A gender performance. A drag king or queen is someone who performs a caricature of a man or a woman respectively. While male drag queens are the most well known drag artists (men putting on an exaggerated performance of a female), there are also female drag kings, male drag kings (faux kings), and female drag queens (faux queens).
RuPaul
E is for Gender Expression: The mannerisms or traits a person displays or features in order to express their gender. Some types of gender expressions include butch, femme, androgynous, masculine, flamboyant, and feminine.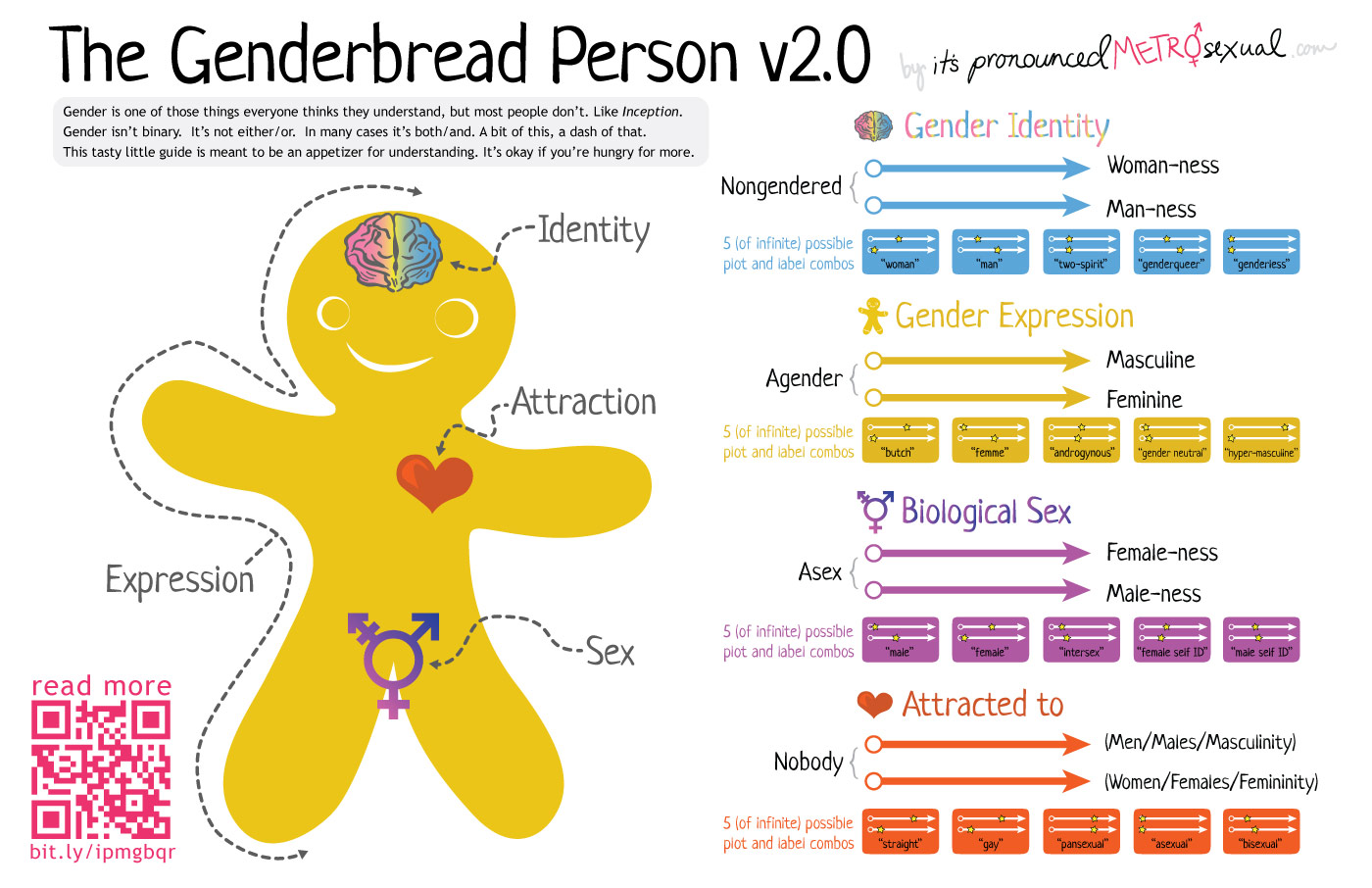 F is for Gender Fluid: A dynamic movement back and forth between genders.
G is for Genderqueer: An umbrella term that describes all gender categories other than simply male or female. Someone who identifies as genderqueer may identify with two or more genders, may identify as genderless, may identify as genderfluid, or may identify as third gendered.
H is for Heteronormativity: The assumption that the gender binary is fact and that all people are born either male or female, are heterosexual, and must follow gender norms.
I is for Intersex: Someone who, at birth, features physical traits that do not allow them to be assigned as distinctly male or female. Intersex is the current term for the now outdated hermaphrodite. It is uncertain how many people are born intersex as it is common for doctors to perform immediate gender assignment surgery in order to place the child in the gender binary,
J is for Judith Butler. Professor at UC Berkley, Judith Butler is a philosopher, queer theorist, and feminist author. Known for her book Gender Trouble, which originates the idea that gender is a performance.
Judith Butler
K is for Kate Bornstein, a playwright, performer, gender theorist, and author. Bornstein is known for her works Gender Outlaw and A Queer and Present Danger.
Kate Bornstein through the years
MSNBC interview with Kate Bornstein,
Mel Wymore, and Mara Keisling
L is for Legal Recognition. While some countries recognize multiple genders, the United States legally recognizes only two: female and male. Some states will require sex reassignment surgery to legally recognize a gender not assigned at birth, some states do not require surgery, and other states will not recognize a new gender at all.
Legal requirements each state has for altering the sex on one's birth certificate.
Purple = State does not require SRS to alter sex on birth certificate4
Green = Altering sex on birth certificate requires SRS123
Red = State does not alter sex on birth certificates for transsexuals
1Some Texas officials have refused to amend the sex on birth certificates to reflect a sex change after the ruling Littleton v. Prange; however, a judge can order an amendment.
2New York City issues its own birth certificates, which also require SRS in order to amend the sex designation.
3Illinois does not require genital reconstruction surgery to amend the sex on birth certificates, but it does require proof of an "operation."
4Missouri no longer requires SRS to alter sex on birth certificates.
M is for MTF. MTF (male to female) refers to a trans woman. A trans woman is someone who was assigned male at birth but identifies as female. Alternatively, FTM (female to male) is a trans man, assigned female at birth but who identifies as male.
Mara Keisling, Transgender Rights Activist
N is for Non-Op. Transgender people may or may not choose to undergo sexual reassignment surgery. If they do, prior to surgery, individuals may be referred as pre-op and after surgery as post-op. However, transgender people may choose not to have surgery at all and may be refereed to as non-op.
O is for Sexual Orientation: The attraction and desire of another person based on gender. Homosexuality is an attraction for someone of the same gender, heterosexuality of someone of the opposite gender, bisexuality for both male and female genders, and asexuality for no genders.
For those who identify as genderqueer, more accurate terms to describe attraction may be androphilia, an attraction to men, and gynephilia, an attraction to women.
Finally, polysexuality is an attraction to multiple genders and pansexuality is an attraction to all genders.
P is for Passing. In terms of gender identity, passing refers to the extent to which a trans or genderqueer person is able to be regarded by others as cis-gender based on physical appearance and behavior. In some environments, passing means safety and quiet while not passing means harassment and violence.
Frances Clalin/Jack Williams who passed as a man in the American Civil War
Q is for Queer. Once a pejorative term for homosexual men, the word queer was re-appropriated in the 1990s by the LGBT community. In addition to people who identify as LGBT, queer encompasses those who reject gender norms and the gender binary.
R is for Radical Faeries: A modern day group of male bodied people who identify as neither men or women.
"We are the equivalent of Shamans in modern culture," said Peter Soderberg, during an interview at the 1985 Pagan Spirit Gathering. "Many gay men want to be middle-class Americans. They want to be respected as human beings and they want their sexuality to be ignored. But radical faeries are willing to live on the edge. We feel there is power in our sexuality. You know there is a power there because our culture is so afraid of us." – Adler, Margot Drawing Down the Moon: Witches, Druids, Goddess-Worshipers and Other Pagans in America (Revised Edition). London: Penguin, 2006. p. 361
S is for Sex reassignment surgery: The surgical process of changing one's body to male or female. Adults must go through an extensive interviews and therapy in order to be 'diagnosed' with gender identity disorder so that the surgery may take place.
T is for Trans. Simply put, someone who is trans does not identify with the gender they were assigned with at birth.
"One answer to the question, 'Who is a transsexual?' might well be, 'Anyone who admits it.' A more political answer might be, 'Anyone whose performance of gender calls into question the construct of gender itself.'" – Bornstein, Kate. Gender Outlaw. New York: Vintage Books, 1995. p. 131
U is for Unisex. One common problem trans or genderqueer people face are public restrooms. Trans or genderqueer people who enter into gender binary (male or female) public restrooms may be open to harassment and violence. Unisex or gender neutral toilets are an available solution to this problem.
New York Times article on unisex bathrooms
V is for Variance. Gender variant people show gender expression that does not conform to gender norms. Often genderqueer and gender variance are used interchangeably, however genderqueer refers more to an identity while gender variance refers more to an expression.
W is for Waria, the traditional third option in Indonesia. Other example of traditional third genders in the Asia/Pacific region include hijra (India), kathoey (Thailand), and fa'afafine (Samoa). Compared to the West, multiple genders are generally more accepted in this region. Bahasa Indonesia (the language of Indonesia) lacks gender specific pronouns; the third person pronoun is simply "dia."
Waria musician in Bali, Indonesia
X is for X. On Passports in certain countries (Australia and New Zealand included) there are three gender options, M, F, and X (which refers to indeterminate/unspecified).
New Zealand Herald article on the "X" gender option
Y is for Youth. If a child recognizes that they are transgender, they can undergo hormonal therapy to transition into their gender identity while avoiding unwanted sexual characteristics that come with puberty. Whether a young transgender person can begin taking hormones is up to the will of the parents.
Z is for Ze, an example of an English gender neural pronoun. "Ze," "hir," and "they" are all gender neutral pronouns and may be used in place of gender specific pronouns (such as him or her) for people who don't identify as strictly male or female, or if they simply prefer to be addressed with gender neutral pronouns.
Special Thanks to Mordecai Ettinger and Alex Myers.
Dramaturg's Notes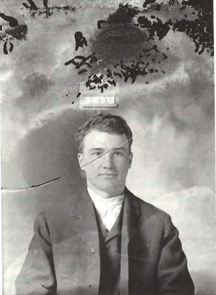 Way back in February, during Sidewinders rehearsals for the 2013 RISK IS THIS… festival, it is announced that one of our designers just had a baby. "Oh my goodness! Boy or girl!?" are the inevitable first words that come to the team's lips.
Even in the midst of deep discussions of gender, the binary gender system (two genders: male and female, each with a set of rules, norms, and roles) pervades and endures. It is embedded in our language, our conversations, our occupations, our statistics. As a nation, we segregate and stereotype people from either camp, while ignoring those belonging to neither.
In the Old West, the gender binary was the hard and fast law. But unlike today, greater emphasis was placed on dress and behavior rather than biology. A person who wears pants, swears, drinks, and chews must be a man. A person who wears dresses, sews, and sings soprano must be a woman.
Because of these strong notions, it was surprisingly simple for people to live and be seen as the gender of their choice. The stagecoach driver Charley Parkhurst lived his life and was accepted as a man. Even after his death, at which time he was found to possess female genitalia, his friends continued to think of him as one of the boys.
Meanwhile, in another part of the West, Bertha Martin aka Bert Martin was arrested in Oklahoma City for impersonating a woman. Martin was later arrested in Colorado for impersonating a man. Martin was most likely intersex, and it is unclear which gender Martin saw themselves as…. not that their opinion was worth two cents in the public's eye; a court case was held to make that decision for them.
Things have of course changed. Nowadays there are people who identify as trans, genderqueer, gender fluid, genderless, or any number of options. Countries such as New Zealand and Australia allow X (indeterminate/unspecified) as a gender option on passports. Particularly on college campuses, unisex bathrooms are becoming more commonplace as are gender-neutral housing options.
However, there is still the need for a social paradigm shift. Those who do not identify with the gender assigned to them at birth may still face anger, harassment, and violence from the general public. Just look at the media's reaction to Chelsea Manning's (previously known as Bradley Manning) announcement that she identifies as a woman.
Basil's play is a reflection of our current obsession with the gender binary, and the hope for a multi dimensional future. Just as the Sidewinders team easily fell back into two-gendered thought, Dakota and Bailey consume their time and energy with finding out what the hell is in their trousers. Just as we are now reading about, befriending, or are people who don't fit the two-gendered system, Bailey and Dakota explore the world beyond the end of the train tracks, and learn that it offers more than just two options. A world so full of possibilities that it transcends the importance of any labeled gendered system at all.
-Rem Myers, Dramaturg
Special Events
You're Invited! Join Cutting Ball for these Sidewinders Special Events
$10 Ticket Night – Friday, October 18, 8PM: All tickets are just $10! Buy online here or at the door.
Press Opening Night – Thursday, October 24, 7:30PM: Join us as we introduce the world premiere of Sidewinders to the press. Tickets are just $25.
Gala Opening Night – Friday, October 25, 8PM: Join us as we celebrate the world premiere of Sidewinders and for the Rella Lossy Playwright Award Ceremony. After the performance the theater will turn into the location for our Wild West party with the cast and creative team of Sidewinders. Tickets $50.
Happy Hour Fridays – November 1,8,15, 7-8PM: Come early to the theater and enjoy drink discounts on our specialty cocktail, beer and wine. You can carry your drink with you into the theater!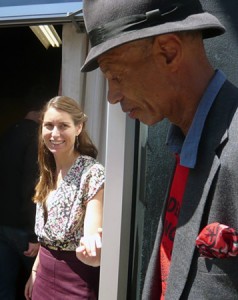 Queer Tenderloin Tour – Saturdays starting October 26 at 1PM: Join Tenderloin local Deleano (Del) Seymour's 40 minute tour and dive into the underrepresented and often unknown Queer history of the TL. Taking you through the street and inside buildings, the tour will highlight landmarks of Queer history and retrace the notorious Compton's Cafeteria riot of 1966, pre-Stonewall, often considered as the starting point for LGBTQ rights movements in this country and worldwide. Tickets are $10 if purchased for a Saturday matinee tour departing from the Cutting Ball lobby. To purchase go to the ticketing page and select the Saturday afternoon performance of your choice; Queer Tenderloin Tour will then be an option under that date. Patrons wishing to take the tour on their own at another time may contact Del directly at 415-574-1641 or email: tenderloinwalkingtours@yahoo.com for $20 paid directly to Del.
Talk Backs – Sundays starting October 27 following 5PM performances. Get more out of Sidewinders by attending one of our Sundays talk-backs in the company of the cast, design team and experts. They are themed as follows:
Sunday October 27 – Designing Sidewinders: a designer's vision of the production: A frank discussion with the members of the Sidewinder's design team on research and personal approaches for the play. Featuring James Ard, Heather Basarab, Heidi Hanson, and Michael Locher.
Sunday November 3 – Gender(s): The past, present, and future of the San Francisco queer and trans communities with particular emphasis on the gender abolitionist movement. Featuring Felicia Flames, Mordecai Cohen Ettinger, and Shawna Virago.
Sunday November 10 – Waiting for Bailey and Dakota, the legacy of Samuel Beckett: A talk led by Artistic Director Rob Melrose about the influence Samuel Beckett's Waiting for Godot has on Sidewindersand theater as we know it today. Feature Rob Melrose and M. Graham Smith.
Sunday November 17 – The Western and Performance: The symbolism, innuendo, and imagery in the American Western film to stage: from John Ford to the Coen brothers. Featuring M. Graham Smith.
All performances and events take place at The Cutting Ball Theater, in residence at EXIT on Taylor, 277 Taylor Street (between Ellis and Eddy), San Francisco.
Ticket Pricing and Discounts for Sidewinders
General Tickets: The Cutting Ball Theater operates on a dynamic pricing model. This means that like with airline tickets our prices are generally lower earlier in the run and when you buy your ticket in advance. Our least expensive tickets are available during previews (October 18-20) before the press has reviewed the production when you can find a ticket for $10-$15. Following our Opening Night on October 24 tickets range from $20-$50, with the least expensive tickets available on Thursday nights. Become our friend on Facebook https://www.facebook.com/CuttingBall or follow us on Twitter @Cuttingball to find last minute discounts to select performances.
Happy Hour Fridays: Purchase a ticket for a Friday night performance and come early to the theater to get discounts and beer, wine, and our specialty cocktail from 7-8PM. Drinks start at just $3!
Halloween Weekend (October 31-November 3): Come to the theater before a night out on the town (The performance is 70 minutes) and celebrate Halloween with us! Attend any performance all weekend in costume and get 2-for-1 tickets at the door. We'll be celebrating on Halloween and will have special trick-or-treats for our guests.
Student Tickets (reserved): Reserved student tickets are available to all performances for just $15. Select your desired performance on our ticketing page and guarantee your seat at any performance.
Free Student Rush Tickets: Cutting Ball is offering free student rush tickets to all performances of Sidewinders. Arrive at the box office up to 30 minutes in advance of any performance to get on our rush list. Rush tickets will be distributed 5 minutes prior to the performance start time.
You can help us to provide these free student rush tickets by supporting our campaign to bring queer youth and their allies to see Sidewinders here: http://www.cuttingball.com/donate.
Neighborhood "Pay-What-You-Can" Tickets
Pay What You Can" tickets are available to Tenderloin residents for all performances as long as open seats remain available.
To Secure Neighborhood Tickets
Arrive at the EXIT on Taylor theater at 277 Taylor street at least 30 minutes prior to a performance
Approach the Box Office Manager and request a "Neighborhood Ticket" or a "pay-what-you-can" ticket.
You will be asked to provide your neighborhood affiliation
Please do pay what you can for neighborhood tickets, but no one will be refused entry due to their ability to pay for the performance
If the performance is sold out you will be asked to return at another time
Expectations of All Audience Members
All audience members are expected to arrive at the theater on time in advance of the listed start time of a performance.
The Cutting Ball Theater may not honor tickets not claimed prior to 15 minutes in advance of the start time of a performance.
Audience members are should expect to remain in the theater once they are seated until the play is over. Sidewinders is an 80 minute production.
Audience members who must leave the theater in the middle of the performance may not be readmitted to the theater.
We hope that you enjoy Sidewinders!
The Cutting Ball Theater reserves the right to refuse service to anyone.
| | |
| --- | --- |
| Bailey (r, DavEnd) poses and awaits the arrival of a mysterious wagon while Dakota (l, Sara Moore) provides cover in Cutting Ball Theater's World Premiere of Sidewinders. Photo credit: Laura Mason. | Bailey (r, DavEnd) entertains Dakota (l, Sara Moore) with the story of a milk-person in Cutting Ball Theater's World Premiere of Sidewinders. Photo credit: Laura Mason. |
| Dakota (l, Sara Moore) reluctantly listens to the mysterious Sandy (r, Donald Currie) in Cutting Ball Theater's World Premiere of Sidewinders. Photo credit: Laura Mason. | Bailey (DavEnd), a gender ambiguous Civil War-era soldier, wanders lost on the Western frontier in Cutting Ball Theater's World Premiere of Sidewinders. Photo credit: Laura Mason. |
| Dakota (l, Sara Moore) examines Bailey's (r, DavEnd) parts in Cutting Ball Theater's World Premiere of Sidewinders. Photo credit: Laura Mason. | Dakota (l, Sara Moore) and Bailey (r, DavEnd) try to determine what has happened to their train in Cutting Ball Theater's World Premiere of Sidewinders. Photo credit: Laura Mason. |
| Dakota (l, Sara Moore) and Bailey (c, DavEnd) take off on the wagon, leaving Sandy (r, Donald Currie) behind on the plain in Cutting Ball Theater's World Premiere of Sidewinders. Photo credit: Laura Mason. | Dakota (l, Sara Moore) and Bailey (c, DavEnd) consider whether or not to engage with Sam (r, Norman Muñoz), a "Rearranger" in Cutting Ball Theater's World Premiere of Sidewinders. Photo credit: Laura Mason. |
"Who will like this play? Anyone who's ever been faced with irrelevant questions designed to put them in a convenient box. Questions like, "What exactly are you?" and "C'mon where are you really from?" In short, anyone who's ever felt confusion, resisted conformity or dealt with ignorant bias surrounding their choices or who they are. Yeah, pretty much everyone."
– Rhonda Shrader, Dog Mom's Dish blog
"A luscious world premiere…This is a piece that pays tribute on many levels to Beckett's "Waiting for Godot," but feels relevant and urgent"
– Laura Lundy-Paine, Adventures in Theater and Film
"[Performers Sara] Moore and DavEnd make a good comedic team, their endless banter, circular logic and exaggerated facial gymnastics giving them the philosophical gravitas of a Looney Tunes episode."
– Nicole Gluckstern, San Francisco Bay Guardian
"…there's something ingenious about [Playwright Basil]Kreimendahl's Wild West setting, a metaphorical final frontier that can't be far from San Francisco."
– Georgia Rowe, SF Examiner
"[Sidewinders] name-drops Beckett several times and the tone is definitely there, but the show owes just as much to John Waters, the Marx Brothers or even Mel Brooks."
– Adam Brinklow, Edge SF
"[Sidewinders is an] often funny, frequently provocative…existential exploration of gender identity…All actions, all speeches, and even all seemingly random detours are confidently and imaginatively presented while still leaving viewers plenty of room for their own explorations."
– Richard Dodds, BAR