Strindberg Cycle: The Chamber Plays in Rep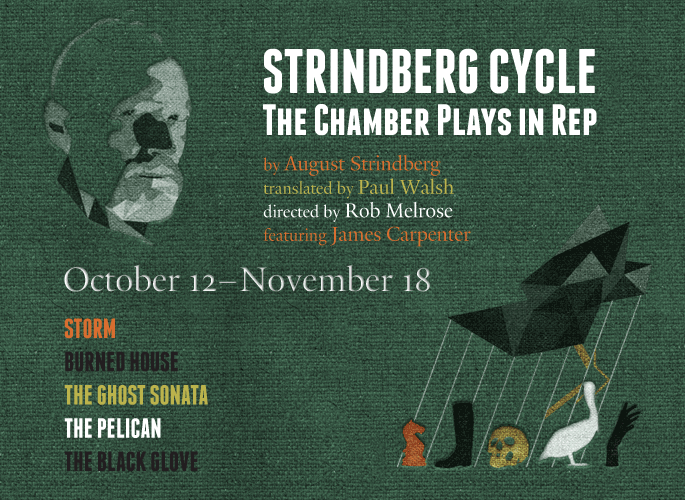 by August Strindberg
translated by Paul Walsh
directed by Rob Melrose
featuring James Carpenter
October 12-November 18
Click Here for Full Strindberg Site
A true theatrical innovator, August Strindberg spent his life dedicated to fervent experimentation – pioneering work in naturalism, proto-expressionism, and his own dream-like dramaturgy. 2012 marks the 100th Anniversary of Strindberg's death. Strindberg Cycle: The Chamber Plays in Rep will be the first production of all five of Strindberg's Chamber Plays performed together in any language. See the plays performed separately, or join us for a Chamber Play Marathon of all five shows in one day (November 10, 11, 17, & 18).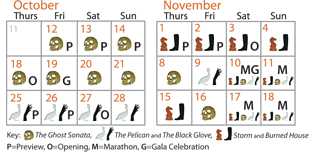 Part 1: The Ghost Sonata
Press Opening: October 18 (Previews Oct. 12-14),
Gala Opening: October 19
The Ghost Sonata tells the story of a strange encounter between a student and an old man and begins the morning after a terrible fire. A "ghost supper" is shared in a round room, secrets are divulged, plots are foiled, and illusions are shattered. The most well known of Strindberg's Chamber Plays, The Ghost Sonata serves as the centerpiece of Strindberg Cycle: The Chamber Plays in Rep.
Part 2: The Pelican and The Black Glove
Press Opening: October 27 (Previews Oct. 25-26)
Based on the myth that a Pelican sheds its own blood to feed its young, The Pelican presents a family where the opposite is true. The widow Elise plots with her lover to steal her children's inheritance while they starve in their own home, but the truth sparks a small revolution. In The Black Glove, a lost black glove found in the entryway to a large apartment building the day before Christmas Eve mystically passes through the hands of many of its residents as it bestows a Christmas spirit.
Part 3: Storm and Burned House
Press Opening: November 3 (Previews Nov. 1-2)
In Storm, an elderly gentleman's peace is shattered when his ex-wife becomes his new upstairs neighbor. In Burned House, prodigal son Arvid returns to his hometown to find that his childhood home burned down the night before. Arvid sifts through the ashes to uncover the dark secrets hidden by his family and the town.
Strindberg Cycle Celebration Marathon Event, November 10
Strindberg Cycle Special EventsGala Opening Night – October 19, 8PM $50 – Celebrate with cast and crew following our launch of the Strindberg Cycle with The Ghost Sonata. Tickets.
Post show Talk Backs with the artists – Sundays following 5PM performances Tickets.
Mid Marathon Lecture Series – November 10, 11, 17, and 18 at 3:30PM – Learn more about Strindberg and the Chamber Plays from our volunteer Docents and members of the production team.
Strindberg Cycle Marathon Celebration Event – November 10, $150 – Celebrate our first marathon with Strindberg fans including lunch from Swedish restaurant Plaj, a group dinner, and a post-marathon party with the cast. Includes tickets to all five Strindberg plays on November 10. Performances begin at noon and are expected to conclude at 11:30PM with two breaks: 3:30-4:30PM and 6PM-8:30PM.
Click here to download the press release for STRINDBERG CYCLE: The Chamber Plays in Repertory.
| | |
| --- | --- |
| Gerda (Danielle O'Hare) moves into the apartment above her ex-husband The Gentleman (James Carpenter) and disturbs the peace in Storm, part of Cutting Ball Theater's Strindberg Cycle. Photo: Annie Paladino | Gerda (Danielle O'Hare) moves into the apartment above her ex-husband The Gentleman (James Carpenter) and disturbs the peace in Storm, part of Cutting Ball Theater's Strindberg Cycle. Photo: Annie Paladino |
| Gerda (Danielle O'Hare) moves into the apartment above her ex-husband The Gentleman (James Carpenter) and disturbs the peace in Storm, part of Cutting Ball Theater's Strindberg Cycle. Photo: Annie Paladino | The Brother (front, Robert Parsons) worries about his older sibling The Gentleman (back, James Carpenter) in Storm, part of Cutting Ball Theater's Strindberg Cycle. Photo: Annie Paladino |
| Agnes (l, Caitlyn Louchard) lies to her father Mr. Stark (c, David Sinaiko) while Louise (r, Ponder Goddard) looks on from The Gentleman's house in Storm, part of Cutting Ball Theater's Strindberg Cycle. Photo: Annie Paladino | The Gentleman (James Carpenter) enjoys spending quiet time at home playing chess with his maid Louise (Ponder Goddard) in Storm, part of Cutting Ball Theater's Strindberg Cycle. Photo: Annie Paladino |
| | |
| --- | --- |
| The Stranger (r, James Carpenter) unveils family secrets to his brother The Dyer (l, Robert Parsons), after a fire destroys their family home in Burned House, part of Cutting Ball Theater's Strindberg Cycle. Photo: Annie Paladino | The Dyer (r, Robert Parsons) is surprised to see his long lost brother The Stranger (l, James Carpenter) back in town following the destruction of their family home in Burned House, part of Cutting Ball Theater's Strindberg Cycle. Photo: Annie Paladino |
| The Stranger (James Carpenter) consoles The Wife (Danielle O'Hare) following a terrible fire in Burned House, part of Cutting Ball Theater's Strindberg Cycle. Photo: Annie Paladino | The Stranger (r, James Carpenter) discusses the fire with The Student (l, Carl Holvick-Thomas), who may be his orphaned son, in Burned House, part of Cutting Ball Theater's Strindberg Cycle. Photo: Annie Paladino |
| The Gardener (r, David Sinaiko) describes to The Mason (c, Paul Gerrior) and The Old Woman (l, Gwyneth Richards) all the information he has accidentally told the Detective in Burned House, part of Cutting Ball Theater's Strindberg Cycle. Photo: Annie Paladino | The Stranger (l, James Carpenter) comes to terms with his old schoolmate The Stonecutter (r, David Sinaiko) in Burned House, part of Cutting Ball Theater's Strindberg Cycle. Photo: Annie Paladino |
| | |
| --- | --- |
| The Mother (r, Danielle O'Hare) fights with her Son-in-Law (l, Carl Holvick-Thomas) and lover in The Pelican, part of Cutting Ball Theater's Strindberg Cycle. Photo: Laura Mason | The Son (r, Nick Trengove) fights over his father's legacy with his Mother (l, Danielle O'Hare) in The Pelican, part of Cutting Ball Theater's Strindberg Cycle. Photo: Laura Mason |
| The Son (c, Nick Trengove) pieces together a torn letter from his dead father while the Testing Powers (back l-r, Ponder Goddard, Anne Halinan, and David Sinaiko) look on in The Pelican, part of Cutting Ball Theater's Strindberg Cycle. Photo: Laura Mason | Margaret (r, Gwyneth Richards), a longtime servant, tells The Mother (l, Danielle O'Hare) that she resigns from the household in The Pelican, part of Cutting Ball Theater's Strindberg Cycle. Photo: Laura Mason |
| The Son (l, Nick Trengove) and The Daughter (r, Caitlyn Louchard) join forces and revolt against their mother in The Pelican, part of Cutting Ball Theater's Strindberg Cycle. Photo: Laura Mason | The Mother (l, Danielle O'Hare) flirts with her Son-in-Law (r, Carl Holvick-Thomas) in The Pelican, part of Cutting Ball Theater's Strindberg Cycle. Photo: Laura Mason |
| | |
| --- | --- |
| The Conservator (r, James Carpenter) presents Ellen (l, Caitlyn Louchard) with her mistress's missing black glove in The Black Glove, part of Cutting Ball Theater's Strindberg Cycle. Photo: Laura Mason | The Christmas Angel (r, Ponder Goddard) visits The Conservator (l, James Carpenter) in The Black Glove, part of Cutting Ball Theater's Strindberg Cycle. Photo: Laura Mason |
| A Christmas Angel (l, Ponder Goddard) and a Yule-Tomte (r, David Sinaiko) taunt The Young Wife (c, Danielle O'Hare) in The Black Glove, part of Cutting Ball Theater's Strindberg Cycle. Photo: Laura Mason | The Young Wife (Danielle O'Hare) sits at home with her child in its bassinet in The Black Glove, part of Cutting Ball Theater's Strindberg Cycle. Photo: Laura Mason |
| The Conservator (r, James Carpenter) is surprised by a Yule-Tomte (l, David Sinaiko) who appears to him on Christmas Eve in The Black Glove, part of Cutting Ball Theater's Strindberg Cycle. Photo: Laura Mason | |
| | |
| --- | --- |
| The Mummy (c, Gwyneth Richards) retakes power from Director Hummel (c,l, James Carpenter) in the Round Room as Bengtsson (l, David Sinaiko), Johansson (in doorway, Michael Moerman), and The Colonel (r, Robert Parsons) look on in The Ghost Sonata, part of Cutting Ball Theater's Strindberg Cycle. Photo: Rob Melrose | The Student (l, Carl Holvick-Thomas) asks the Milkmaid (r, Ponder Goddard) for a drink from the fountain after helping at the fire in The Ghost Sonata, part of Cutting Ball Theater's Strindberg Cycle. Photo: Rob Melrose |
| Director Hummel (r, James Carpenter) praises the Student's (c, l, Carl Holvick-Thomas) heroics at the burning building while the town (far l, Michael Moerman; in window l, Anne Halinan; behind door, c, Robert Parsons; in window r, Caitlyn Louchard; and bent over r, David Sinaiko ) looks on in The Ghost Sonata, part of Cutting Ball Theater's Strindberg Cycle. Photo: Rob Melrose | Director Hummel (James Carpenter) storms into the round room of the Colonel's house in Ghost Sonata, part of Cutting Ball Theater's Strindberg Cycle. Photo: Laura Mason |
| With only a simple grip, Director Hummel (l, James Carpenter) drains life out of the student (r, Carl Holvick-Thomas) in Ghost Sonata, part of Cutting Ball Theater's Strindberg Cycle. Photo: Laura Mason | Director Hummel (r, James Carpenter) describes the inhabitants of the beautiful, complex, and mysterious house to the student (l, Carl Holvick-Thomas) in Ghost Sonata, part of Cutting Ball Theater's Strindberg Cycle. Photo: Laura Mason |
| The Girl (l, Caitlyn Louchard) and The Student (r, Carl Holvick-Thomas) share secrets in the Hyacinth Room in Ghost Sonata, part of Cutting Ball Theater's Strindberg Cycle. Photo: Laura Mason | The tide begins to turn as the Mummy (r, Gwyneth Richards) and the Colonel (l, Robert Parsons) retake control of the house in Ghost Sonata, part of Cutting Ball Theater's Strindberg Cycle. Photo: Laura Mason |
| The Colonel (Robert Parsons) writes in his study in Ghost Sonata, part of Cutting Ball Theater's Strindberg Cycle. Photo: Laura Mason | The Girl (Caitlyn Louchard) gazes out of the Hyacinth Room in Ghost Sonata, part of Cutting Ball Theater's Strindberg Cycle. Photo: Laura Mason |
| Bengtsson (l, David Sinaiko) bribes the Mummy (r, Gwyneth Richards) with a treat in Ghost Sonata, part of Cutting Ball Theater's Strindberg Cycle. Photo: Laura Mason | |