Tenderloin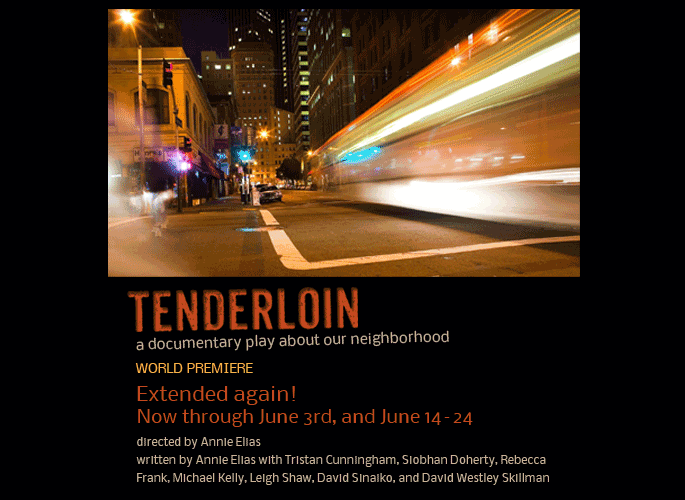 World Premiere, Cutting Ball Commission
Directed by Annie Elias
Written by Annie Elias with Tristan Cunningham, Siobhan Doherty, Rebecca Frank, Michael Kelly, Leigh Shaw, David Sinaiko and David Westley SkillmanExtended Again! Now through June 3, and June 14-24
Press Opening Night: May 3
Gala Opening Night: May 4
Annie Elias brings a decade of experience in documentary theater to Cutting Ball with the World Premiere of Tenderloin, an unforgettable piece about the people and places in Cutting Ball Theater's neighborhood. Using transcripts of interviews conducted by seven San Francisco actors, Tenderloin takes theater out into the neighborhood and brings the neighborhood into the theater. From these living sketches, a portrait of the Tenderloin itself emerges. A powerful theatrical experience, Tenderloin honors the diversity of the people who live and work in this gritty and fascinating downtown San Francisco district.
Annie Elias (Writer, Director)is thrilled to be working with The Cutting Ball Theatre developing and directing Tenderloin. Annie specializes in ensemble playmaking— working with a group of actors to compose new plays from interviews, improvisations, adapted texts, and original writing. She has created and directed four documentary theater pieces–Moon Over Marin, Write a Book…, Epiphany, and Gone Awry, using transcripts of interviews as the basis for scripts focused on cultural issues. She has written and directed numerous plays for Phantom Theater in Warren, Vermont including Rip! The Twenty Year Night, Descent into Mayhem, Raising Rapunzel, Intellect, and Hedda Takes. She is the recipient of a number of awards and grants, including a development grant from the Ensemble Studio Theatre/Alfred P. Sloan Foundation Science and Technology Project for her dance/theater adaptation of Einstein's Dreams by Alan Lightman, and development support from the Magic Theatre for her play Entranced based on the Sleeping Beauty myth. She holds a B.A. from Mills College, was a Thomas J. Watson Fellow, and studied dramaturgy at the American Repertory Theater Institute at Harvard University. She is the Chair of the Performing Arts Department at Marin Academy.
Tristan Cunningham started her performing days when she was only ten with Vermont's own country circus, Circus Smirkus. After touring for eight years, she decided to change her focus to acting and recently graduated from S.U.N.Y Purchase Acting Conservatory. In the Bay Area she has worked with California Shakespeare Theater, Eastenders Repertory Company, Atmos Theater, New Pickle Circus, Circus for the Arts, Bay Area Children's Theater, Shotgun Players, she is an associate artists with Atmos Theater/ Theater in the Woods, and head clown of Circus Bella. She is thrilled to work with The Cutting Ball Theater and Annie Elias for the first time.
Siobhan Marie Doherty is thrilled to be working with Cutting Ball for the first time. She has performed in numerous venues in New York's downtown theater scene, including The Brick (hailed in New York Magazine as one of the top ten most influential independent theater companies in NYC), The Ontological, and The Algonquin. Since her recent move to the West Coast she has performed with The Magic, Crowded Fire, California Conservatory Theatre, Virago, Shelby Company, Bay Area One Acts Festival, and toured with the Tony Award winning San Francisco Mime Troupe. In addition to acting she currently teaches drama for New Conservatory Theatre Center in San Francisco, and Theatreworks in Palo Alto, her hometown. She received her BFA in Drama at NYU Tisch. She can be seen next in the Livermore Shakespeare Festival. SiobhanMarieDoherty.com.
Rebecca Frank previously appeared in the World Premiere commission Tontlawald, as well as RISK IS THIS…The Cutting Ball New Experimental Plays Festival, and Cutting Ball's hit production of …and Jesus Moonwalks the Mississippi. Additional stage credits include productions at Intersection for the Arts (Sitting in a Circle), African-American Shakespeare Company (Twelfth Night), and Shotgun Players (This World in a Woman's Hands), among others; she is an Associate Artist at Alter Theater.
Michael Uy Kelly This is Michael's first production with Cutting Ball. His other recent credits include; Road To Hades (); Twelfth Night (African American Shakespeare Company); The Last Days of Judas Iscariot (Custo Made Theatre); and Mach Bravado and Angry Red Drum (Asian American Theatre Company). Michael received his B.A. in Theatre Arts from San Francisco State University.
Leigh Shaw attained her BA in Performance from the University of Texas and studied with the Gaiety School of Acting in Dublin, Ireland. Performing on stage and on the streets in over 30 stage productions in Texas, since moving to the Bay Area in 2010 she has performed with BRAVA, the Off-Market with PianoFight, has produced, written and performed with the SF Theater Pub, written and directed for the 2011 Women on the Way Festival, performed a touring anti-bully show for over 40,000 Northern California students and taught playwriting and improvisation classes for youth. She currently holds a position as a youth counselor and spends her time writing poetry and producing interactive art "experiences" with LightLy productions. Leigh is passionate about live performance and the bringing about of cultural and personal awareness through the arts and is excited to make her Cutting Ball debut with Tenderloin.
David Sinaiko is an Associate Artist with San Francisco's Cutting Ball Theater, having appeared in their productions of Mr. Theater Comes Home Different, Intermission, The Tempest, …and Jesus Moonwalks the Mississippi, The Bald Soprano, Krapps Last Tape, Victims of Duty, Endgame, The Taming of the Shrew, As You Like It, The Sandalwood Box, Ajax for Instance, Macbeth, 365 Plays/365 Days, Woyzeck, and Chain Reactions. This coming April he'll be in the world premiere of Cutting Ball's newly commissioned work, Tenderloin, about the Tenderloin district in San Francisco, written and directed by his wife, Annie Elias. He was a founding member and Associate Artistic Director of Chicago's acclaimed New Crime Productions where credits include Heart of a Dog, The Balcony, Fear & Loathing in Las Vegas, Accidental Death of an Anarchist, Methusalem, and Alagazam! He was seen in A Midsummer Night's Dream and A Flea in Her Ear at the Goodman Theatre, The Big Show with The Actor's Gang. Other Bay Area credits include Golden Thread's Jihad Jones & the Kalashnikov Babes, Wreckage with Crowded Fire and SF Playhouse's One Flew Over the Cuckoo's Nest. He last designed lights for Rob Melrose's production of Liz Duffy Adams' The Train Play at Crowded Fire. Film and television credits include The Grifters, Bob Roberts, Carnosaur and The Untouchables. David is an alumnus of NYU's Experimental Theater Wing and Stella Adler Conservatory. David directed the theater program at the Marin School of the Arts and co-directs the theater program at Marin Academy in San Rafael.
Jocelyn A. Thompson (Stage Manager) is thrilled to be returning to Cutting Ball this spring with Tenderloin after working on Pelleas and Melisande this past fall to deliver such a powerful piece of work to the community. Jocelyn is originally from the East Coast and holds a B.F.A. in Theatre Education with a specialization in Theatre Technology from Howard University. Since moving to CA she has worked as the sound fellow and an outreach coordinator for Berkeley Repertory Theatre and as the operations manager with Brava Theater Center. Previous productions include …And Jesus Moonwalks the Mississippi, The Oldest Profession, Iph…, King Lear,Jesus in India, Two Gentlemen of Verona, The Exonerated, and Oedipus Rex. She is over the moon to be serving as the season stage manager for Cutting Ball in the upcoming season.
| | |
| --- | --- |
| Kathy and Leroy Looper (Rebecca Frank and David Sinaiko), owners of the Cadillac Hotel and Tenderloin community activists, describe the Tenderloin as a "containment zone" | Theater documentarians (l-r Siobhan Doherty, Rebecca Frank, Tristan Cunningham, and Michael Uy Kelly) portray residents encountered on the street in Cutting Ball Theater's World Premiere of Tenderloin |
| Filipino Health and Wellness Director Ester Aure (actress Tristan Cunningham) gives a motivational talk in Cutting Ball Theater's World Premiere of Tenderloin | City cleaning program worker Shomari Kenyatti (actress Tristan Cunningham) wants "to get the F out of here" in Cutting Ball Theater's World Premiere of Tenderloin |
| Tenderloin resident "Cara" (actress Siobhan Doherty) explains her "sweet love for the Tenderloin" | Photographer and Tenderloin historian Mark Ellinger (actor David Sinaiko) speaks of the beauty "below the veneer" in Cutting Ball Theater's World Premiere of Tenderloin |
| A Glide Memorial Church worker (actress Leigh Shaw) is portrayed in Cutting Ball Theater's World Premiere of Tenderloin | Vietnamese refugee Tony Nguyen (actor Michael Uy Kelly) tells his story of survival in Cutting Ball Theater's World Premiere of Tenderloin |
Photo Credit: Rob Melrose
Dramaturgy Note
If you Google "San Francisco Tenderloin" the second listing that comes up is from a travel site titled "Areas to Avoid." This is certainly understandable if all one sees while walking through the Tenderloin are drug addicts, homeless people, prostitutes, filth and grime. But the process of peeling back the layers of this historic neighborhood while working on this production, have convinced me that the Tenderloin should really be titled "An Area Not to Be Missed." The beauty of this neighborhood is found not only in its history and its architecture, but in the people that you will meet in this play, in the stories that they tell and the strong, dynamic community that dwells beneath the "veneer of crime and decay" of the Tenderloin.
The Tenderloin takes up less than one square mile of San Francisco between Union Square and Civic Center, and is home to more than 28,000 residents, many of whom live in single-room-occupancy hotels. It was originally settled as a residential area just after the California Gold Rush, and has long history of having an active nightlife packed with bars, night clubs, gambling halls, brothels, restaurants, theatres and music venues. It was destroyed by the 1906 earthquake, but promptly rebuilt, including the historic Cadillac Hotel which was completed by 1907.
Through much of the 20th century, the Tenderloin was home to artists and other single adults until the 1970s when the end of the Vietnam War brought thousands of Southeast Asian refugees to the area. These families drastically changed the population of the Tenderloin by introducing more than 3,500 children to the neighborhood. The 1960s and 70s also ushered in an era of widespread social services for the underprivileged population of San Francisco, including services for the mentally ill, drug addicts, homeless people, recently paroled convicts, and foreign refugees.
The services that are available for the people of the Tenderloin are numerous, and yet, it is the care and compassion of the people who provide these services that is most overwhelming. The dedication and diligence of those who make themselves physically and emotionally available to serve the needs of this community are noble and inspirational.
In my research and transcribing of the interviews for this piece, I was touched by the musicality of the voices from the Tenderloin. The mere study of language through the spoken word was fascinating as I labored to capture each breath, stammer, and vocal inflection in the text. The people who live and serve in this neighborhood are passionate, vibrant people, with exciting stories and experiences that go way beyond what you see at first glance when you walk down the streets of the Tenderloin. As Tenderloin Police Captain Jiminez states, "The tenderloin is the best part of the cut. And it's the best part of the city." The connection that the residents and workers of this neighborhood have to one another and to their physical surroundings is special and rare. It is a treasure that we hope to share with you in this piece.
From the Director
The process of making this piece began over a year ago with a first contact with Mark Ellinger, long-time resident and passionate advocate of the Tenderloin. From that initial contact we were fortunate to have a wide array of people–from homeless people, to SRO residents, to immigrants, children, community activists, healers, and helpers–agree to be interviewed and portrayed by our cast of actor/journalists. We are honored that so many people shared their perspectives and stories. The script is composed entirely from the transcripts of th audio recordings. About half of the 40 interview subjects are portrayed in the piece but every person contributed to our understanding of this layered community and we are thankful for each subject's bravery and openness.
Before making this piece it was my habit to traverse the Tenderloin in a way designed to have the least amount of interaction with the neighborhood. I would park as close as possible to The Cutting Ball Theater, cross the street quickly, looking down. Once in the theater I would try to block out the sounds of the street that drifted in, intruding on my theater experience.
As I spoke to prospective interview subjects, words like "beautiful," "loving," and "authentic" were repeatedly used to describe the neighborhood. This was the first of many surprises in this process of exploring this multi- faceted community. It was also clear that some felt that the neighborhood and the people here were misunderstood and expressed a desire to change misperceptions.
While we have attempted to pull back the layers and get beyond an outsider's first impression of the neighborhood and the people one encounters, there are many more layers to be discovered and many more stories that deserve to be heard. I hope you will take this piece as an entry point and an invitation to get to know this neighborhood better, to shed your own defenses, look up and look beyond first impressions to see the vibrant humanity around us.
This play is dedicated to the residents of the Tenderloin and to the memory of Leroy B. Looper.
– Annie Elias
Listen to KQED's Forum radio show featuring Tenderloin Director/Writer Annie Elias, actors Tristan Cunningham and David Sinaiko, and photographer and Tenderloin interview subject Mark Ellinger.
These audio recordings are from interviews conducted by the Tenderloin actor/journalists. The script for Tenderloin is derived from these and other interviews conducted throughout the community
Reverend Karen Oliveto, early 50s pastor Glide Memorial Church:

Tony Nguyen, age ?, Social Worker at the Southeast Asian Community Center

Collette, Aunt Charlie's Lounge bartender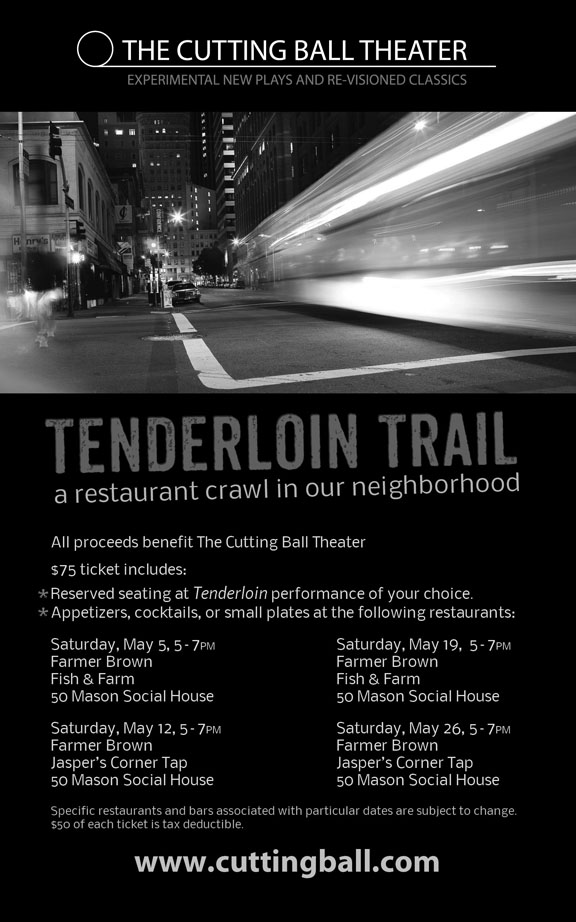 To purchase tickets for the Tenderloin Trail select the Saturday 2PM or 8PM performance of your choice here and select a "Tenderloin Trail" ticket priced at $75. Cutting Ball Season Members should contact the box office directly at boxoffice@cuttingball.com to secure a $50 members-only discounted ticket.
Specific restaurants and bars associated with particular dates are subject to change.
"Pay What You Can" tickets are available to Tenderloin residents for all performances April 27-29 and May 6-27 in limited quantity.
To Secure Neighborhood Tickets
Arrive at the EXIT on Taylor theater at 277 Taylor street at least 30 minutes prior to a performance
Approach the Box Office Manager and request a "Neighborhood Ticket"
You will be asked to provide your address or neighborhood affiliation
Please do pay what you can for neighborhood tickets, but no one will be refused entry due to their ability to pay for the performance
A limited number of Neighborhood Tickets are available for each performance, if no more tickets are available you will be asked to return at another time
Limited FREE Tickets are available for Tenderloin students ages 12-22.
To Secure FREE Tenderloin Student Tickets
Teachers, please contact the box office manager Katrina Bushnell at boxoffice@cuttingball.com at least one week in advance of your desired performance date
Individual students may also request Tenderloin Student Tickets by arriving at least 30 minutes prior to a performance and inquiring at the box office as to the availability of Tenderloin Student Tickets
A limited number of Tenderloin Student Tickets are available for each performance, if no more tickets are available you will be asked to return at another time
Expectations of All Audience Members
All audience members are expected to arrive at the theater on time in advance of the listed start time of a performance.
The Cutting Ball Theater may not honor tickets not claimed prior to 15 minutes in advance of the start time of a performance.
Audience members are should expect to remain in the theater once they are seated until "intermission," a 10-minute break in the play about half way through the two hour performance time. Intermission is an opportunity to stand up, use the restrooms, and talk with other audience members about your experience so far.
Audience members who must leave the theater in the middle of the performance will not be readmitted to the theater.
We hope that you enjoy listening and watching to the stories from the Tenderloin!
The Cutting Ball Theater reserves the right to refuse service to anyone.
Cutting Ball has made a number of friends doing good work in the Tenderloin through our artistic process. We encourage you to check out their work:
Mark Ellinger, Photographer and Tenderloin Historian
Grey Area Foundation For the Arts
Our neighbors at GAFFTA are doing great work at the intersection between art and technology. Check out their website here: www.gaffta.org
We're particularly excited about the Tender Voice project, which includes interviews with many neighborhood non-profit organizations: www.tendervoice.org
Tenderloin Economic Development Project
Led by Elvin Padilla, TEDP has introduced Cutting Ball to many neighborhood businesses and is working to strengthen the Tenderloin as a destination for arts, culture and restaurants. In addition we thank TEDP for serving as a key partner in providing access to Tenderloin Neighborhood Tickets. Find out more at: nomnic.org