The Tempest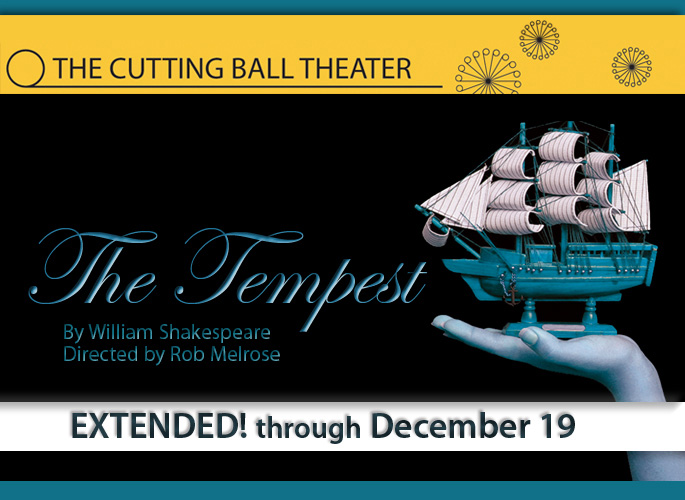 By William Shakespeare
Directed by Rob Melrose
November 5 – December 19, 2010
Press Opening: November 11
Gala Opening: November 12
EXTENDED until December 19th!
One of Shakespeare's most magical plays, The Tempest tells the story of the Duke of Milan, who uses sorcery to cause a shipwreck to bring his treacherous brother to the enchanted isle where he has lived in exile with his daughter for twelve years. Magic, monsters, romance, and drunken foolery spin their world into surreal chaos before the brothers meet and order is restored. In the tradition of Cutting Ball's uniquely San Franciscan The Taming of the Shrew and expressionistic Macbeth, this three-person chamber version of The Tempest promises to give an up close and personal look at the monsters lurking inside all of us.
Performances are Thursday, Friday & Saturday at 8pm; Sunday at 5pm. There will be no performance on Thanksgiving Day, November 25.
The Tempest runs two hours and fifteen minutes, including a fifteen-minute intermission.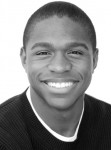 Donell Hill (Caliban / Ferdinand / Antonio) is thrilled to share the stage once again with two of his Bald Soprano cast mates. He was last seen as Lt. Dawes, Caesar, and the Aborigine in Our Country's Good at Stanford University. Bay Area acting credits include Mr. Martin in The Bald Soprano (Cutting Ball), Maycomb Man in To Kill A Mockingbird (TheatreWorks), Ensemble in You, Nero (Berkeley Rep), and Aegisthus, Orestes, and Pylades in the Electra Festival with the Stanford Summer Theater. Donell holds a B.A. in Drama from Stanford University, and is thoroughly enjoying the journey of working as a professional actor in the Bay Area.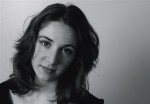 Caitlyn Louchard (Miranda / Ariel / Gonzalo / Trinculo / Sebastian) is thrilled to return to Cutting Ball after appearing as Mrs. Martin in The Bald Soprano last season. A Cutting Ball Associate Artist, Caitlyn is also involved in the creation of Tontlawald, a new piece by Eugenie Chan currently in development and slated to appear in Cutting Ball's 2011/2012 season. Other Bay Area acting credits include Emily Dickinson in Tell It Slant with the Bootstrap Foundation, Catherine in A View From the Bridge with Actors Theatre of San Francisco, and Isabella in Measure for Measure with Shady Shakespeare. Understudy credits include Berkeley Rep's Crime and Punishment, TheatreWorks' Doubt, and SF Shakes school tour of Romeo and Juliet. Also a teaching artist, Caitlyn has taught with SF Shakes, TheatreWorks and Peninsula Youth Theatre. She holds a BFA in theatre from NYU/Tisch School of the Arts (Atlantic Theater Company).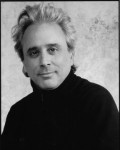 David Sinaiko (Prospero / Alonzo / Stephano) is proud to be a Cutting Ball Associate Artist, having appeared in their productions of …and Jesus Moonwalks the Mississippi, The Bald Soprano, Krapp's Last Tape, Victims of Duty, Endgame, The Taming of the Shrew, As You Like It, The Sandalwood Box, Ajax for Instance, Macbeth, 365 Plays/365 Days, Woyzeck, Chain Reactions and The Hidden Classics Reading Series. He was a founding member of Chicago's New Crime Productions where credits include Heart of a Dog, The Balcony, Fear & Loathing in Las Vegas, Accidental Death of an Anarchist, Methusalem, and Alagazam! He was seen in A Midsummer Night's Dream and A Flea in Her Ear at the Goodman Theatre, The Big Show with The Actor's Gang, and during the holidays in a one-man production of The SantaLand Diaries. Film and television credits include The Grifters, Bob Roberts, Carnosaur and The Untouchables. David is an alumnus of NYU's Experimental Theater Wing and Stella Adler Conservatory. Other recent credits include Golden Thread's Jihad Jones & the Kalashnikov Babes, Crowded Fire's Wreckage and SF Playhouse's One Flew Over the Cuckoo's Nest.
REVIEWS
"Rob Melrose's adaptation of Shakespeare's The Tempest takes place in a psychiatrist's office at the bottom of a swimming pool with just three actors tackling 10 roles in a tiny theatre located in the heart of San Francisco's Tenderloin district. Guess what? The damned thing works!"
-George Heymont, The Huffington Post
"It is a delight to report that there is a theatrical marvel in store for you: Cutting Ball Artistic Director Rob Melrose has gone well beyond a mere modern interpretation – he has re-envisioned The Tempest as an avant-garde dream; one which elucidates the psychological complexities of Shakespeare in such a way that theatre never seemed so alive, intimate, accessible, extraordinary and (by no means an understatement) brilliant."
-Tony Frankel, Stage and Cinema
"Paring a multi-character Shakespearean play down to a Freudian triangle, The Cutting Ball Theater creates an insightful and entertaining version of The Tempest"
-Susan Cohn, San Mateo Journal
"From a visual standpoint, this play is amazing. The set is a piece of brilliance, leaving the small EXIT on Taylor Theater utterly transformed."
-Arielle Little, The Daily Californian
"In Melrose's alluring vision, characters morph in ways that feel organic and in sync with the island's magical properties, casting new light on the various and ambivalent relationships."
-Jean Schiffman, San Francisco Examiner
"Michael Locher's handsome set looks like a psychiatrist's office at the bottom of a swimming pool because there's therapy afoot."
-Robert Hurwitt, San Francisco Chronicle
"Set on an enchanted island (or, in Cutting Ball's interpretation, at the bottom of a swimming pool) The Tempest begins with stormy weather, but quickly grows into a full-blown hurricane of shipwrecked nobles, nymphs, and drunks, plus the turbulent awakenings of a teenage daughter's libido, and the rumblings of her over-protective papa."
-Nicole Gluckstern, San Francisco Bay Guardian
"Director Rob Melrose and company in a new production greatly enlarges Shakes' vision with audio processing and streaming video on a set with a distinctly modern nautical theme."
-Albert Goodwyn, examiner.com
"Though The Tempest is often presented as Shakespeare's farewell, this is the first time I really felt it that way."
-Patrick Vaz, The Reverberate Hills
DESIGN & PRODUCTION TEAM
Rob Melrose (Director) is the Artistic Director and co-founder of The Cutting Ball Theater where he has directed The Bald Soprano, Victims of Duty, Bone to Pick (world premiere), Endgame, Krapp's Last Tape, The Taming of the Shrew, Macbeth, Hamletmachine, As You Like It, The Death of the Last Black Man in the Whole Entire World, Mayakovsky: A Tragedy, My Head Was a Sledgehammer, Roberto Zucco, The Vomit Talk of Ghosts (world premiere), The Sandalwood Box, Pickling, Ajax for Instance, Helen of Troy (world premiere), and Drowning Room (world premiere) and has translated No Exit, Woyzeck, Pelléas and Mélisande, The Bald Soprano, and Ubu Roi. He has directed at The Guthrie Theater: Happy Days, Pen; Magic Theatre: An Accident (world premiere); PlayMakers Rep: Happy Days; The California Shakespeare Theater: Villains, Fools, and Lovers; Black Box Theater: The Creature (world premiere – BACC Award for direction); Actors' Collective: Hedda Gabler; Alias Stage: Creditors; Crowded Fire: The Train Play; C.A.F.E.: Chain Reactions; Perishable Theatre: All Spoken by a Shining Creature (world premiere); Yale Summer Cabaret: Endgame, The Shawl; Princeton Summer Theater: Twelfth Night. As assistant director he has worked at The Public Theater / New York Shakespeare Festival: Hamlet (Oskar Eustis, director); Berkeley Repertory Theatre: The Pillowman (Les Waters, director); American Conservatory Theater: Indian Ink (Carey Perloff, director); The Guthrie Theater: Othello (Joe Dowling, director); Yale Repertory Theatre: Twelfth Night (Mark Rucker, director) and as directing intern at The McCarter Theatre: The Glass Menagerie (Emily Mann, director). He has an M.F.A. in directing from the Yale School of Drama and a B.A. in English and Theater from Princeton University and is a recipient of the NEA / TCG Career Development Program for Directors. Last spring, he was the Public Theater's artist-in-residence at Stanford University, directing Troilus and Cressida. He is currently working with Dave L from the San Francisco electro-rock group Z.O.N.K. on a trip-hop musical adaptation of L. Frank Baum's Ozma of Oz.
Heather Basarab (Lighting Designer) is a Cutting Ball Associate artist who has designed Cutting Ball's productions of …and Jesus Moonwalks the Mississippi, Mud, The Taming of the Shrew, Victims of Duty, Endgame, Avant GardARAMA! 2008, and The Maids. Other recent Bay Are designs include Miss Julie with Aurora Theatre; Light Essays with Im'ij're Dance; Fuku Americanus with Campo Santo; AXIS Dance Co.'s Light Shelter (David Dorfman)the beauty that was mine, through the middle, without stopping (Joe Goode) and Vessel (Alex Ketley); Birdhouse Factory with Cirque Mechanique, and Wonderboy with the Joe Goode Performance Group, with whom she received an Isadora Duncan Award for the production design of Drowsy.
Cliff Caruthers (Sound & Video Designer) is a freelance sound designer and composer based in the San Francisco Bay Area. He has created soundscapes and music for over a hundred productions, including Happy Days for Guthrie Theater, Jesus Moonwalks the Mississippi and Victims of Duty for Cutting Ball Theater, The Caucasian Chalk Circle and November for American Conservatory Theater, TRAGEDY: a Tragedy, and Crime and Punishment for Berkeley Repertory Theatre, 9 Circles for Marin Theatre Company, Bug and Dead Man's Cell Phone for SF Playhouse, The Creature for Black Box Theater, Anna Bella Eema and Drip for Crowded Fire, and Caroline, or Change, Yellow Face and Auctioning the Ainsley's for TheatreWorks. He is an artistic associate at Cutting Ball Theater, a company member of Crowded Fire, Resident Sound Designer for TheatreWorks, and Sound Design Associate for American Conservatory Theater.
Amber Couture (Assistant Stage Manager) is excited to be working with The Cutting Ball Theater for the first time. Her previous stage management work has included: Dragon Theater Production's Anton In Show Business; The 9th Annual Bay Area One Act Festival; and Freed Yorick's Voices. She graduated from Johnson State College in Vermont with a Bachelor's Degree in Theater and an Associate's Degree in Technical Theatre; receiving a nomination in Stage Management from the Kennedy Center American College Theater Festival. Favorite shows include Cabaret (JSC), Big Love (JSC), Urinetown (JSC), and Tartuffe (JSC). In January she will join the Freed Yorick Theatre Ensemble in St. Louis, MO for an encore presentation of Voices.
Bessie Delucchi (Costume Designer) has had the pleasure to Costume Cutting Ball's past productions of The Bald Soprano, Victims of Duty and Mud. Her portfolio of work includes Scrooge (Shellie Nominated), The Odd Couple (Shellie Nominated), and Dr. Jekyll & Mr. Hyde at Lafayette Town Hall; Reefer Madness at USF; Diary of Anne Frank, Mr. Marmalade and The Heidi Chronicles at Custom Made; Avenue Q and Six Women with Brain Death at The Willows. She was the Assistant Costume Designer on Twelfth Night and Romeo and Juliet for California Shakespeare Theatre. Bessie, a Bay Area native, received her BA in Communications from Syracuse University in New York and was awarded a Fashion Design degree from the Fashion Institute of Design and Merchandise in San Francisco.
Robert Estes (Assistant Director) is happy to be working with Cutting Ball for the first time. In the past year, he's directed Other People's Money for the Masquers Playhouse and Curse of the Starving Class for Actors Ensemble of Berkeley (where he'll helm Heartbreak House later this winter). He's also directed staged readings of five Shakespeare plays and one Marlowe for Subterranean Shakespeare and has assistant directed for Mrs. Warren's Profession at the California Shakespeare Theatre. He served as dramaturg at the Town Hall Theatre for The Importance of Being Earnest. Many years ago, he graduated from U.C. Berkeley with a degree in English.
Bennett Fisher (Dramaturg) has performed in Cutting Ball's readings of Medea vs. Medea, The Knights, and Storm for the Hidden Classics Series, and will direct Josef and Karel Chapek's The Insect Play in the spring. He has performed with Marin Shakespeare Company, BRAVA, Stanford Summer Theatre, AtmosTheatre (where he is an associate artist), the Pear Avenue Theatre, as an understudy at CalShakes, and a voice over for Crowded Fire. His plays include Exchange and Query for the BOA Festival (the latter also published in the Eleven Eleven journal), as well as the full-lengths Hermes and Don't Be Evil, slated for production in 2011. Bennett is a founder and co-artistic director of the San Francisco Theater Pub, where he's directed Vaclav Havel's Audience and his translations of Euripides Cyclops and Alfred Jarry's Ubu Roi. Bennett is a graduate of Connecticut College and the National Theatre Institute of the Eugene O'Neill Theatre Center. More at bennettfisher.wordpress.com.
Diann Michele Leo (Assistant Stage Manager) is excited to work on her first production with the "always adventurous" Cutting Ball. A San Francisco native, Diann graduated from The Evergreen State College (WA) with a B.A. in Liberal Studies, primarily focusing in the areas of theater and writing.
Maya Linke (Assistant Set & Props Designer) is thrilled to be working with the The Cutting Ball Theater for the first time. Scenic design credits include Jerry Springer: The Opera for Ray of Light Theatre; BOA Festival, Art for Town Hall Theatre; Don't Ask, Baptized to the Bone for NCTC; Guys and Dolls, Wizard of Oz, Oklahoma for Musical Theatre Works; Hold me Closer Tiny Dionysus for Mama Calizo Voice Factory; West Side Story, Romeo and Juliet, Floyd Collins at San Francisco State University; Upcoming projects include scenic design for Footloosefor MTW, props designer for Bone to Pick & Diadem for Cutting Ball and assisting Phillip Lineau, scenic designer for an upcoming production at Seattle Opera. She received her MFA in scenic design from San Francisco State University. www.mayalinke.com
Michael Locher (Set Designer) is a longtime Cutting Ball artistic associate and has collaborated with director Rob Melrose on numerous productions. Previous designs for the Cutting Ball include The Bald Soprano, Victims of Duty, Jesus Moonwalks the Mississippi, Bone to Pick, Macbeth, Roberto Zucco, and The Vomit Talk of Ghosts. Elsewhere, credits include Happy Days (Guthrie, Playmakers Rep), Or, Goldfish, and Mrs. Whitney (Magic), Trouble in Mind (Yale Rep), Seven Guitars, The Piano Lesson, Ain't Misbehavin' (Lorraine Hansberry Theater), Richard III, Venus (Yale School of Drama), La Finta Pazza (Yale Baroque Opera), The Train Play (Crowded Fire), and The Creature (Black Box). Off Broadway: Dramatis Personae, Sin. Broadway: Guys & Dolls (assistant designer). Michael is also a founding member of Hollywood-based Tilted Field Productions. Education: University of California, San Diego; Yale School of Drama.
Annie Paladino (Stage Manager) previously Stage Managed Krapp's Last Tape and Assistant Stage Managed …and Jesus Moonwalks the Mississippi at Cutting Ball. She assisted with Vanguardia and the "10-10-10" 10th Anniversary Gala, and will be Stage Managing Bone to Pick & Diadem later this season. She is also the Stage Manager/Assistant Director for Tontlawald, which will receive a workshop production as part of Risk Is This…, with a full production slated for Cutting Ball's 2011-12 season. Also an actor, Annie recently adapted and performed in an original solo performance, DREAMA, at the 2010 SF Fringe Festival. Other recent performance credits include: SF Theater Pub's Antigone and Ubu Roi, Cutting Ball's "Hidden Classics" Reading Series (Storm and Andromache), Life as Art (Climate Theater); Happy Days, Uncle Vanya, and Anouilh's Eurydice (Wesleyan University). Annie recently graduated from Wesleyan University in Connecticut with a B.A. (High Honors) in Theater and Psychology.
[nggallery id=28]
Why Mess with Shakespeare?
Notes on The Tempest from director Rob Melrose
Welcome to The Cutting Ball Theater's production of Shakespeare's The Tempest. Just a quick look at our set – a psychiatrist's office at the bottom of a swimming pool – probably gives you a clue that we are up to something here. Some of you may be saying, "Oh great, another wild Cutting Ball journey." Others may ask, "Why do directors have to DO something with Shakespeare's work rather than producing the plays as he intended?" This is a good question.
People who live in the Bay Area are in the enviable position of having a number of excellent Shakespeare companies nearby that do solid, full-cast productions of his plays with a primary focus on telling the story. It is an enviable position for Cutting Ball as well, because it allows us to something different. Our goal is to create productions that focus on particular themes or obsessions within the play that an audience member might miss in a more conventional production. For example, our 2004 production of Macbeth focused on the loss of the Macbeth's child and all the images of children that occur in the play. Our 2007 production of The Taming of the Shrew used the often-cut preliminary scenes and set them in San Francisco to bring out the many instances of gender-bending, disguises and role playing in the text. Likewise our three-person Tempest hopes to illuminate the many connections between the characters, encouraging a reading of the play similar to Freud's reading of fairy tales, where some characters are treated as aspects of other characters.
Shortly after I graduated from the Yale School of Drama, I received a grant from the Fox Foundation to spend a year in Europe observing rehearsals and productions of Shakespeare in translation. What I found was that in the process of translating Shakespeare again and again, the Europeans are continually re-discovering Shakespeare and re-inventing him. This process allows them to take more risks with Shakespeare's texts and in the words of Polish theater critic Jan Kott, "find Shakespeare our contemporary."
It is in this spirit that we approach The Tempest. These past two months, the actors and designers and I have been imagining a contemporary production of the play that is in conversation with Freud, Jung and the dream-like dramaturgy pioneered by August Strindberg, now found in the films of David Lynch (Lost Highway, Mullholland Drive), Tarsem Singh (The Fall, The Cell), and Christopher Nolan (Inception, Memento) as well as the novels of Haruki Murakami (Kafka on the Shore, The Wind-up Bird Chronicle) and the video installations of Bill Viola.
For ten years, Cutting Ball has been re-envisioning classic works. We feel very fortunate to have found an audience who has been willing to go on these risky explorations with us. Thank you for coming with us on the journey. And now fasten your seat-belts, it's going to be a bumpy ride…
Notes from Dramaturg Bennett Fisher
In our first meeting before rehearsals began, our director Rob Melrose said, since three actors were playing all the roles, that his version of The Tempest was, in essence, a story about a father overcoming his prejudice and letting go of his daughter. For Rob's conception, there were really only three true characters in this story – Prospero, Miranda, and Ferdinand. The other characters appear not so much as distinct individuals, but as aspects of these first three. As the story progresses, the three become the other characters to reflect or explore the relationships between one another, but the underlying narrative remains the same. Rob joked sometimes about the difference between "the Shakespeare version" and "the Rob Melrose version", but it was clear to me from the very first rehearsal that, above all else, Rob wanted to tell the story of The Tempest; his concept and all it entailed was beholden first to the spirit of Shakespeare's play. When taking an experimental approach to a classic work, there is always the risk of the concept overtaking the text, but working as dramaturg on this production (and serving, as I see it, as the advocate for the writer), I feel that Rob's vision reveals more of The Tempest than many productions that purport to be more faithful.
The key that makes the concept work, that makes the Shakespeare and Melrose version essentially one and the same, has to do with the Elizabethan concept of the human mind. In her essay "The Dark Backward and Abysm of Time: The Tempest and Memory", Evelyn Tribble explains that Elizabethans imagined the brain as a kind of vault, a region that could be explored, navigated, and mapped like any region in physical space. We see the traces of this reasoning later in the development of pseudo-sciences like phrenology (which assigns emotions and temperaments to specific regions of the skull), but for Shakespeare's play, it muddles the line between the world of the island and the world of thought. Audiences might puzzle at the title The Tempest when the storm itself only appears in the first scene of the play, yet the longer and more terrible storm is not on the sea, but in Prospero's "beating mind."
Psychological imagery and metaphor abound in The Tempest. In Prospero's Island: The True Alchemy at the Heart of The Tempest, Nick Cobb notes that Shakespeare has linked Caliban and Ariel to the alchemical concepts of "the soul" and "the spirit" respectively – the former being the earthier, more primitive id aspect of the psyche, the latter the airy, imaginative superego. Later in her essay, Tribble argues that when Prospero tells Miranda the story of their flight and berates Ariel with the story of Sycorax, the language might suggest that he is controlling or even creating the narrative instead of simply relating it. When Prospero rages at the conspiracy of Caliban, Trinculo, and Stephano to assassinate him, one wonders if he is more concerned with the conspiracy itself or the fact that he, a man who prides himself with absolute control over the mind, has forgotten something. The warring forces on the island reveal a hidden conflict in the brain. Prospero fights and then reconciles not only with his enemies, but also with his own conscience. He sets his imagination (Ariel) free, acknowledges his id (Caliban) as his own, brings the conflict to an end by letting go of grudges and prejudice, and eventually prizes an understanding of human relationships over the understanding that comes from books.
Indeed, as Shakespeare's writing suggests, the intellectual delight of a Jungian or Freudian reading of the play is incomplete if it fails to acknowledge that human element. Rob has managed to touch on something that I feel is essential in The Tempest, which is the necessity to temper the cool, lofty intellect with empathy and compassion – accepting, as Prospero says, that "the rarer action is in virtue than in vengeance." Reducing the cast to three actors allows us to see this struggle with greater clarity, simplifying and crystallizing in each set of relationships the prejudices, detachment, and, yes, even cerebral intelligence that so often stand in the way of forgiveness. Prospero's line to Miranda that "to the most of men this [Ferdinand] is a Caliban/And they to him are angels" is deliciously curious when the actor playing Ferdinand has just minutes before left the stage as Caliban. We in the audience cannot help but wonder whether Caliban is worthy of such hatred, or whether Prospero is blind to the fact that the monster is the same as the prince. At the end of the play, when the multiple characters converge together, we understand that the three are no longer preoccupied judging the others, but able to look inward.
For me, that truth is vividly, abundantly clear in our production. I love seeing these psychological readings manifested on the stage, but I find it even more wonderful (and more vital) that Shakespeare's story becomes clearer because of it. Rob, the cast, and the creative team are still very much on Prospero's island, but now able to explore some of those uncharted inlets. In my mind, that is the greatest kind of fidelity to aspire to – a production that takes risks, probes deeply, and uncovers more of the richness that has made the play so enduring. I hope you find the result as revealing and enriching as I have.
Bennett Fisher, dramaturg