Risk is This…
The Cutting Ball Experimental Plays Festival
Staged Readings of Three New Plays
Join us for our fourth edition of Risk is This. From over 200 submissions, we select three bold new experimental plays and workshop them each for one week. At the end of each week, we present two public readings of the plays accompanied by conceptual designs of the sets and costumes. We then invite the audience to imagine with us the form and landscape of each play. It is a unique chance to be involved with finding a new play's performance and design vocabulary along with the artists creating the production.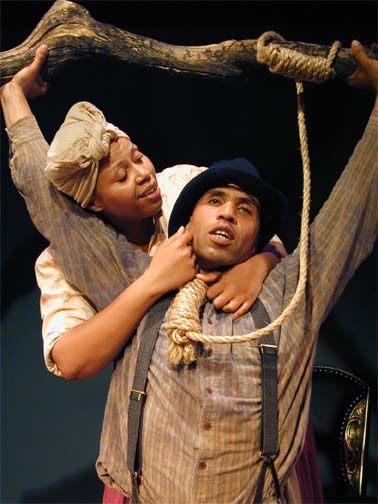 Allison Payne and Myers Clark in The Death
of the Last Black Man in the Whole Entire World
…and Jesus Moonwalks the Mississippi
by Marcus Gardley
Nov. 30 & Dec. 1 – 8pm
EXIT Theatre – 156 Eddy St.
Free Admission
And Jesus moonwalks the Mississippi is poetic retelling of the Demeter myth set during the civil war and narrated by the Mississippi River. Having run away from a plantation in North Carolina, Demeter travels South in search of her daughter Po'em. En route, she is almost murdered and receives a mission from God to free the children of the middle passage in three days. Hell-bent on finding her daughter instead, Demeter arrives on a plantation in the rich fertile landscape of Louisiana, (a modern day Elysian field) where her daughter was a nursemaid. Although her child is not there, what Demeter finds changes her course entirely. In this epic bricolage, myth, spirituality, gods and mortals are all woven together to examine the complex and profound fabric that is the American quilt.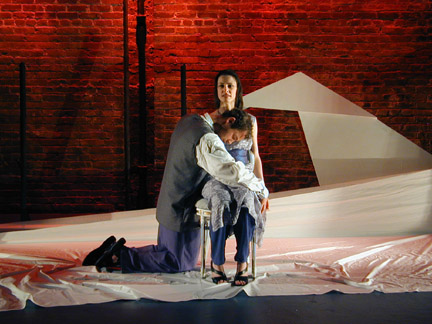 Ryan Oden and Danielle O'Hare in Helen of Troy
Trojan Barbie
by Christine Evans
Dec. 7 &amp 8 – 8pm
EXIT Theatre – 156 Eddy St.
Free Admission
Trojan Barbie is a car-crash encounter with Euripides' Trojan Women. Past and present violently collide as the dreams of women and their fierce hunger for life are played out in the larger context of war. Lotte, a modern-day English tourist who repairs dolls, is on a Cultural Tour for Singles in Troy when she is captured by American soldiers and flung back into the ancient camp of the Trojan Women. Cassandra dreams of horses and revenge; Hecuba dreams of her murdered children; Helen dreams up a garden party fit for Hollywood. But as the bodies pile up, Lotte just wants to get home safely. When the camp is torched and the Trojan women enslaved, the British Embassy rescues Lotte. Her life returns to normal — until Hecuba claws her way up through the centuries in search of her murdered children's bodies.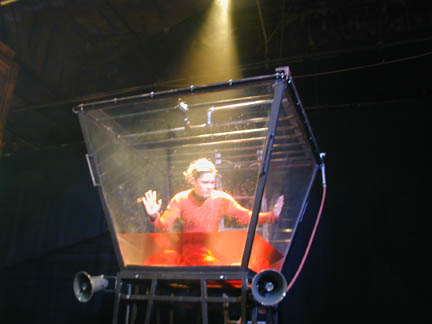 Elizabeth Bullard in Drowning Room